**********************************************************
Book Club meets on the 3rd Wednesday of each month from October to April at 9:30 am in the Community Center unless a change is needed.
The book selection for each month  is listed in your Seasiders booklet.
Even if you can't come to Book Club it is a great chance to read along with the club. You can always email Dot Erickson  or Caroll Oliver and give them your views of the book that we are going to review. You can be part of the group via long distance.
Join us and Read.
Note: Previous years Book Club selections have been left on this page so that you will have a a good selection of books for your reading pleasure.
a previous Book Club was announced with 2 special guests appearing.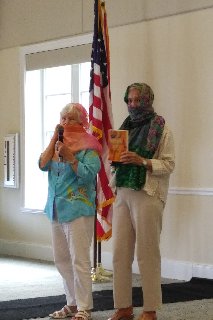 You are always welcome at Book Club
BOOK SELECTIONS FOR 2021-2022
BOOK CLUB:
The last meeting of the 2021 Book Club will be April 28 upstairs at the Community Center at 9:30. We will be reviewing a fiction book by Elizabeth Strout titled My Name Is Lucy Barton. Next meeting is in October. Happy Summer. Dot Erickson and Caroll Oliver.
For your summer reading pleasure, here are our book picks for next year's Book Club: 
Date                                   Book                   (genre)            Author                     Discussion Leader
October 13, 2021            Bound                     (NF)           Sally Gunning                Dot  Erickson           
November 10, 2021        From Scratch          (NF Bio)      Tembi Locke                  Chris Mielke
December 8, 2021          Pope Joan               (NF)            Donna Cross                 Elaine Susany
January 12, 2022            Invention of Wings   (F)            Sue Monk Kidd             Carol  McKenna
February 2, 2022**          Finding Dorothy        (F)             Elizabeth Letts             Cindy Stevens
March 9, 2022                 The Island of the Sea Woman  (F)   Lisa See                Kris Beaudette
March 30, 2022               Book Selection meeting
April 13, 2022                  The Year of Living Danishly   (NF)  Helen Russell        Caroll Oliver
April 27, 2022**               Mike Nichols  "A Life"  (NF Bio)   Mark Harris                 Myra Koutzen
Additional Reads:
The Splendid and the Vile  (NF)   Erik Larson                                       Mary Stanton
The Burglary    (NF)   Betty Medsger                                                     Myra Koutzen
Confession of a Sociopath  (NF)    M.E. Thomas                                  Kathy Ramsey
Full Dark House       (NF)     Christopher Fowler                                   Mary Stanton
American Dirt  (F)     Jeanine Cummins                                                 Dot Erickson
               

      Book Selections for 2020-2021
Oct 14     The Way We Live Now by Anthony Trollope (F) Debra Richardson
Nov 18     Crashing Through  by Robert Kurson (NF) Carol Whalen
Dec 9       A Palm Beach Wife by Susannah Marren (F) Elaine Susany
Jan 13     Eleanor Oliphant is Completely Fine by Gail Honeyman (F) Kris Beaudette
Feb 3     Americanah by Chimamanda Ngozi Adihie (F) Nancy Cogger
Mar10     The Rosie Project by Graeme Simsion (F) Mary Stanton
Mar 31     Book Selection @ Dots 318 Edwards
Apr 14     Mary Poppins She Wrote – the life of P.L Travers (NF) by Valerie Lawson  Barb Platner
**************************************************************
                   Book Selections for 2019 – 2020
Oct 16         Born A Crime    by Trevor Noah NF – leader Myra Koutzen
Nov 13        Pachinko              by Min Jin Lee HF  – leader Carol Whalen
Dec 11        Ship and the Storm   by Jim Carrier NF – leader Kathy Ramsey

Jan 15          Behold the Dreamers      by Imbolo Nbue F  – leader Marie Coppola
Feb 19         Sing, Unburied, Sing      by Jesmyn Ward F  – leader Rose Ciotta
Mar 4         The Great Alone                by Kristin Hannah F –  leader Carol McKenna
April 8        Educated                               by Tara Westover NF – leader Kris Beaudette
April 29   Where the Crawdads Sing                                                                          by Delia Owens F  –  leader Dot Erickson
 Note:  All Book club Meetings are at the Community Center.

for information please call Dot Erickson or Caroll Oliver
*********************************************************
Exciting News : BOOK CLUB READS    2020-21 Selection
October 14, 2020
The Way We Live Now – Anthony Trollope (F)  ,Debra Richardson
November 18
Crashing Through – Robert Kurson (NF),  Carol Whalen
December 9
A Palm Beach Wife – Susannah Marren (F) , Elaine Susany
January 13
Eleanor Oliphant  – Gail Honeyman (F),  Kris Beaudette
February 3
Americanah – Chimamanda Ngozi Adichie (F),  Nancy Cogger
March 10
The Rosie Project – Graeme Simsiob (F),  Mary Stanton
March 31 – Book Selection at Dots Home
April 14
Mary Poppins She Wrote- the Life of P.L. Travers (NF) Valerie Lawson, Barb Platner
April 29
My Name is Lucy Barton  – Elizabeth Strout (F) ,   Dot Erickson
Suggested additional reading:
Paris in Love, – Eloisa James (NF)
The Paris Wife – Paula McLain (NF)
We the Jury – Robert Rotstein (F)
The Wine Makers Daughter – Timothy Eagan (F)
The Women Rowing North – Mary Pipher (NF)
The Devil in the White City – Erik Larsson ( Hist NF )
*******************************************************************
Previous book selections were:

     Hillbilly Elegy,                             J.D. Vance NF,
     The Elephant Whisperer,       Lawrence Anthony, NF
     Gift from the Sea,                      Anne Morrow Lindbergh, NF,
    My Brilliant Friend ,                  Elena Ferrante,  F.
   A Man Called Ove,                 Fredrik Backman  , F.
     The Pecan Man,                       Cassie Dandridge Selleck,   F.,
                                        OR

If you have more time to read these are suggested:
Incidents in the Life of a Slave Girl,      Harriet Ann Jacobs, NF
The Heart,                                                        Naylis de Kerangal F.
Sonata for Miriam,                                       Linda Olsson F
My Life on the Road,                                  Gloria Steinem NF
If you can Keep It,                                        Eric Metaxas, NF
……………………………………………………………………………………………..
Book Club Readings for 2016/2017 were

SECRET WISDOM OF THE EARTH ,by Christopher Scotton (    F)
PATENTLY FEMALE, by Ethlie Vare (  F. )
THE TROUBLE WITH POETRY , by Billy Collins (  F)
ONCE UPON A RIVER, by Bonnie Jo Campbell ( F)
NIGHTINGALE, by Kristin Hannah (  F)
THE BOYS IN THE BOAT by Daniel James Brown (   NF )
THE SUPREME MACARONI COMPANY by Andriana Trigiani (  F
AMERICAN GROUND by William Langewiesche  NF )
**************************************************************************
other suggested reads from previous years are:
The Witness Wore Red by Rebecca Musser NF
Me Before You by Jojo Moyes F
The Boys in the Boat by Daniel James Brown NF
The House Girl by Tara Conklin  F.
Far from the Madding Crowd by Thomas Hardy F.
Sister Previse Mysteries by Margaret Frazer
My Russian by Diedre Namer F.
One Summer America 1927 by Bill Bryson NF
Sister of My Heart by Chitra Banerjee Divakaruni F.
By the way, OUR ANNUAL BAZAAR IS A WONDERFUL PLACE TO PURCHASE READING MATERIAL.. COME CHECK IT OUT                                               February, 2022