2021 TASTERS LUNCH WILL BE   cancelled this year

         IF THE COVID SITUATION CHANGES
                        THE INFORMATION WILL BE POSTED HERE
**********************************************************************
2019  TASTERS LUNCHEON
Every year the Seasiders get together for a Pot Luck Luncheon.  We never know what will show up so it is truly a surprise affair, but it always turns out being a very special lunch !  This year was no exception and  there was lots of fun and laughter along with new foods to taste.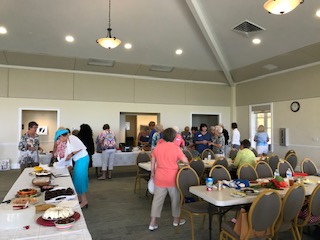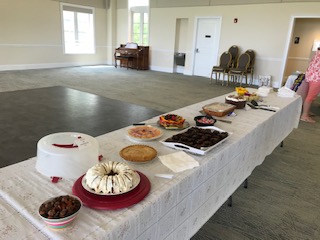 *************************************************************************                                                                         2018 TASTERS LUNCHEON
What a fun day ! Food in abundance ! Desserts to please everyone ! new ideas and receipts !  …. and the best part was… we got to know our Seasider Sisters a little better !
If you missed this event please be sure to mark your next years calendar for this fun social event !  Cheers All !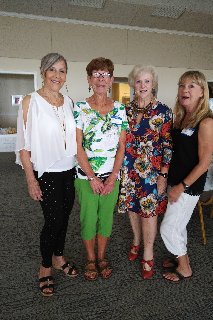 President Georgette being her gracious self !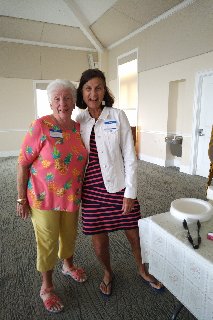 Just putting the finishing touches on my pies !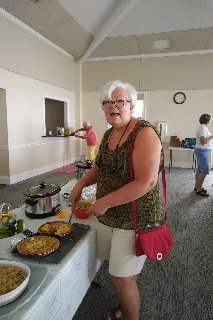 Hostess Joan doing a great job !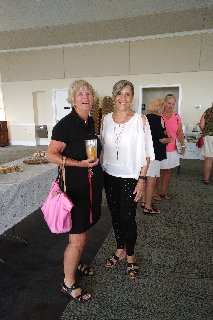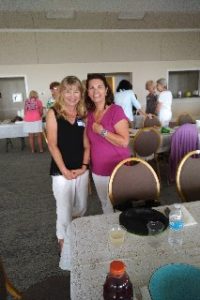 A toast to you ! and to lots more fun !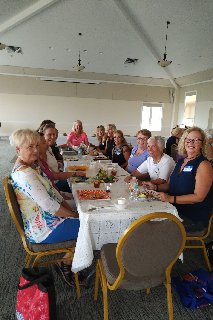 It is amazing that we always end up with wonderful meals at our Tasters Pot Luck Event ! We have a very creative group of women who like to socialize ( and cook )!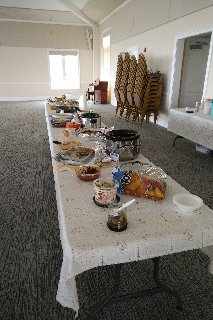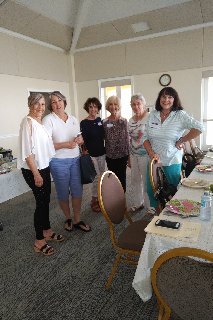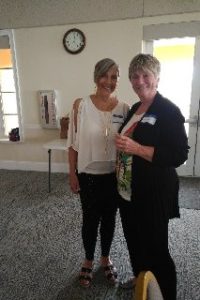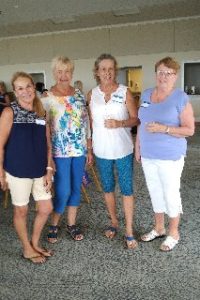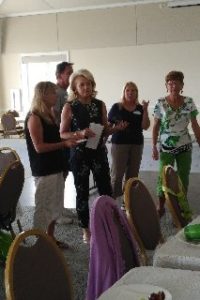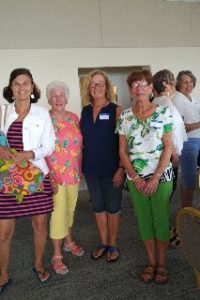 April 11 was a fun pot luck luncheon with new and old friends. !
===========================================
 WEDNESDAY   APRIL 12  was the date for the                                                                    2017 TASTERS LUNCH.
PBS Town Hall
The tables were decorated, the ice tea was ready and the ladies arrived with food in hand ready for a Pot Luck Luncheon!
The ladies brought  a variety of dishes and our plates were filled with taking just a little bit of each one. ! Then there was the desert tables filled with all sorts of temptations !  There was no room for one more bite !
After chatting and mingling we talked about our one special memory of Palm Beach Shores and it was wonderful to hear the ladies reminisce . I wish we had their memories on tape!
It was a wonderful luncheon and a great way to make friends . Thank you all for coming !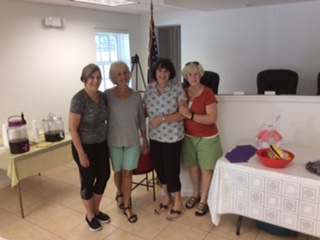 The tables are starting to fill up with goodies !.
Friends are arriving,     Marilyn  Degler and Cathy Breese chatting.
Chris Mielke  and Eileen Seymour with Rosemarie Woloszak and Ann Turner in the background.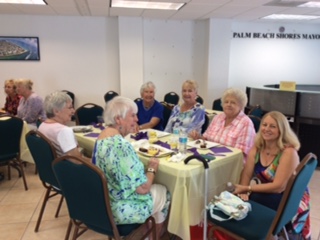 Alice Sirl,  Pat Maloney,  Cathy Breese, Marlene Jordan, Carole Oliver and Dot Erickson  enjoying the day.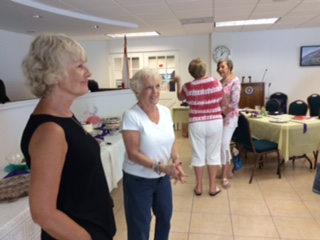 Rosemarie,  Ann, Roberta Loftus and Joan Mills catching up on the news,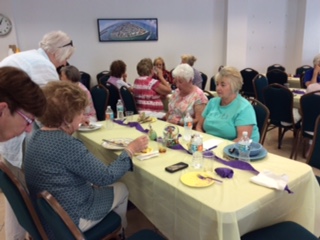 Diane VanDerPol, Eileen, Georgette Kauhane, Joan Ciannilli  trying to decide which table to tackle first !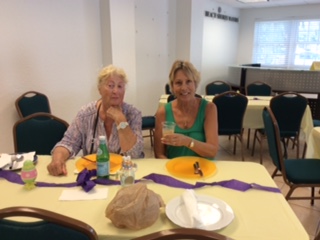 Irma Deeg and Sue Franklin  chatting.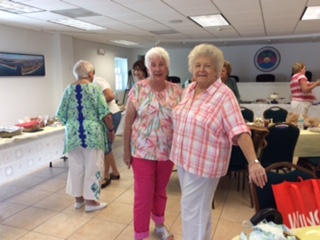 Georgette and Marlene,  the 'pink' ladies !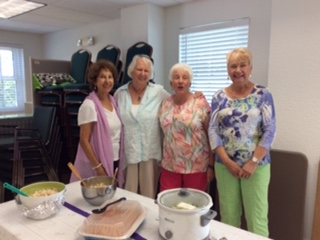 Marie Coppola,  Diane , Georgette, Carole making up a great table !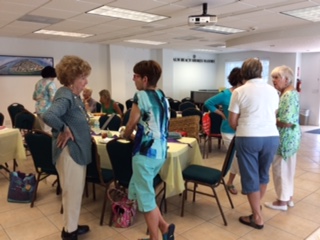 It's hard to get some of these ladies attention when they are chatting, so we have pictures of the backs of Eileen Dawson and Judy Craddock talking to Eileen, Chris and Pat   LOL ! sorry ladies !
Marilyn,    Eileen Dawson  , Joan Mills,    Ann  all enjoying the fantastic casseroles and goodies at the Taster Luncheon !
LAZY PEROGY CASSEROLE by Sue Franklin
This casserole dish was one of the fabulous new dishes we tried at the luncheon…..
12 lasagna noodles –    cook,  drain,  line bottom of   9″x13″  dish with 4 noodles
in medium-  size bowl,  mix together:
2 cups cottage cheese
1 egg
1/4 tsp. onion salt
spoon over noodles, spread out, cover with noodles
In the same bowl, mix:
1 cup shredded cheddar cheese
2 cups mashed potatoes
1/4 tsp. salt
1/4 tsp. onion salt
1/8 tsp. pepper
Spoon over noodles, spread out, cover with noodles.
Melt 1 cup butter in frying pan. Saute 1 cup chopped onions slowly in butter until onions are clear and soft. Pour over noodles. Bake 30 minutes in 350 degree oven. Let stand 10 minutes before cutting. Serve with sour cream.    Enjoy !
+++++++++++++++++++++++++++
SEXY CHICKEN
2-4 cups chopped cooked chicken breasts  ( 3 breasts  used)
1 T lemon or orange juice ( lemon used )
1 cup diced celery
1/2 t seasoned salt
1/4 cup finely chopped onion
1 cup cooked brown rice
1/2 cup mayonnaise
1 8oz can diced water chestnuts
dice these
1 can cream of chicken soup
1/2 lb sauted fresh mushrooms
1 – 2 oz or more sliced pimento
1/4 chicken broth
Mix all, put in 9×13 baking dish. Cover with 1 cup or more grated cheddar  cheese ( to cover dish ) cover this with crushed Lay's jalapeno potato chips ( use whole bag )
bake at 350 about 35 minutes. Can make ahead, if so, bake about 5 minutes more since dish may be cold ( set out from frig earlier )
curtesy of Marlene Jordan
,,,,,,,,,,,,,,,,,,,,,,,,,,,,,,,,,,,,,,,,,,,,,,,,,,,,,,,,,,,,,,,,,,,,,,,,,,,,,,,,,,,,,,,,,,,,,,,,,,,,,,,,,,,,,,,,,,,,,,,,,,,,,,,,,,
2016
Our annual lunch was on Wednesday, April 13, 2016 at the TOWN HALL, noon potluck meal.
PLEASE NOTE THAT This was A CHANGE IN THE LOCATION WHICH was LISTED IN OUR ROSTER.
A note to our newer members : This was a great way to get to know your fellow members.
So a special invite is extended to you for our 2017 TASTERS LUNCH WEDNESDAY APRIL 12, @ THE TOWN HALL.
The 2016 luncheon was a great success. We had our new Town Manger join us as we felt it would be a great way for him to get to know the Seasiders.
Lunch was pot lunch, which always turns out great !
Fun was had when each of the ladies and gentleman told a little bit about them selves and it turned out to be a great way to get to know everyone., Even those Seasiders that we have know for years reveled another side of themselves that we did not know.
If you missed the luncheon, I AM SORRY ! Maybe next year you will join us for this fun luncheon.