Sad and unexpected:
Gil VanSoelen , our Seasider Jane VanSoelen's husband passed away in Ontario, Canada Feb. 18.     Gil will be remembered fondly as he was a long time Singer Island Rotary member, POA member, and avid neighborhood biker.  Gil always had time to say hello and talk to everyone with his great booming voice. Although Gil was a 'SnowBird' he was always loyal to the United States  for helping to liberate his native Netherlands during WW11.
Our condolences to Jane and family in Welland Ontario and to his sister-in-law and brother, Irene and Ike Van Soelen.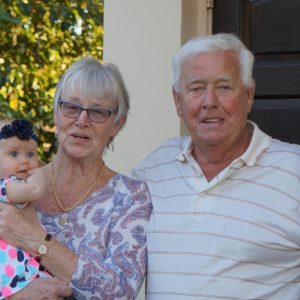 ==================================================Mary Langevin
Our Palm Beach Shores Police Chief , Steve Langevin's, Mom passed away on Friday January 12, 2018.  Mary passed away after a long courageous battle with COPD.                                                                                  A Celebration of life was held at the Town's Community Center Sunday January 28.   Our condolences to Chief Langevin, Michelle and Caitlin.
==================================================
Sad to report the passing of our Seasider Linda Bollbach's mother, Veronica Johnson.    A celebration of Life service  Sunday January 21, 2018 at Family Church Gardens.
Our condolences to Linda who brought Veronica to many of our luncheons and outings.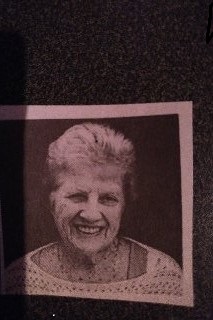 ===============================================
Sad news has been received on the passing our Seasider Joanne Kortenhaus.   Jo passed away peacefully at home on Sunday October 8th.   She was an  long time and active member of the Seasiders and the PBS Fire Dept.  Ladies Auxilliary.   She was also one of the original members of the PBS St. Patricks Parade.    A memorial service will be held in Palm Beach Shores at a later date.  Our thoughts and condolences are with Janet and families.
October 2017
===================================================
The Seasiders have lost a long time member,  Nelle Ball.                    Nelle had been ill for some time and we miss seeing her at our luncheons.    Nelle was an active Seasider,  former President 1983-84  and active in many committees through out the years.     We will miss our Gentle Southern Lady.                                                                                      Our condolences to her son Chaz.
Sept 29, 2017
==================================================
==================================================
Our Seasider   Angela Moody's daughter,   Frida DeRubeis , passed away on Sunday August 27th after a serious illness.
A Memorial Service was held at the Community Center to remember Frida.
Our deepest condolences to Angela for the loss of her daughter.
Sept 2017
*********************************************************************
Very sad and very sudden news that Mary Carlson lost her husband on August 8th.  Nels was only diagnosed with lung cancer a week earlier after being admitted to the hospital with pneumonia.     We will miss Nels wonderful voice and  seeing him  at those POA meetings.
Our condolences to Mary and family.
August 2017
*********************************************************************
*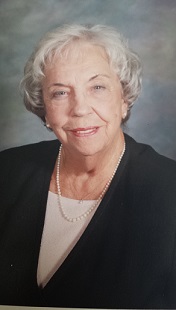 Ladies we are reporting with a heavy heart that Mary Louise Grimm past away.
Louise joined the Seasiders in 2005 and was active in Community Service and always a stalwart on the Jewelry table at the Bazaars. She also participated in the Secret Sister program and those fortunate enough to have been her 'Sister' will know that she took this fun seriously ! As many of you know Louise was Judy Craddock's Mom.  She was just short of celebrating her 100th birthday !
Our condolences to Judy , Walker and families.                                       July 2017
================================================
We are sad to report that   Lucia Petruska's Husband Joe  passed away June 4th weekend in PBS.   A Celebration of Life was held at their home Saturday June 10th.    Our condolences to Lucia and family.
===============================================
It is with a very heavy heart that we put this obituary of our long time Seasider in this page.
Dee Dorsey passed away on Saturday May 6, 2017 .
Dee was a very active Seasider participating in all aspects of the organization. Among her many activities  she was co-chair of the Social Committee and   Corresponding Secretary in charge of reservations.  Dee always tried to accommodate all the late and tardy reservations and did so with great skill which was a running joke with the Seasider Hostesses.   She was always willing to help in any capacity that she could.  Her help and guidance was always thoughtful and kind.  Dee was unable to attend our fabulous Fashion Show in which she had modeled in previous years and was almost in tears to miss it.  She made a special effort to be with us at our April Luncheon meeting.  She loved Seasiders and we loved her !  Dee we will so miss you !
Funeral : Cathedral of St. Ignatius of Loyola Catholic Church Friday May 12, 11:00 am  PBG
On behalf of all the Seasider ladies we send our condolences to her loving family .
We will miss you Dee
====================================================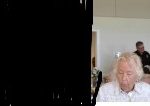 We are very sad to report that Joyce Maynard has passed away on April 17, 2017. This is sudden news. Her family will gather and together say her favorite verse ' What doth the LORD require of thee, but to do justly, and to love mercy, and to walk humbly with thy God. '    The family will receive friends on May 20 in the N.J. home of George Maynard.   Our condolences to her family in Florida and New Jersey.
===================================
Although not a Seasider but a very frequent visitor for many seasons, we are sadden to hear the news that Mary Amy Turner passed away the evening of April 16, Easter Sunday.
Mary Amy had just returned to her home in Jonesboro Arkansas after spending the winter in Michigan and Palm Beach Shores. She was with us for our fun Fashion Show luncheon And was an active bidder ! Ann Turner has lost a very special Mother-in-law and a lot of Seasiders have lost a great friend.  Mary Amy  celebrated her 100 Birthday last Sept.      Our condolences to Ann , Tom and Tommie 2 and family.

Mary Amy was in Canada in September celebrating  her 100th year
===============================================
We have been notified of the passing of Louise Riedel. Louise was one of the 33 Ocean ladies. Our condolenses to Louise's family.
*********************************************************************
Mildred Kohler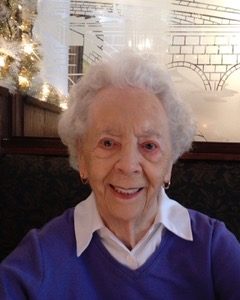 We lost a long time Seasider, Mildred Kohler on Feb 28.
Mildred was 101 and past away in her sleep.
For those of you who knew Mildred you will appreciate that she was 'Mildred' right to the end and had her hair done that afternoon. She a gentle lady and we will miss her wit and laughter.
Our condolences to daughter, Mimi ( Bo) and family.
*********************************************************************
We are sad to advise you that Marie Price's husband,  Gene , passed away.        A passionate sports fan and loving family man, he will be greatly missed. Our condolences are with Marie and family.
*********************************************************************
Many of you ladies will remember Mary Ann Kinsella.                           She was a Seasider  as well as an active resident on the POA board. Mary Ann lived at 131 Edwards Lane and was a long time resident, She had been in assisted care facility for the last 5 years.
********************************************************************
Over the summer of 2016 the Seasiders lost a long time member, Rosemarie Crothers
We will miss seeing Rose's smiling face at our functions.
Rose was a member since 1978.
*********************************************************************
We also were also sorry to hear of the passing of Betty Purcell.
*********************************************************************
We will miss these Seasiders and offer condolences to their families.