Very sad news to hear of our Seasider Igrid Defusco passing.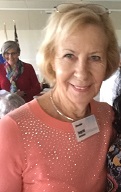 Ingrid was a dedicated Seasider which many of us got to know as she always had our name badges ready for us at each luncheon. Even we forgot to reserve she never complaint !  Her friendly face and gracious smile will be missed.
Funeral services:
1:00 pm Saturday January 5, 2019, Howard-Quattlebuam  Funeral Home, 754 U.S. Highway # 1,  561.848.9641
Remember to wear your Seasider Pin.
************************************************************
Gail Goldstein

We are sad to announce that Gail passed away on Wednesday March 28, 2018. Gail had been an active Seasider for many years She was always willing to donate her beautiful creations for silent auction items and prizes.
Gail was an active member of Singer Island Rotary writing monthly articles for the local Islander paper. She volunteered in our local Police Department and was often seen in the early years driving a citizen patrol car through the neighborhood. She was active in the Fire Fighters Women's Auxiliary and had a passion and concern for stray cats.  Gail and her beautiful smile will be missed.
===================================================
Sad and unexpected:
Gil VanSoelen , our Seasider Jane VanSoelen's husband passed away in Ontario, Canada Feb. 18.     Gil will be remembered fondly as he was a long time Singer Island Rotary member, POA member, and avid neighborhood biker.  Gil always had time to say hello and talk to everyone with his great booming voice. Although Gil was a 'SnowBird' he was always loyal to the United States  for helping to liberate his native Netherlands during WW11.
Our condolences to Jane and family in Welland Ontario and to his sister-in-law and brother, Irene and Ike Van Soelen.