ANOTHER YEAR AND ANOTHER SUCCESSFUL EASTER AFFAIR.
2019  Easter Egg Hunt is Underway in Palm Beach Shores.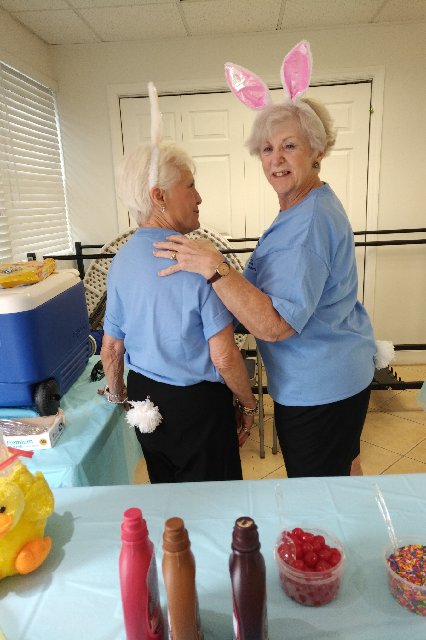 The Ice Cream table bunnies checking to make sure they were ready for the Easter Egg hunters.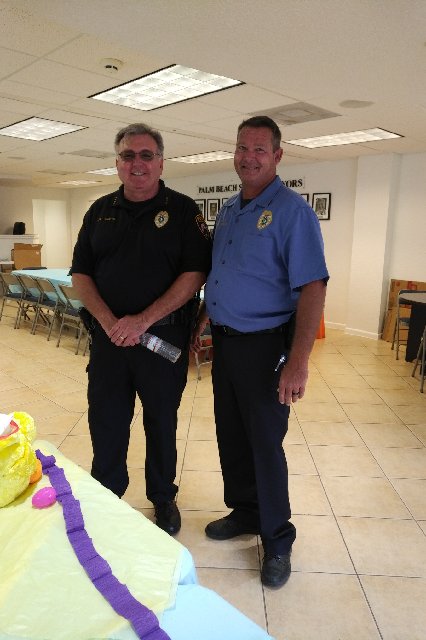 2019 Mayors Council organizers doing a great job as usual in making sure our younger citizens had a great morning !
 
 Ok… we have our ears on…. we're READY !
+++++++++++++++++++++++++++++++++
2018 EASTER  – Palm Beach Shores MAYORS COUNCIL  WAS A FUN FILLED DAY FOR CHILDREN OF 'ALL' AGES !
Mayor Myra got into the swing of things with great details ( including the Bunny Tail 🙂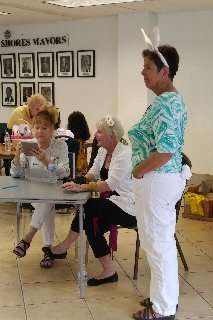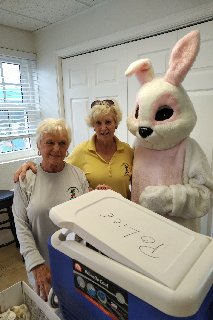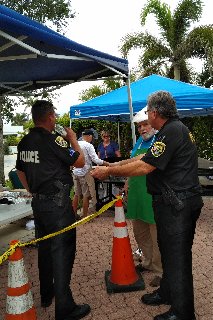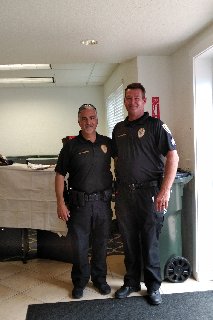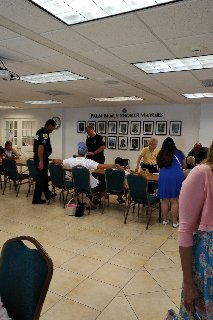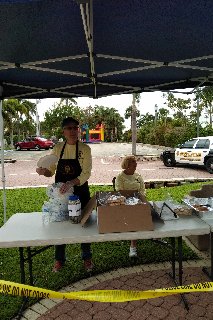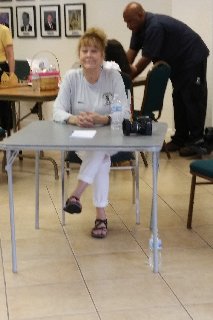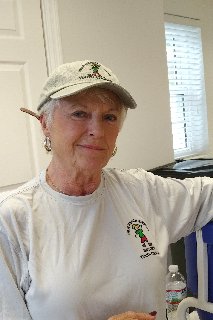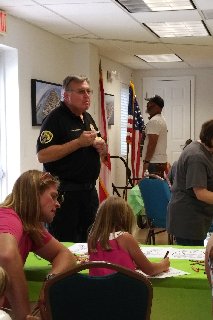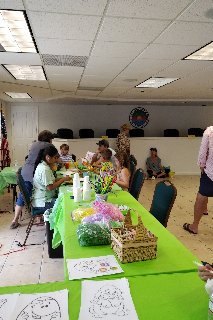 *****************************************************************
2017, MARCH 15 WAS ( as usual in PBS ) A SUNNY BEAUTIFUL DAY.
Crafts supplied by the Home Depot were loud, creative and fun !
Quieter crafts were provided by the PBS Police Department and created and carried out by Michele Langevin and her team of volunteers.
Over 150 children of all ages enjoyed the delicious ice cream sundaes.  These were individually ' topped' to order for those defining pallets.
AND of course, THE EASTER BUNNY was the hit of the morning ! The Bunny walked through the Parkway while the scampering hunters gathered the special eggs and were delighted to have their pictures taken.
After the Egg Hunt, delicious  Hamburgers and Hot Dogs were BBQ'd  at the Town Hall,and to wear off the excess calories the bounce house was right on hand.
THE PBS POLICE DEPARTMENT DID A GREAT JOB MINGLING AND ORGANIZING THE YOUNGER CROWD. Of courses they were also on hand to set up and tear down and help the Town Maintenance Dept.
Many thanks to the volunteers who worked in all the areas to make this a great event.
A  GREAT DAY  :    CHIEF YOUNG ,  LT. STEVE LANGEVIN AND THEIR  MEN IN BLUE ARE TO BE CONGRATULATED.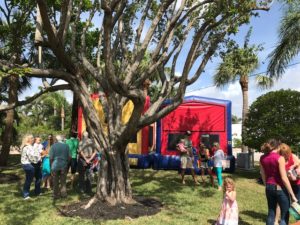 Popular Bounce House !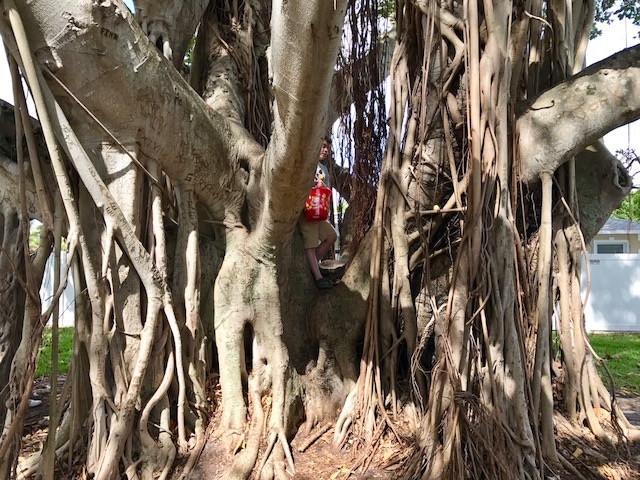 The Favorite Tree on the Parkway for children of all ages !,,,,, eggs here also ?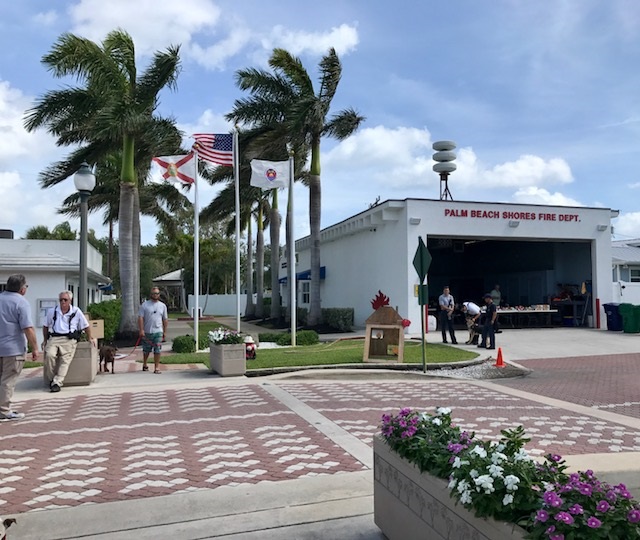 W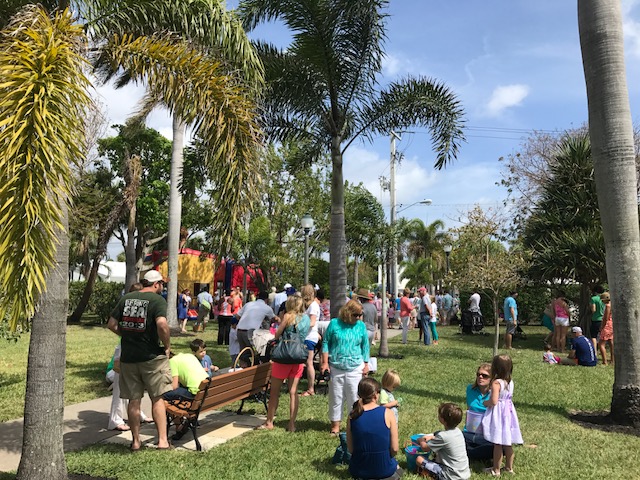 aiting for the 11:00 start siren !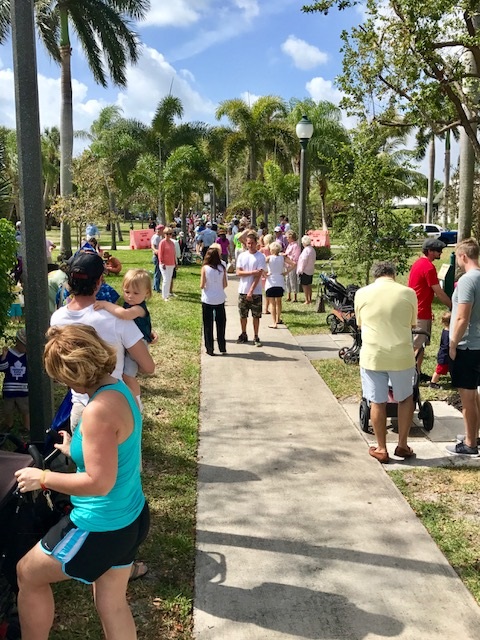 Gosh will that siren ever go off ! How long is it now Mom ?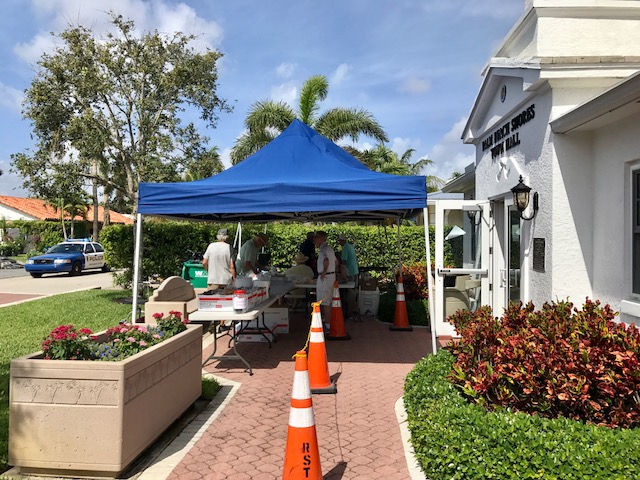 We could be first in line at the BBQ station…….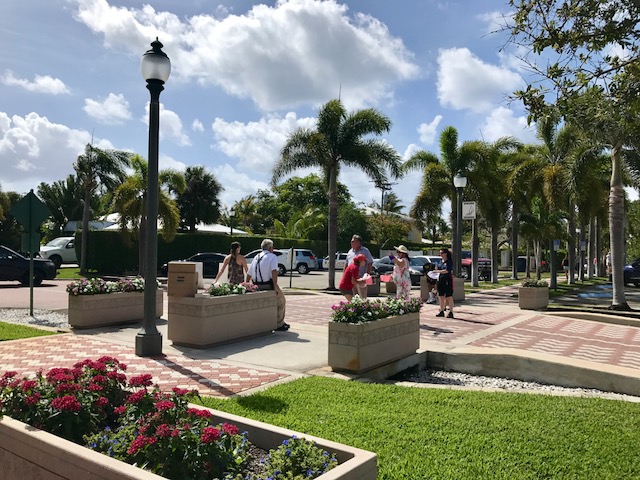 The volunteers are gathering on a beautiful morning !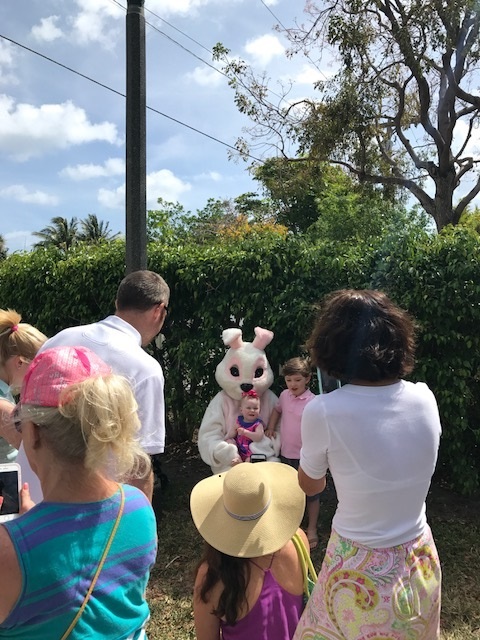 Look who I found !       Wow the Easter Bunny !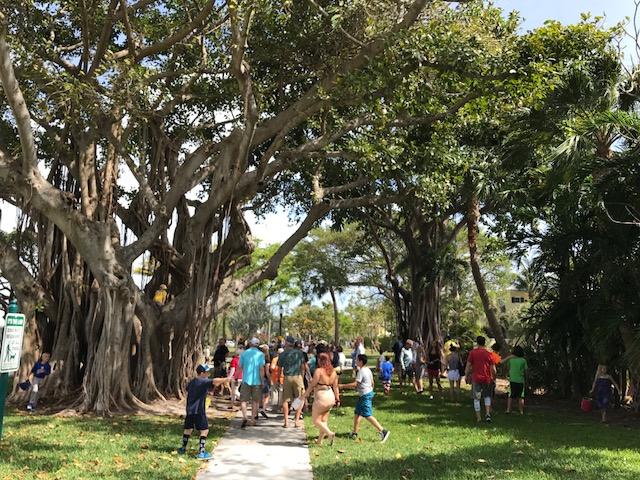 Hurry….. I think I heard the siren go off !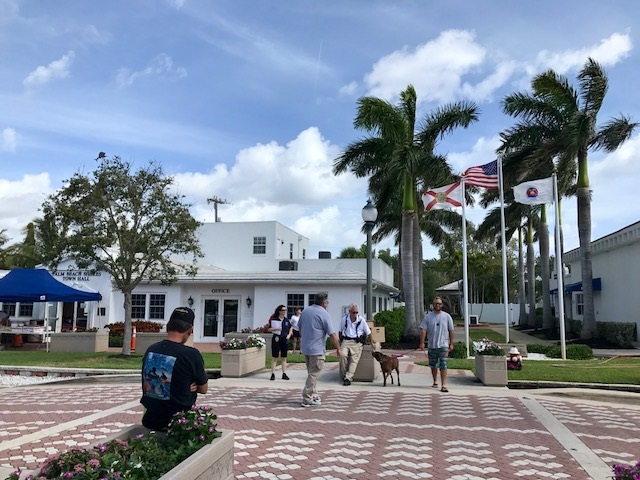 Directing traffic ?  …..
Wow    …….this a great Fire Hall!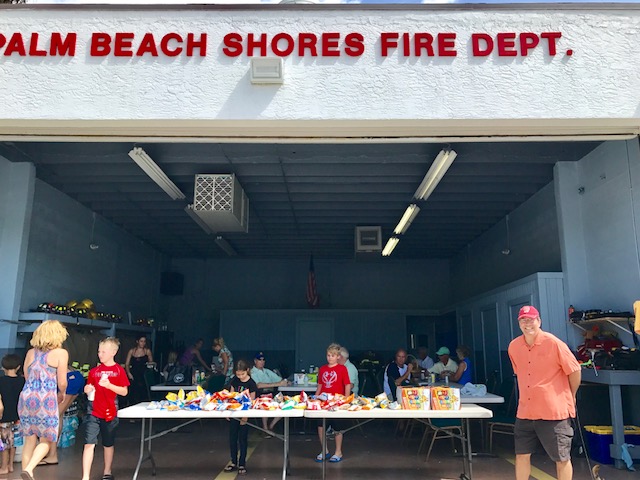 Yup,   there are bags of potato chips here !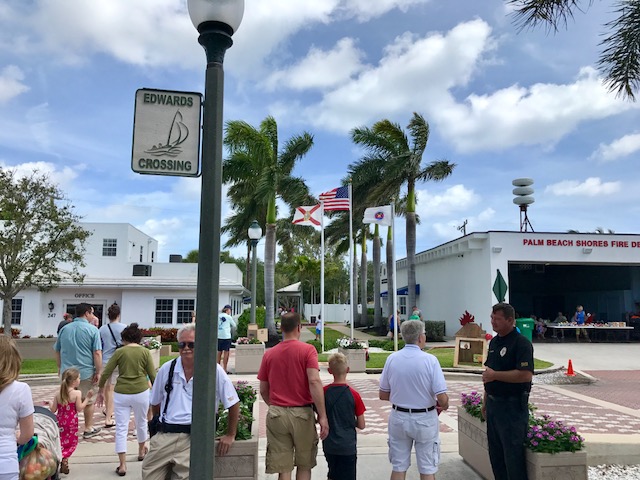 Heading over to the BBQ tent !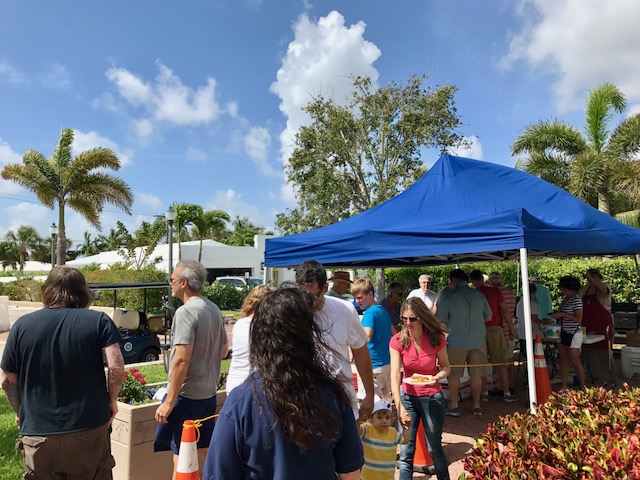 Heading to the Fire Hall now, I hear there is a 'Burn House' there for the young Fire apprentices ……. wowie !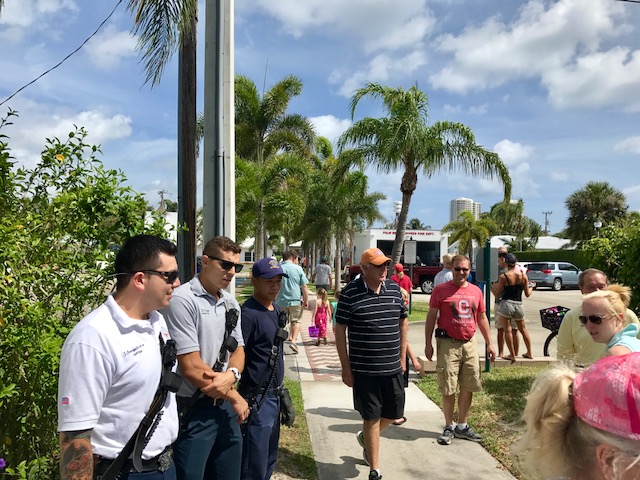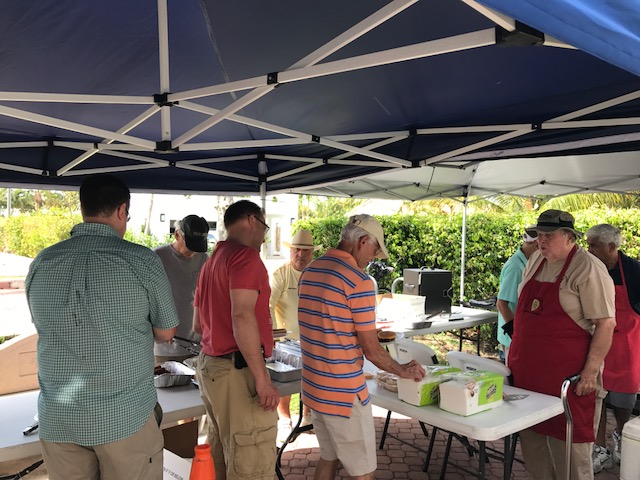 Our volunteer Fire Dept waiting to be of assistance to the Easter Bunny , all with our volunteer cooking staff !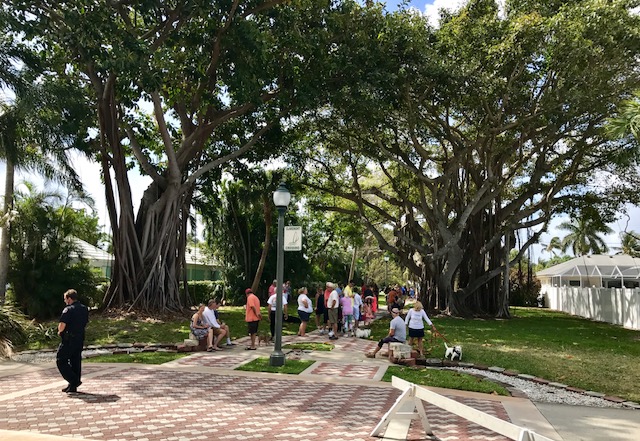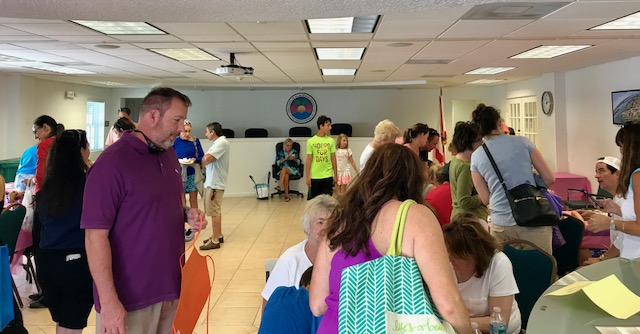 Signing up for the Home Depot craft table !!   hammer ! hammer !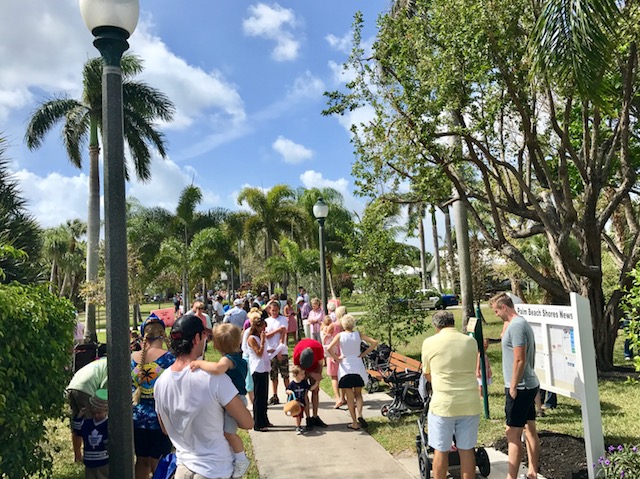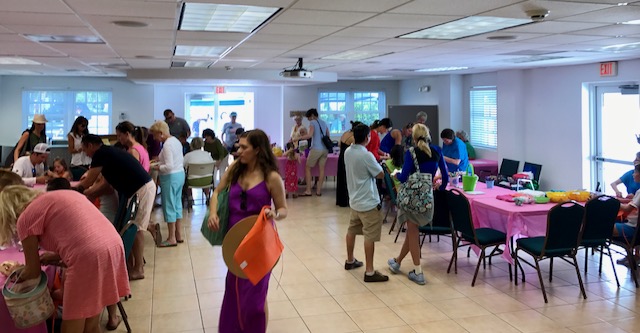 There were crafts for all ages and to suite every ones artistic ability . Very patient volunteers to help everyone, young and old alike .
A GREAT DAY ORGANIZED BY OUR PALM BEACH SHORES POLICE DEPARTMENT !!   JOB WELL DONE ( Again )
Note:     Thank you to Gaudy at Town Hall for these action pictures ( and patience in sending them to me   🙂 )
=============================================
2016 Easter Egg Hunt,Palm Beach Shores
It was a sunny and very warm morning when the Easter Bunny scattered over 3000 Easter Eggs on the Parkway between Edwards and Bravado Lane.
Our Wonderful Police Department led by Lt. Steve Langevin and volunteers from the Youth Council out did themselves with a great BBQ, Bounce House, Easter Eggs, Crafts Tables,and an Ice Cream Sunday Bar.
Special Thanks to Home Depot for providing craft items, and 2 of their staff to help us with the next generation of DIYs
Marion again provided crafts which were quieter on the ears and while the hammering was taking place ice cream was being served.
Many volunteers where helping at the craft tables, Eileen, Barb, Mary, Nels, Edie, Lynda ,even International recruits at the Bounce House Debbie and Brian and I may have missed some because it was impossible to see through the crowd of DIYers !
Chefs Vinnie and Walker cooked up a storm of hamburger and hot dogs while Bob, Larry and Mel served the crowd.
Of course the special guest on the parkway was the surprise appearance of the EASTER BUNNY !! What a wonderful treat that was. Thank you Easter Bunny for coming to Palm Beach Shores this morning. It was a hot day for you to be out and I'm sorry we didn't have any carrots or lettuce for you !
A very special thank you to all the volunteers and Police Department of Palm Beach Shores and to our Lt. Steve who makes it a fun morning for all of us in PBS.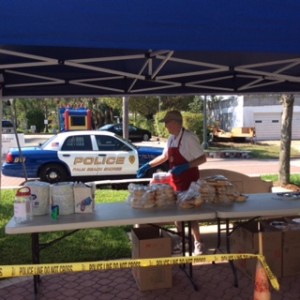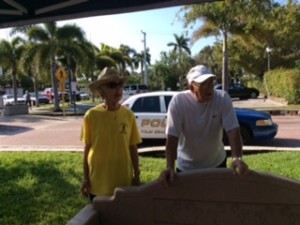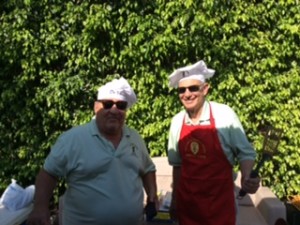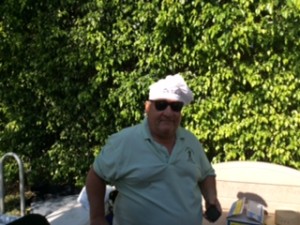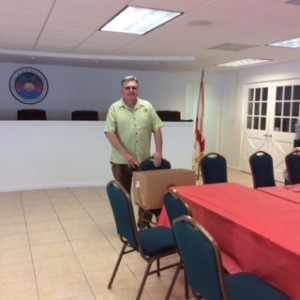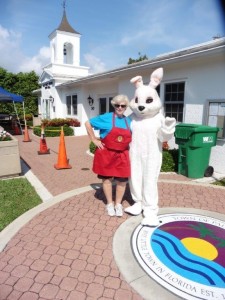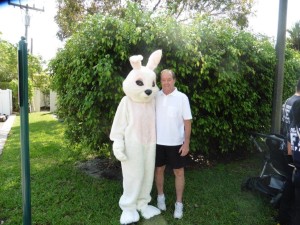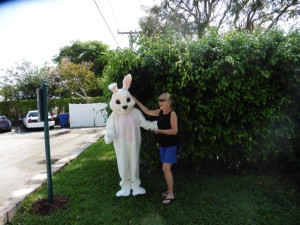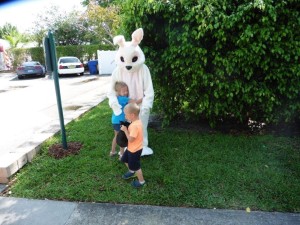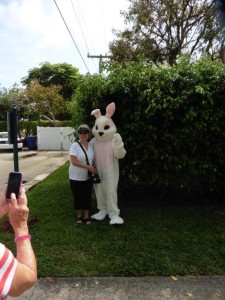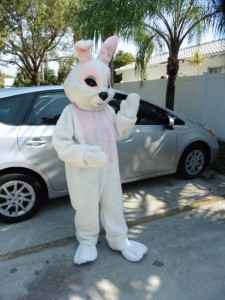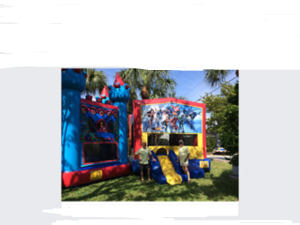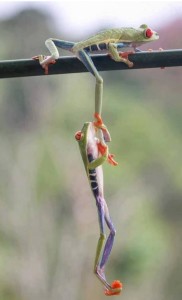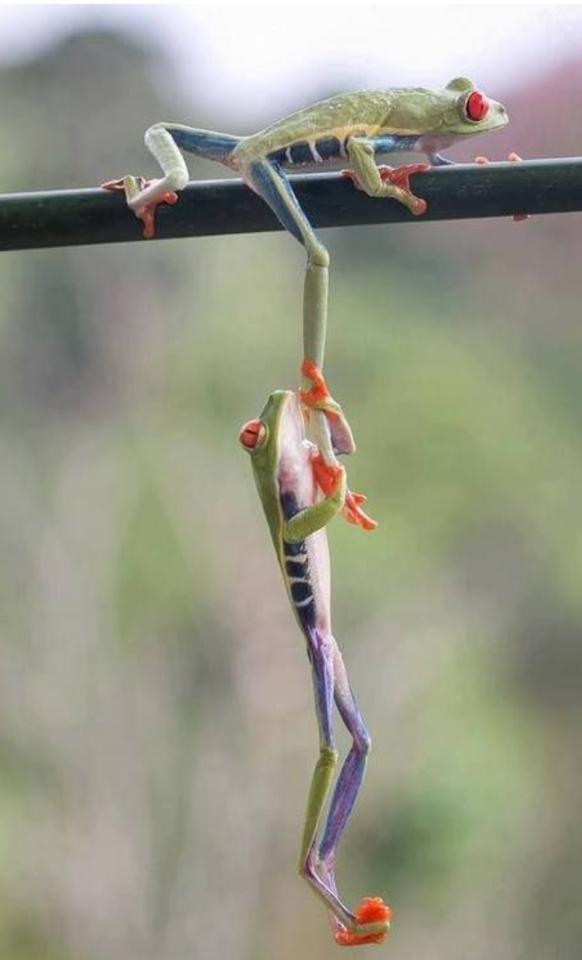 Until Next Year, Thank you Easter Bunny and Helpers !