Four Arts meet on the 4th Tuesday of every month (Oct to May ).
It is always a fun morning or afternoon and sometimes includes a stop lunch along the way.
Home and Garden and Four Arts socials are cancelled due to Covid.
Please stay tuned to find out when these great outings will resume.
Going on any of their adventures will be a great way to meet friends and learn about our surrounding areas. 
===========================================
                                    March 11, 2020  Catamaran Ride
It was a beautiful day on the Inter Coastal Waterway for a Catamaran Ride.  Thank you  Captain John Workman for treating the Seasiders to a wonderful afternoon and evening  of sailing.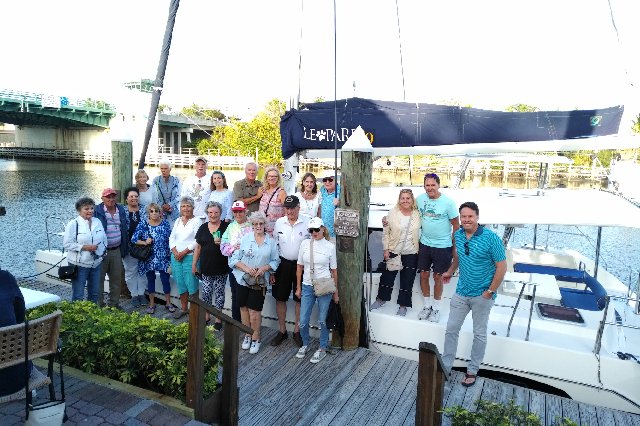 A Happy group of Seasiders with Captain John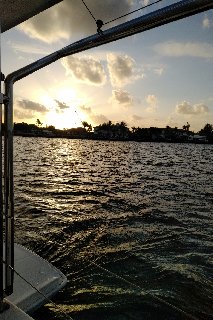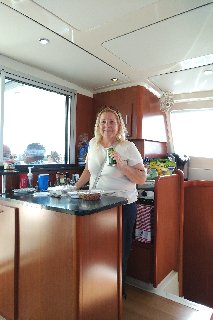 Smooth Sailing
The bar is open !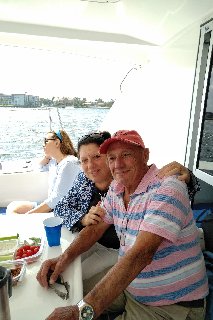 Our guests, ( handsome husbands ) enjoyed the sailing !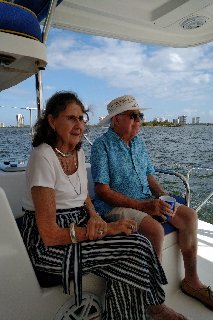 Enjoying the view on the Inter Coastal.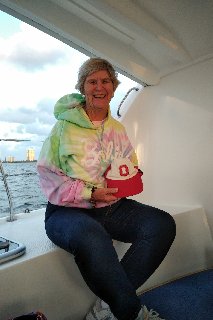 This is fabulous !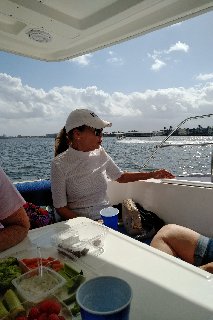 Cruising into the sunset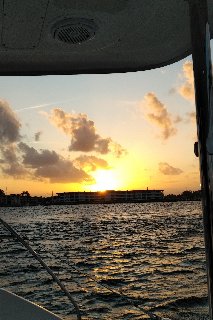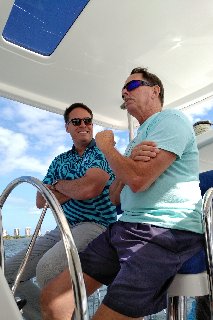 Yes John, it takes muscle to be able to sail !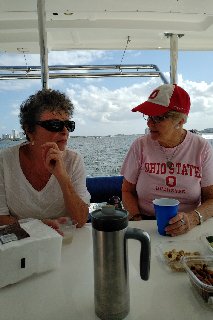 I understand that First Mate Dave is also a good bar tender ?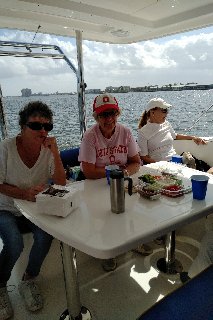 Christine, do you think the bar is still open ?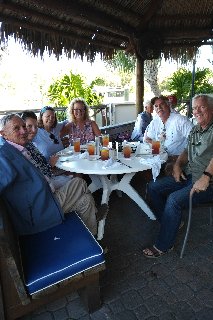 Great Sunset meal at the Waterway Cafe.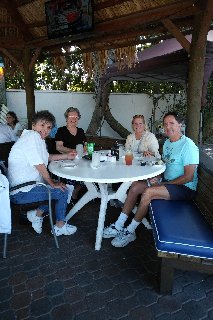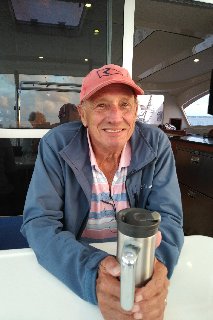 This is the way to sail !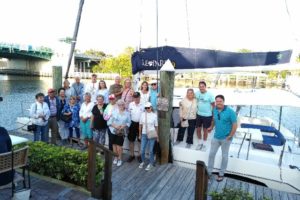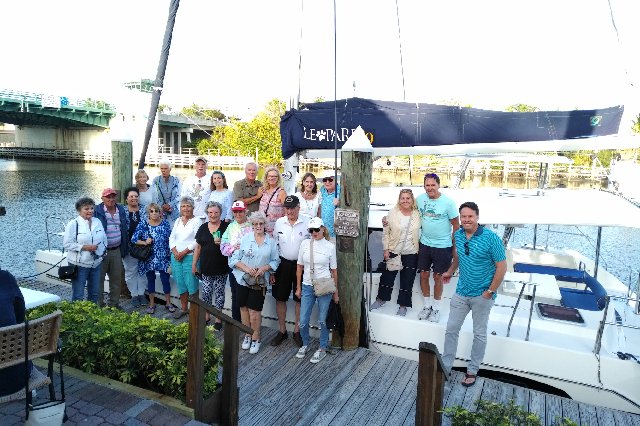 Another fabulous cruise.  Thank you Captain John for the wonderful  sail. Thank you Carol for putting this together and thank you First Mate Dave for looking after all the details on the boat.
*************************************************************************Four Arts venture in December was to FAU Campus to hear The Choral Society of the Palm Beaches Voices in Celebration, A Holiday to Remember.

This was all the more special as one of our own SeaSiders, Lori is a Soprano  in this Choral Society. A great entre  into the Christmas Season.
♥      Stay tuned for pictures.
*************************************************************************
 November Adventure  by our Four Arts  Carol Miller:
West Palm Beach Food Tour, A great day in West Palm Beach for the food tour, weather was perfect. A  group of 12 ladies enjoyed a fun tour and also  celebrated Carol Pirro"s birthday.

They were guided by Lauren and Jonathan through edible venues starting with Paris Bakery and Cafe ( noted for chocolate croissants!)
Hullabaloo ( Fritz), ( sampled Brussel sprouts with bacon aioli and sweet pine nuts, chicken meatballs and ricotta. Toured a secret garden with an retro Airstream camper)
Dr. Limon ( ceviche, special corn and corvinal limes)
Salento Coffee with Jaime and his wife. ( tinto coffee with raw sugar can and Pandebonos were the tastings )
Ganache Bakery ( coconut water, tamarind drinks and key lime pie were on the menu here )
The Blind Monk ( prosecco mojitos, and Cubano curado sandwiches were waiting for us )
This tour featured European, Cuban, Peruvian, Columbian and St. Croix food all in one afternoon created by award winning chefs !
and then as if this wasn't enough we had a special tour of Palm Beach Dramaworks, where Dot and Marie are volunteers.
 Recipe  from West Palm Beach Food Tours

Part 1: Prosecco Mojito recipe.
Part 2: See link to our photos in the  "original message" below.  When you click on the link, which is available for the next 2 weeks, scroll down to the PRIVATE downtown West Palm Beach food tour 11/12/19 section and you will see the familiar faces. Enjoy!
Prosecco Mojito Recipe
Step 1: Create the Mojito Mix
Make a simple syrup by pouring equal amounts of sugar and water in a saucepan.  Start with 1 cup water and 1 cup sugar which will equal about 1 1/2 cups of simple syrup.  If you're only planning to make a couple of Prosecco Mojitos, make less.
Stir the ingredients together over medium heat until the sugar is dissolved, and the mixture is clear.
Infuse the simple syrup with mint leaves for 12 hours. To infuse, simply means adding fresh mint leaves to the hot simple syrup mixture.
Remove mint leaves from the mix (they won't look very pretty).
At this point, you may refrigerate the simple syrup for up to 1 week in the refrigerator.
Add fresh squeezed lime juice (to taste – the amount of lime largely depends on how juicy the limes are) and refrigerate.  Once the lime juice has been added to the simple syrup, the Mojito Mix is complete and should be used within 3 days.
Step 2:  Make the Drink
Tear 2 mint leaves and squeeze one lime wedge into empty glass
Add 1 1/2 ounces of the Mojito Mix
Next, add 5 ounces of sparkling Prosecco Wine. Note: The Blind Monk uses Le Colture Prosecco
Add ice, imagine you're in the tropical paradise of West Palm Beach, Florida and enjoy!
Thanks for joining us on 11/12/2019!
Wait a minute gals. I'm sure I have my wallet….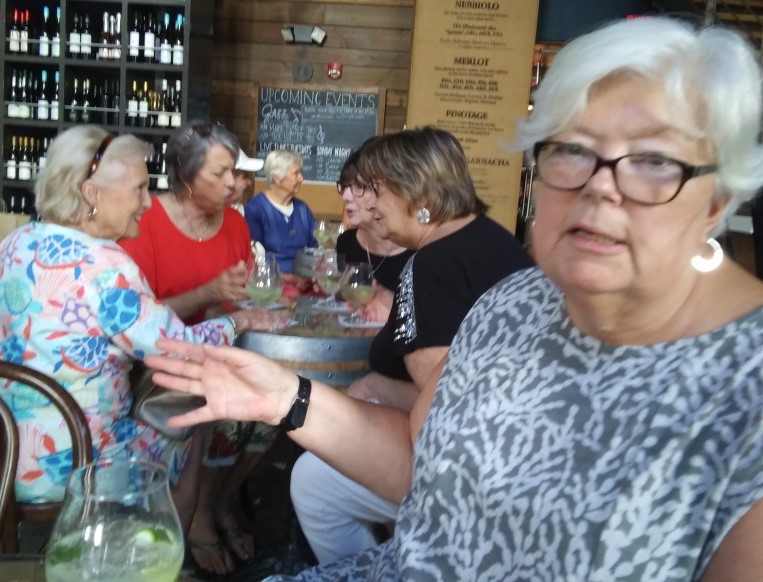 You see these gals chatting and having fun… you could also be a Seasider !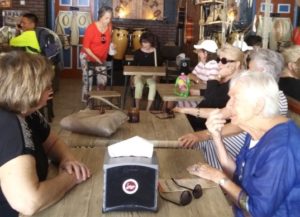 This has been a great event !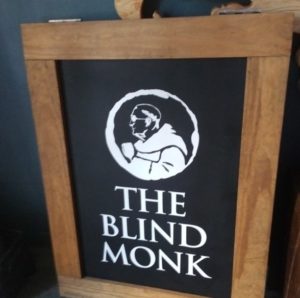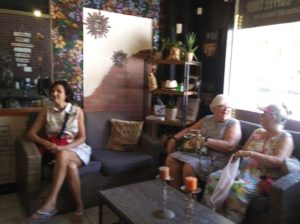 I think I ate too much !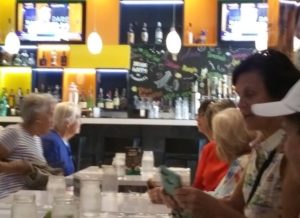 Wow did you see the size of that dessert ?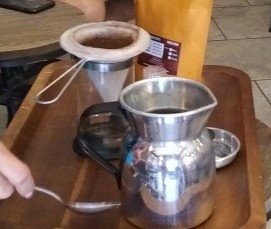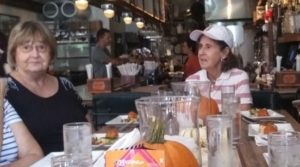 No, I missed it !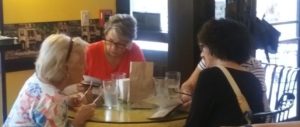 So how much tip should I leave ?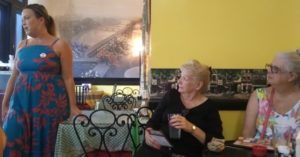 Don't worry.. we will be back again !  The Food Tour was great

Hello!

Thank you for joining us on the Downtown West Palm Beach Food Tour. We hope you have delicious memories of your day, and here are the "souvenirs" from your tour…

Photos! Please download, print or share our tour photos and tag us @WestPalmBeachFoodTours on Instagram & Facebook.

Recipe! Prosecco Mojito Recipe from The Blind Monk – each time you make this refreshing cocktail, we hope you remember your Downtown West Palm Beach Food Tour!

Reviews! If you had a deliciously fun time, please leave us a review on Trip Advisor, Facebook or Google…thank you! If your tour was anything less than delicious, please reply to this email to let us know – we're open to suggestions. We strive to be the best tour in town, so your direct feedback is important to us.

More Tours! We hope to see you again on our Historic West Palm Beach Neighborhood Food Tour or join us for our Cooking Classes. As a repeat guest, you'll save 10% on tickets or gift certificates to our food tours or food tours throughout the world with the discount code: EatTheWorld.

Please keep West Palm Beach Food Tours in mind for private tours…we'd love to arrange a private birthday party, corporate event, girl's weekend, social group, bachelorette party or family reunion.

Have a delicious day!

Kristl, Kelli, Kassie, Lauren & Jonathan
WestPalmBeachFoodTour.com
561-331-1158

Remember…eat well, laugh often because "people who love to eat are always the best people." -Julia Child
Call any member of the committee for more detailed information on cost and times.
You can bring a friend or significant other on these trips but you have to confirm !!