Executive and Board of Directors for
2021- 2022
President:                                               Lori Kollmeyer
1st V.P. – Newsletter:                           Kathy Ramsey
2nd V.P. – Name tags :                          Marcia Cohn
Recording Secretary :                        Mary Stanton
Corr. Secretary/Reservations:        Cindy Stevens

Treasurer :                                            Mary Beth Koch
Past President :                                    Chris Mielke
Special Committees:
Publicity – Barbara Platner, Nancy Cogger
Programs – Chairs – Carol McKenna,

Photographgers – Nina Lammert, Cathy Sommers
Historian – Kris Beaudette
Hostesses – Elizabeth Kuechenmeister, Georgette Kauhane
Table Decorations – Georgette Kauhane, Christine Bergmann
Neighbor to Neighbor – Maura DeReuil, Cathy Breese
Web Site – Cathy Sommers
****************************************************
Lunch reservations: seasidelunch65@gmail.com
Web Site: www.seasiderspbs.com
247 Edwards Lane
Palm Beach Shores, Fl, 33404
==================================
Executive for 2019/2020 Being Installed by Joan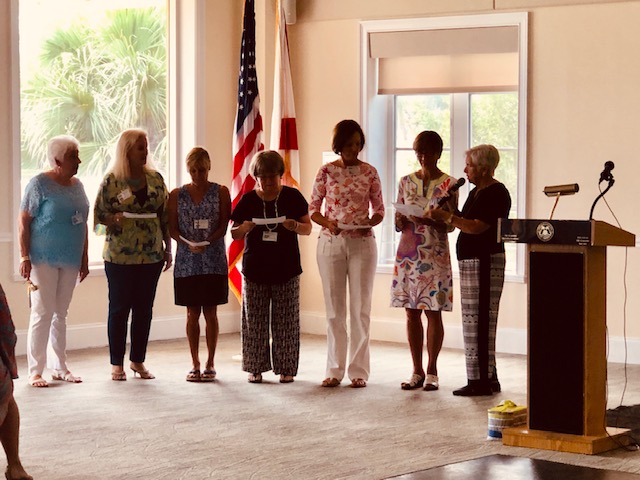 Welcome Ladies !
The Seasiders are very fortunate to have a wonderful group of members who always step forward to volunteer for their turn on the Executive.  It is an active Club with interest for everyone.
**********************************************************************
For Details on each Committee Area please "Click" on the Individual Pages
Committee Chairs:
Community Service: Chris Mielke, Sue McManus
Bazaar:  Georgette Kauhane
Social Group: Anne Rieger, Pat Dameron
Home & garden/ Four Arts Group: Connie Wilson

Book Club: Dot Erickson, Caroll Oliver