COMMUNITY SERVICE COMMITTEE
Crafts

–

  Fundraising

–

Community Outreach
For EVERYTHING you ever wanted to know about SEASIDERS COMMUNITY SERVICE COMMITTEE !
2020-21 focus  We will continue the tradition of raising funds to support local charities, with a focus on more direct service in the community.  Please consider being a part of our Outreach Projects !  One hour of your time CAN make a difference !
Our 2021 Bazaar is cancelled but we are in the midst of a donation drive.
Please see 'URGENT MESSAGE ' page for details or call President, Chris for details.      574.298.6503
Year Round Collection Items for Charity
Please look around your home and see if you can help us with any of these items that will help people and organizations in our community.    Items can be dropped off at Monthly Luncheons, Thursday Community Service meetings at Town Hall or email Cindy at cstevens52@gmail.com if you need us to pick up.   Items that would be greatly appreciated are listed below.   All donations are appreciated no matter how small.
COMMUNITY OUT REACH
We raise funds and donate to local charities who serve people in need.  Each year the  charities that are put forward by our volunteers are vetted and researched and voted on by Community Service.
SERVICE PROJECTS
Our Seasider members are all volunteers and are recruited for a large diversity of skills.  If you have time to volunteer, we need you !
read to school children
make sandwiches
save  box tops for education
collect used printer ink cartridges
participate in craft fun workshops for all level of skills
make / recycle greeting cards
participate in the fashion show
volunteer in all aspects of the annual Bazaar & Christmas Market
distribute toiletries to shelter
help with raffles
DETAILS ON WORKSHOPS
THURSDAY CRAFT WORKSHOP 9:30 Thursdays (2nd,3rd, 4th of each month ) Town Hall – Chair Sue : sue.mcmanus128@gmail.com
RAFFLE/FUND RAISERS –              Cindy:        cstevens52@gmail.com                                                                             Sue:             sue.mcmanus128@gmail.com
GREETING CARD WORKSHOP  9:30 Thursdays, ( 2nd, 3rd, 4th of each month)   Town Hall
HOLIDAY MARKET  December 2022, Community  Center – Chair Chris:    cmielke26@hotmail.com
BAZAAR – Feb. 2022 Community Center- Chair Georgette Kauhane
hdgikauhane@comcast.net
OUTREACH PROJECTS, 2022
ST. ANNE'S PLACE,    2107 North Dixie Highway – Seasider contact, Cindy:   cstevens52@gmail.com
Outreach center for homeless men and women. Its mission is to provide a comfortable, clean and safe place where clients receive services in a dignified manner regardless of race, religion or gender.
Our donation is made to offset food costs for sandwich making once a month.                                                                                                                                 On going donations of items such as polo, t-shirts, mens pants toiletries etc are always required.
LINCOLN ELEMENTARY SCHOOL – 1160 10th Ave. North – Seaider contact – Cindy  cstevens52@gmail,com
Helping the quality of the school at large which in turn helps the community as a whole.  98% of Lincoln students quality for a free or reduced lunch.
On going items that are collected  throughout the year for this school are :
Box tops for education on foods, gently used childrens book,  headsets and mice for computers ,used ink cartridges, gently used polo shirts ( any color) ,pants,  shorts in khaki, black or navy , new underwear, socks and gently used shoes.
Volunteers are required in this school in gardening, Reading Room, Grandparents Program, Food Pantry and  soliciting used ink cartridges from local business on a regular basis.
Donation  2018  Made toward the cost of the Safety Patrol  fundraiser.
LAKE PARK ELEMENTARY SCHOOL – 410 3rd St Lake Park – Seasider contact is Chris: cmielke26@hotmail.com
This school has a population of 98% of students qualifying for free or reduced lunch.  Lincoln and Lake Park schools are both are neighbors.
Volunteers are greatly appreciated in this schools  'Reading with Students'.    Donations of uniform clothing and gently used polo shirts , pants, skirts or skorts in khaki, black or navy are appreciated.
Donation, 2018 to aid in cost of uniforms for students.
JESUS AND YOU MINISTRIES – 2831 Ave S, Riviera Beach
J.A.Y. Outreach seeks to recover lives, restore families and revitalize neighborhoods affected by drugs & alcohol addiction.                Founded in 1993 the organization delivers an array of services and programs that impact more than 1000 families annually.
Volunteers are need for G.E.D. instructors and Tudors,  community Mentors for men in recovery.  Instructors of art, music and dance for the Youth After school enrichment Program, Storybook readers for pre school children and after school tutors for grade 3 students to help them pass state exams.
Donation 2018 Contribution for their Community  Program               Unsold items from the Annual Bazaar is donated to their Thrift Shop to support their Out Reach Programs.
ST. GEORGE'S CENTER – Seasider contact, Chris: cmielke26@hotmail.com
The mission of St. George's is to improve the quality of life for people throughout Northeastern Palm Beach County by meeting the basic need for food, clothing and hygiene. They provide an atmosphere of dignity and self respect as they support their clients' journey toward self sufficiency.
Volunteer assist at lunch time serving and in the kitchen preparation. there is also a need with food and supplies pick up from various donors.  They appreciate donations of clean new socks, personal care and hygiene items and mens clothing. Tutors for the after school program are need Monday to Friday.
Donation 2018 to aid in community programs.                                                   End of season fresh products and items from functions at the Town of Palm Beach Shores are donated to aid in their food pantry.
NEW ADULT DAYCARE CENTER – 301 Ebbtide Dr. suite H, North Palm Beach – Seasider contact is Carol : caroldobbs@hotmail.com
New Day Adult Care Center has a memory loss program and a memory loss prevention program for many people interested in retaining memory or recovering memory.  They use music therapy and music programs, adult education, movement, cognitive simulation and many other techniques to help people understand how memory works and to help adults in their care retain memories.  They invite special guests to perform or speak.  They utilize some volunteers and they have wellness fairs too.  The Day  Care is associated with the Lutheran Church in North Palm Beach. The staff is energetic, knowledgeable and friendly.
They would be thrilled to have soft lap robes approx 30×30″.
Donation 2018 was used to help train staff to use music as a therapy with the clients.
MY VERY OWN BLANKET – Seasider contact, Caroll: olivercars@aol.com
Seasiders provided knitted, quilted and crocheted blankets to this agency for foster care children who get shuttled from place to place and do not have anything of their own to take with them. Most Seasiders provide their own materials for this project.
NATURE SPEAKS HORSE FARM -.
Nature Speaks is a Theraputic Horse Riding Center for children with special needs.
Donation 2018 – a donation was made to St. George's Center for 20 children to attend Nature Speaks Horse Care and riding Camp over the summer.
RYANS CASE FOR SMILES – Seasider contact, Marilyn: marilynpbs@aol.com
Pillowcases are made and donated to local hospitals for children who have just been admitted to this strange surrounding.  Marilyn does all the cutting and plans events for sewing of the cases.  Seasiders help iron and package cases on Work shop days at Town Hall.
Donation 2018 was made to purchase pillowcase fabric.
 WOUNDED VETERANS RELIEF FUND , Lake Park – Seasider contact Carol : carolpirro@bellsouth.net
This Relief Fund support Veterans who are in need of housing, food, help with paying for household utilities or car repairs.  The veterans come through a referral from the VA Hospital.  The Wounded Veterans Organization makes payments directly to the landlord, utility company etc. to help Veterans.,
Donation 2018 is made to the Wounded Veterans Relief Fund.
PALM BEACH SHORES –
Donation 2018 – scheduled towards the purchase of a Beach wheelchair.
SEASIDER / ROTARY SCHOLARSHIP – Seasider contact, Eileen: eibobfla@comcast.net
Donation 2018 – for a four year  College Scholarship
SEASIDER CHARITY ALLOCATIONS 2018     total allocated $17,500.00
YEAR ROUND COLLECTION ITEMS FOR CHARITIES
Seasiders have many charities that we support with financial donations, but often these organizations are in need of many other items that are not hard to collect and supply to them.  Please consider keeping the following items in mind when you are cruising Flea Markets, Thrift Shops etc.
Items needed for :
St. Anne's Place                                                                                                                       . soft fruits, bananas, grapes or oranges, canned tuna and raw eggs. Drop off at Town Hall on 'Work shop Thursday'
. Men's lightly used polo and t-shirts
. Men's pants/shorts ( sizes 30-36)
. Men's new underwear and socks
. deodorant, back packs, ponchos, men's hats and bug spray
St. George's Church Outreach
. jeans for men and women
. items for hygiene bags – suggest dollar store, travel sizes / hotel samples, shampoo, toothpast and toothbrushes, and new white socks.
. your end of season food collection
Lincoln Elementary School
. box tops for education ( boxed food including general Mills cerial boxes )
. Campbell's soup labels
. Empty printer ink cartridges and toner
. children's clothes for uniforms ( 5-11 yrs sizes 4-12) any color polo shirts,shorts, skorts, skirts, long pants in khaki, black or navy. Smallest sizes are highest in demand.
. computer head sets and mice – can be found in Dollar Stores.
Lake Park Elementary School
. children's clothes for uniforms (5-11 yrs sizes 4-12) any color polo shirts, shorts, skorts, skirts, long pants in khaki, black or navy and belts.  Smalles sizes are always required.
. gently used children's books.
Holiday Market
If you can same small glass jars, jelly, jam etc, our crafters can use them for the early December Holiday Market.
Note:
The above items can be dropped off at the Town Hall meeting room on work shop Thursdays.  We will be sure everything gets delivered to the appropriate charities.     Thank you for anything that you can contribute to help these  causes !
To volunteer for any of these great projects please contact the chair person listed or the Community Service Chairs as well as the Seasider President.                                                                                               Information is also listed in your current Seasider Book.

VOLUNTEER !   YOU will receive fellowship, friendship mixed with fun.
++++++++++++++++++++++++++++++++++++++++++++++
New  Day  Adult Care  Center receiving the Seasider donation, April 12, 2019.  This Care Center is a day care for adults and a blessing for weary care givers.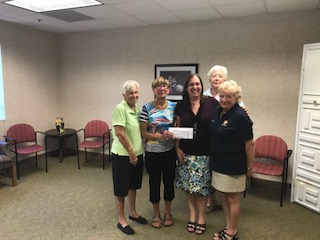 Our Seasider Community Service ladies, Joan Reilly, Chris Mielke , Sue McManus, Dale Mathews with Director Julie Tombari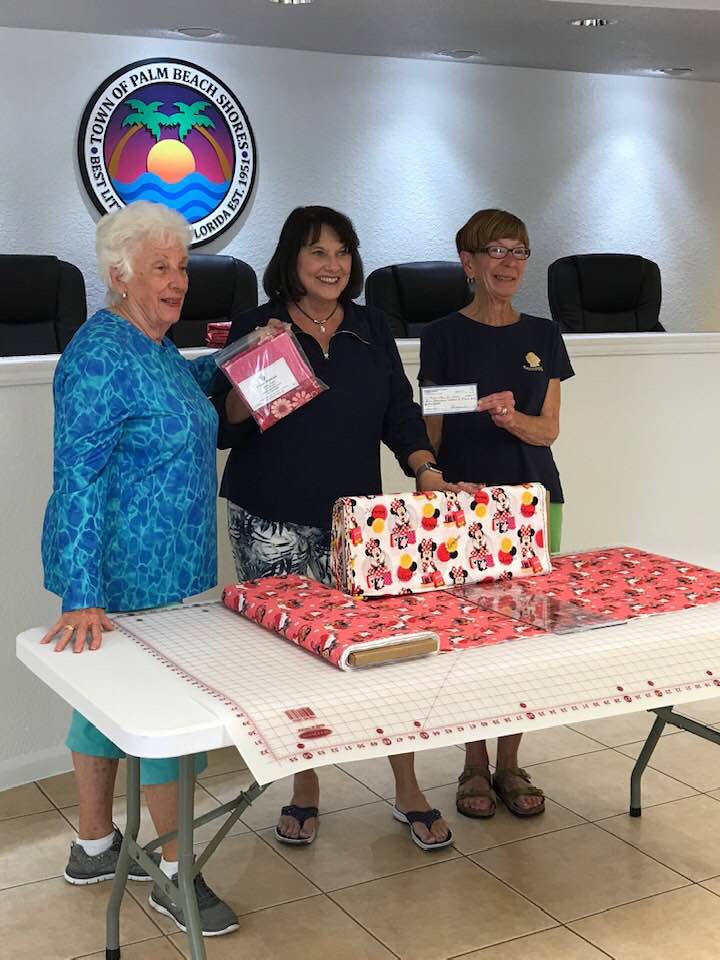 Ryan's Case for Smiles Marilyn Degler is presented with a Seasider donation check by President Georgette and Bazaar Co-Chair Chris. From bolts of fabric special children's pillow cases are made and given to children in hospitals to brighten their day and make them feel special. Truly 'cases' for smiles  in 2019 !