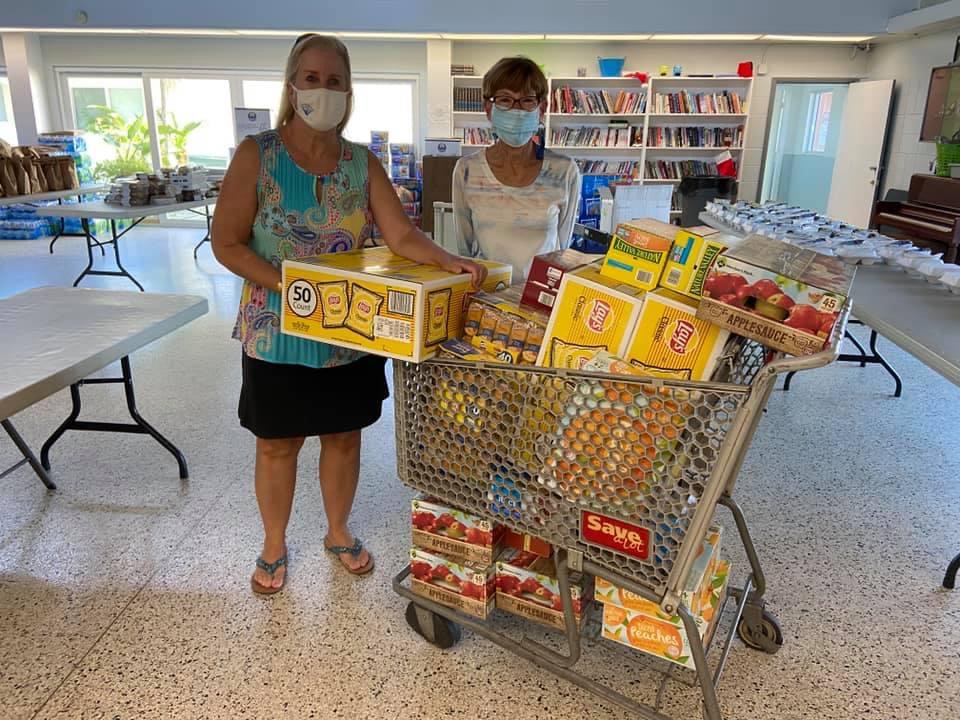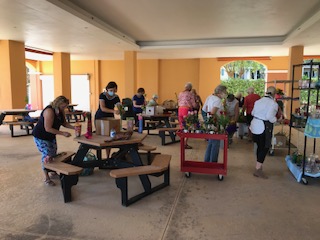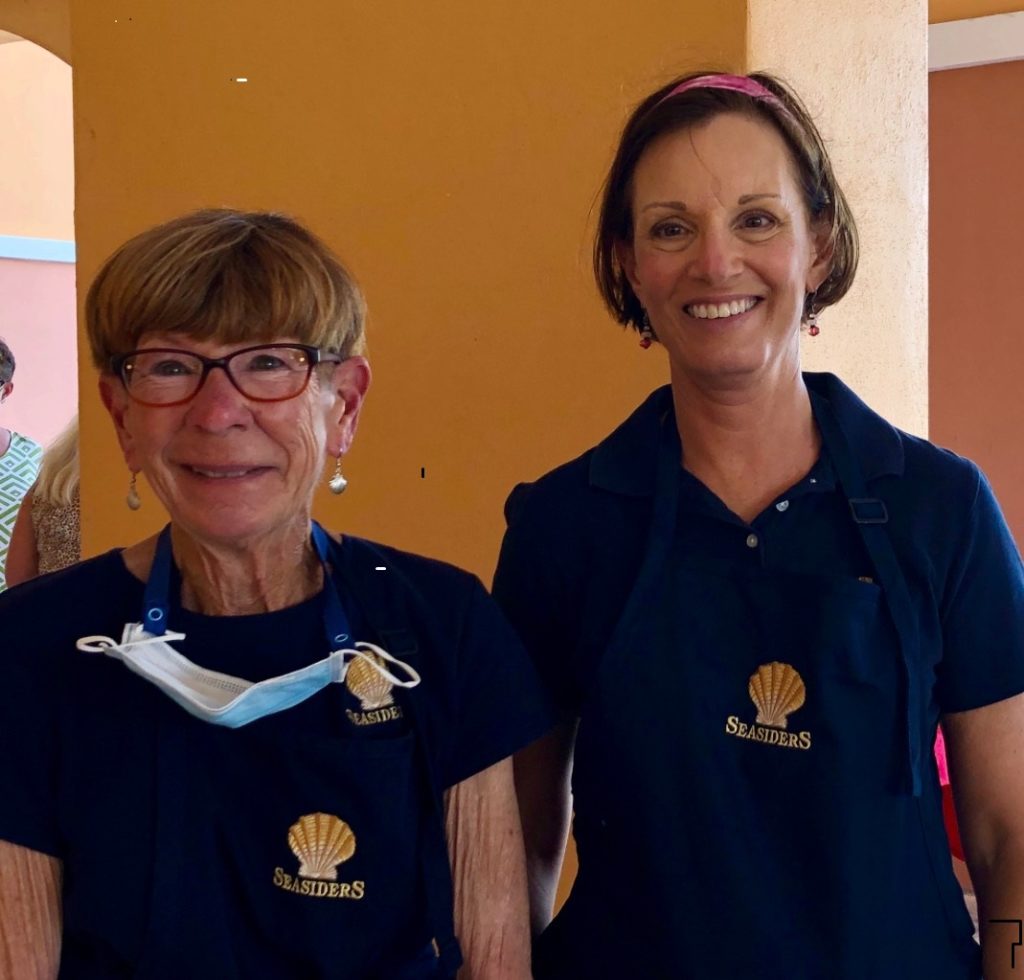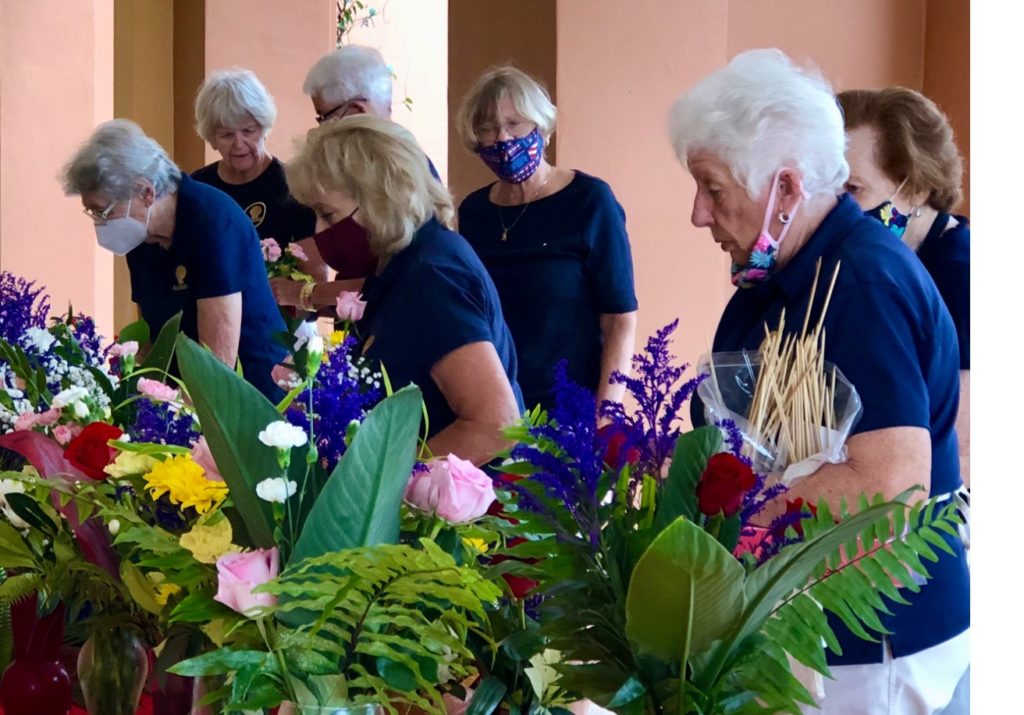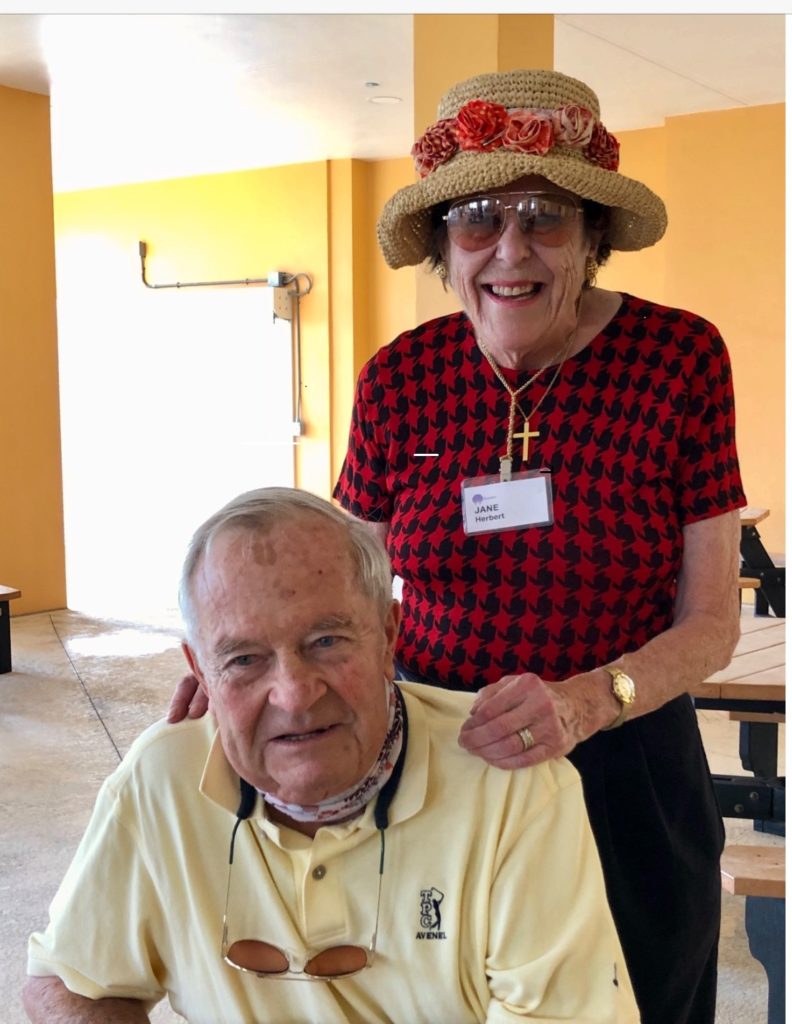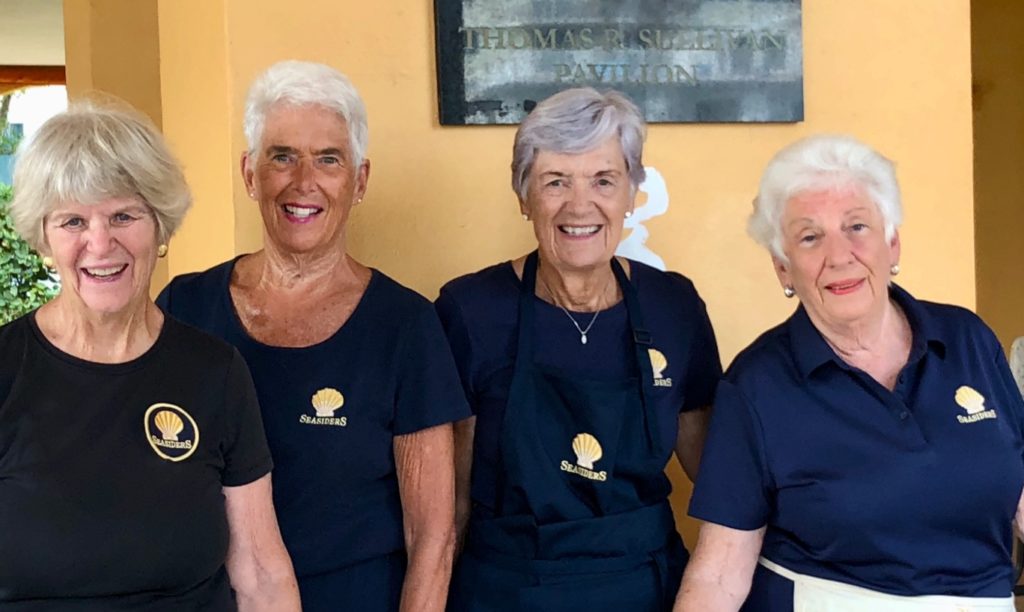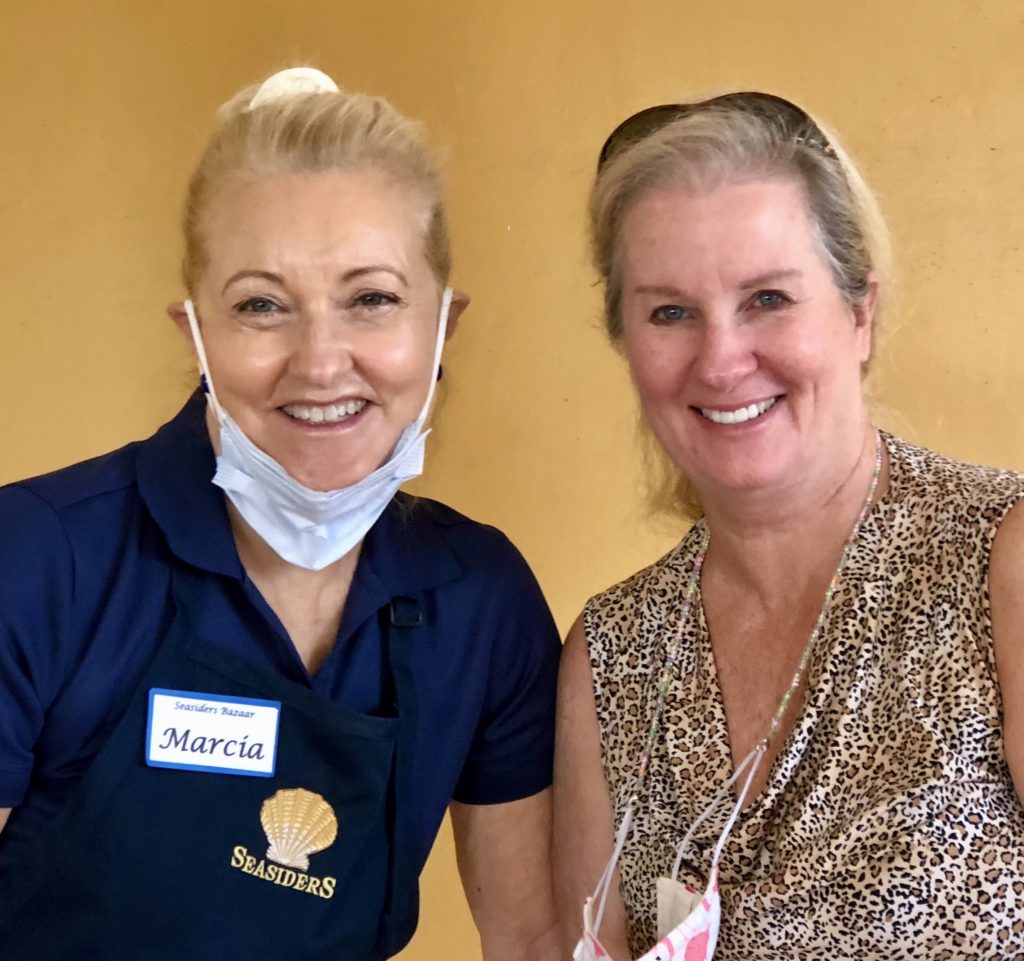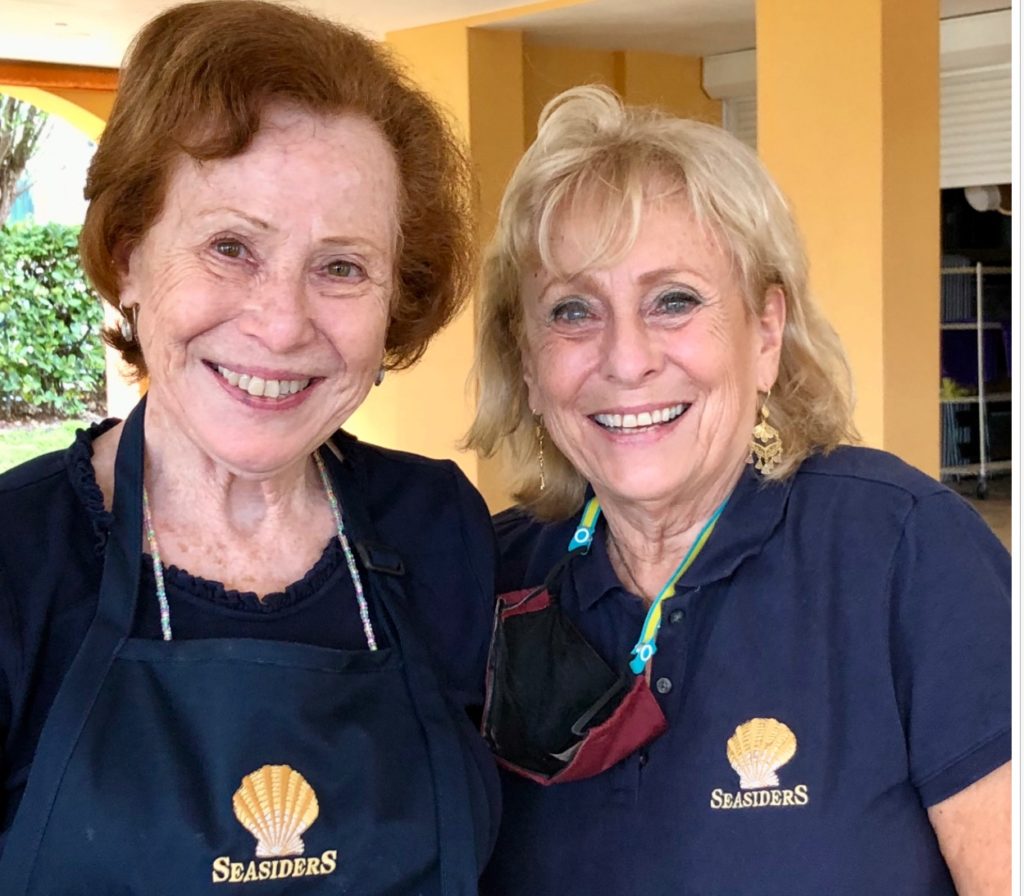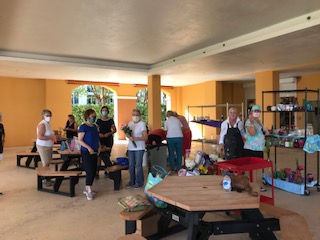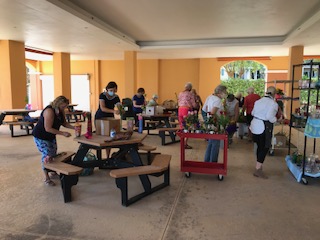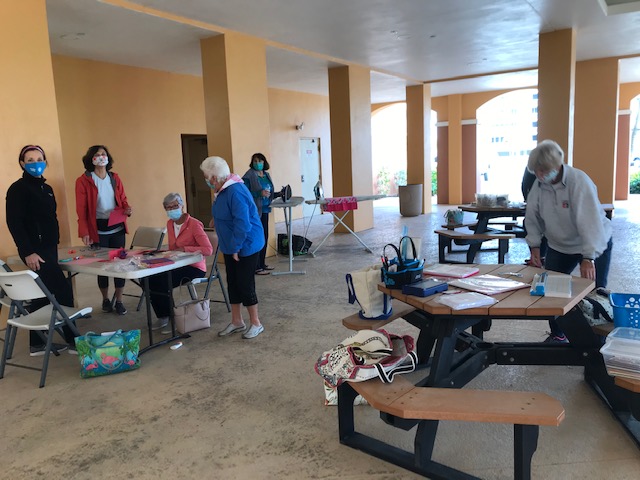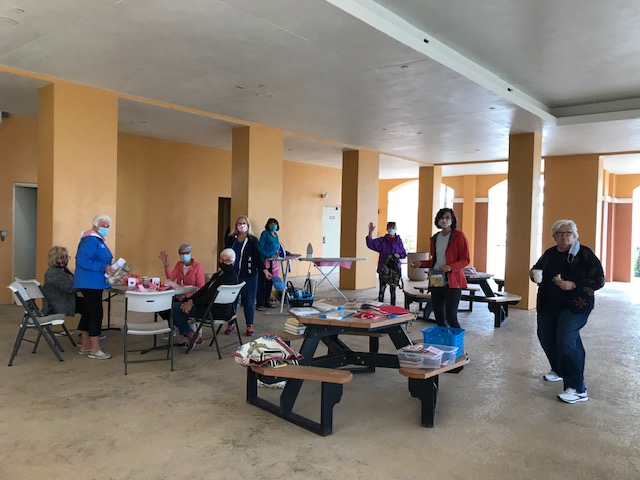 Despite 54F morning the ladies dressed warmly & soldiered on.
Ironing pillowcase for Ryan Cases, making cards for Valentines Day and flower arrangement gift cards. The Flower arrangements will be sold on February 13th at the Community Center, Lower Level ( just perfect for the last minute shoppers ) while others decoupaged shells.
We welcome all level of skills and will help you with anything you want to work on. But the best skill of all is laughing and being with other Seasiders. Join if and when you can, but you will always be welcome.

SEASIDERS COMMUNITY SERVICE
Card Sales:
Lower level Community Centre

,

Hand crafted & recycled greeting cards for all occasions are for sale when we have the Thursday Community Service meetings. These cards are beautiful & a fraction of the cost of store bought. All the revenue made from these sales goes right into our charity fund which supports local charities.
Call Chris Mielke if any questions- 574-298-6503
————————————————————————————-
PLEASE NOTE CHANGE OF LOCATION:
Community Service meet at the lower level of the COMMUNITY CENTRE 2nd, 3rd and 4th Thursday, 9:30 am
please note: YOU MUST WEAR A MASK !
BECAUSE OF COVID ALL COMMUNITY SERVICE WORKSHOPS will be HELD IN THE LOWER LEVEL OF THE COMMUNITY CENTRE !

SUPPORTING LOCAL GROUPS WITH THE PROCEEDS FROM OUR CHARITY FUNCTIONS ! ' WE CARE AND WE SUPPORT'
Community Service Committee
Cindy Stevens, Sue McManus,
Bazaar Chair, Georgette Kauhane 2021 Cancelled Please see info on how to donate to our Donation Campaign in lieu of our yearly Bazaar. These donations will be used to support our local neighborhood charities.

DETAILS ON OUR 2021 CHARITIES, click on Everything You Ever Want to Know about Community Service page.

***************************************************************
Have questions or want to help out, call or email Cindy at cstevens52@gmail.com
********************************************
2021 Community Service
Craft meetings are normally on Thursday. Georgette has a yarn angel project that she is working on that will create a hanging angel that can be put on an IV pole of patients who are receiving chemo treatments. Each angel has an inspirational quote on it and is printed with our Seasider logo. It's a nice way to let those undergoing treatment that they are being thought of. We have a shell and wooden plaque project some can work on, but welcome other ideas also. If you have a craft idea, please bring some supplies so that others can help work on the project.
We also will accept toiletries, box tops, soup labels, clothing for homeless and used ink cartridges to donate to our partner charities at Thursday craft meetings and luncheons.
Thanks to the 11 members who helped with making 200 sandwiches for St. Ann's . We can always use extra hands. Please email Cindy at cstevens52@gmail.com so that we have a set up ready for you to help. If you can't help, but can donate some soft fruit (bananas, grapes, small oranges,) please bring it to 337 Bravado Lane or Town Hall.
We will continue to read to children at Lincoln when it is possible again. When Lincoln's Disney Production rehearsals begin we can use help for students to practice lines, work on tickets, help with painting and costumes. The director can meet on Fridays at rehearsal time, which is 3-4:30 to help get volunteers get started. Then, you can pick a day that will work for you. Let me know if you can help.
We serve lunch at St. George's and thank all those who started this project in January and February. Their service was much appreciated and all who helped felt good about their time there. Contact Chris Mielke if you want to help. We'd like to have at least 6 volunteers once a month.
Please, if you have other ways that we can continue to reach out to others less fortunate in our community, let us know. If you have any questions or ideas to share, please email Cindy Stevens (cstevens52@gmail.com).
Our ladies get together to make sandwiches for St. Georges Kitchen.
Who says laughter and chatter don't go together with charity work.
Ladies if you would like to join in sandwich making once a month please give Cindy a call, she would love to have you join these volunteers.

A Big thank you to Pat, Patty, Barb, Kara, Maura, Sue, Cathy, Lori, Alice and Chris.
St. Georges Kitchen We did our first lunch serving today at St. George's. Over 150 lunches including drinks & desserts.
Sue, Chris, Lucy, Irma, Sharon & Edie
Will be doing once a month thru May.
Note the sign over the counter ' Now Serving ' says Seasiders of Palm Beach Shores. The gals served 150 lunches ! Great Job !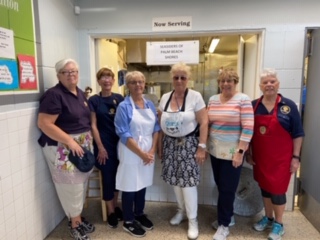 COMMUNITY SERVICE COMMITTEE
Crafts

–

Fundraising

–

Community Outreach
For EVERYTHING you ever wanted to know about SEASIDERS COMMUNITY SERVICE COMMITTEE !
========================================= COMMUNITY SERVICE COMMITTEE, Cindy Stevens, Sue McManus
Crafts

–

Fundraising

–

Community Outreach
For EVERYTHING you ever wanted to know about SEASIDERS COMMUNITY SERVICE COMMITTEE !
COMMUNITY SERVICE COMMITTEE Crafts – Fundraising – Community Outreach For EVERYTHING you ever wanted to know about SEASIDERS COMMUNITY SERVICE COMMITTEE !
***********************************************************
Community Service Seasiders Donate:
St. Anne's Center
We will be funding and making over 150 sandwiches per month and providing fresh fruit from October 2019 through May 2020 to St. Anne's. Pictured making a donation are Cindy Stevens, Dir. of Volunteers , Seasiders, Melissa Tyner, St. Anne's and Chris Mielke, Pres. Elect , Seasiders

***************************************************************
During the winter ( 2019) Dot knit 110 hats which will be distributed to the homeless in the Boston area and to the Lakota Indians of North and South Dakota.
this is an example of what one person can do to make a difference in our world. Well done Dot !

Even in Hawaii we need to have homemade scarfs that are knitted with love by our Community Service Thursday morning gang !
Come and visit us…. Town Hall !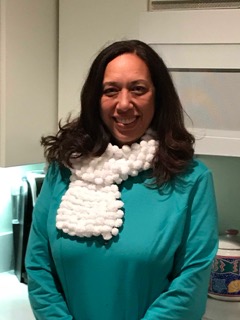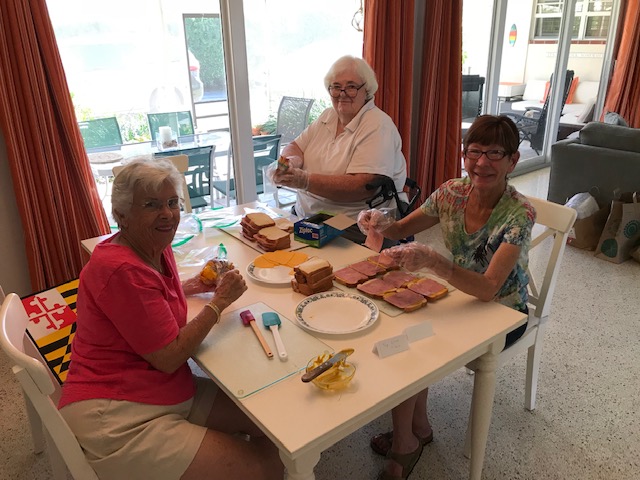 Joan, Patty and Chris on the "Sandwich Crew" making sandwiches for delivery to St. Ann's Place, one of our Outreach Beneficiaries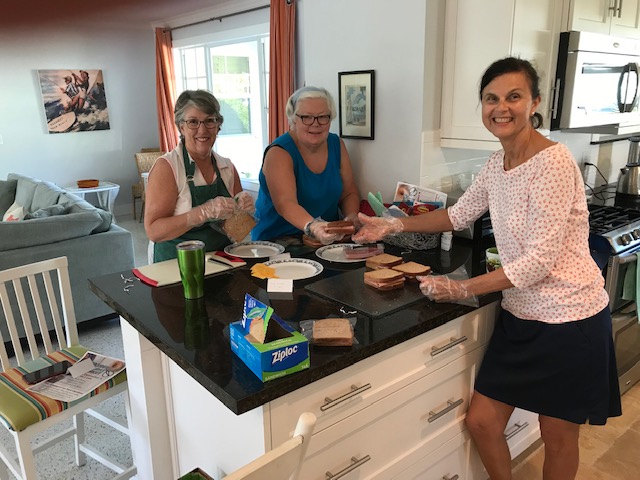 Looks like the production line is working ! Barb, Sue and Cindy doing a great job with the sandwich making.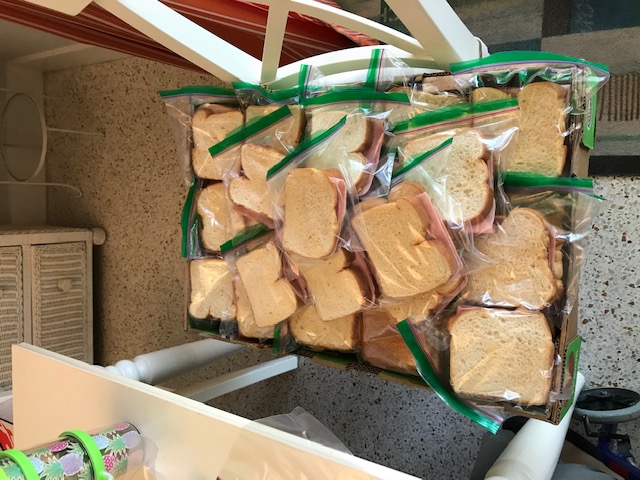 Sandwiches making is done once a month by the Seasiders Community Service ladies and is funded by Community Service. Many hands certainly make light work !
=============================================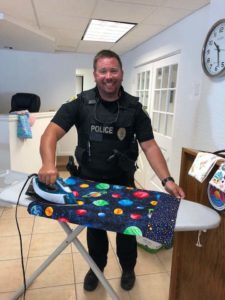 This is proof that Community Service's Thursday morning gang will take anyone that shows up and put them to work. Darrell actually looks like he would be a good recruit ! Proof that our Police Force are 'The Best'.
+++++++++++++++++++++++++++++++++++++++++++++++++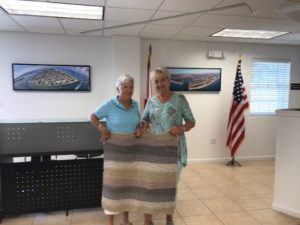 The 1st Knitted Lap robe for New Adult Day Care.
As well as monetary donations from our fund raisers the Seasiders donate their time and talents. Items such as this are done with love and care for various community causes.Joan and Caroll show off their handy work.
==============================================
OUR SEASIDER FUND RAISING MONEY AT WORK !
============================================
Another donation check was presented to the Director of New Adult Day Care Julie Tombari for their Music Therapy program. Chris Mielke is presenting the donation accompanied by Carol Miller, Alice Sirl and Past President Joan Reilly.
Another of our well deserving Charities. Thank you ladies.
+++++++++++++++++++++++++++++++++++++++++++++++++++
A check was presented to Lincoln Elementary school for their Safety Patrol Trip.
Seasider Cindy Stevens, myself, Principal Alicia Porter & some of their 5th grade Safety Patrol. It was great to meet some of them & they were so excited that we were helping them with their trip!
Chris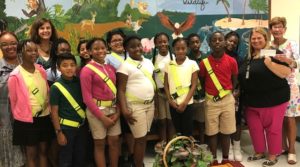 Preparing for the Trip!
Smiling faces and a rewarding trip to the National's Capital for these Lincoln Elementary Safety Patrol Students! A trip they will always remember ! A nice reward ! Thank you to the Principal for updating us ! #Seasiders Proud
===========================================
Bazaar Charity check being presented to Lake Park Elementary School.
Principal Michelle Fleming accepting Seasiders Cindy Stevens and Chris Meilke Seasider Check with Lake Park Guidence Counselor Joni Gooley.
This years Seasider donation was put toward their Uniform Fund to aid needy students.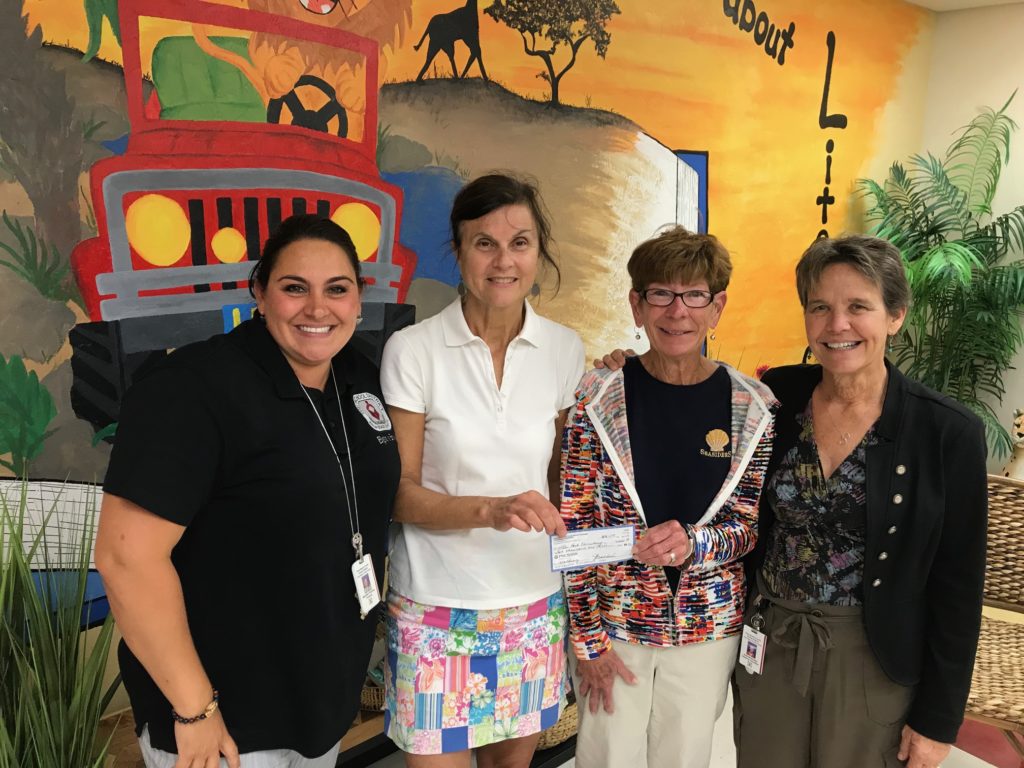 ==============================================
Chris and Joan presenting a Bazaar Charity check to St. George's Center, Riviera Beach, Cynthia Becton.
You will notice MANY smiling faces as a result of our ladies work at the Annual Seasiders Bazaar! Well done ladies !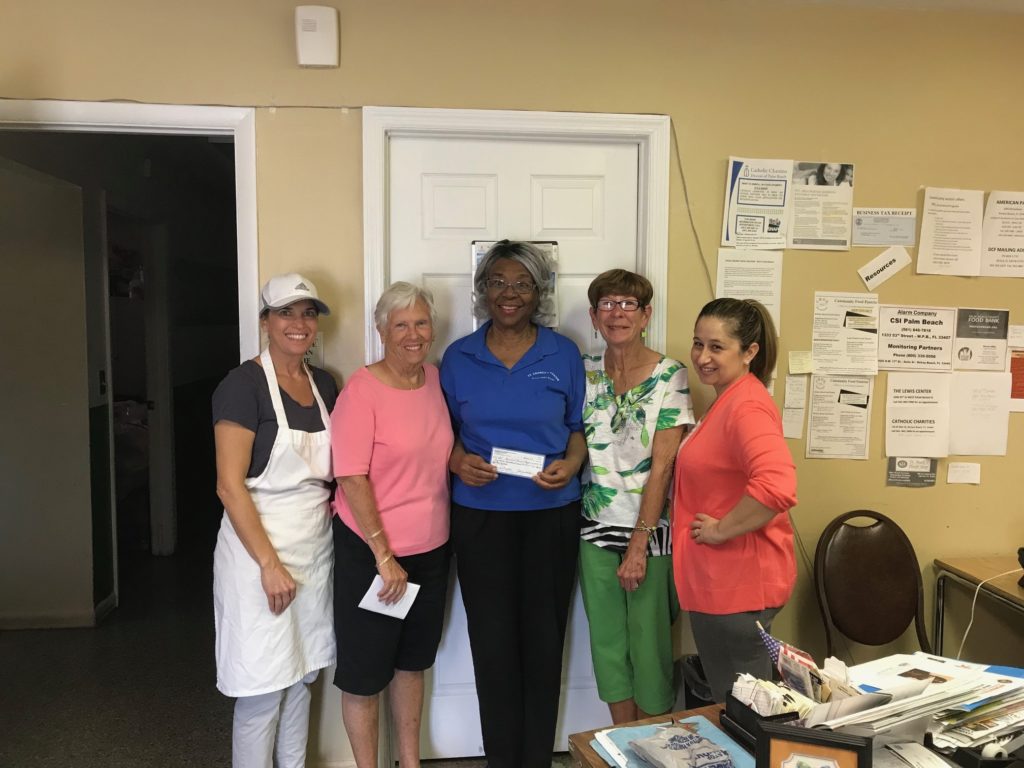 ==================================================
Chris presenting our Seasider Charity check to Brother Ron Felder, of JAY Ministries. JAY offer many 'helping hands' to the needs of Riviera Beach.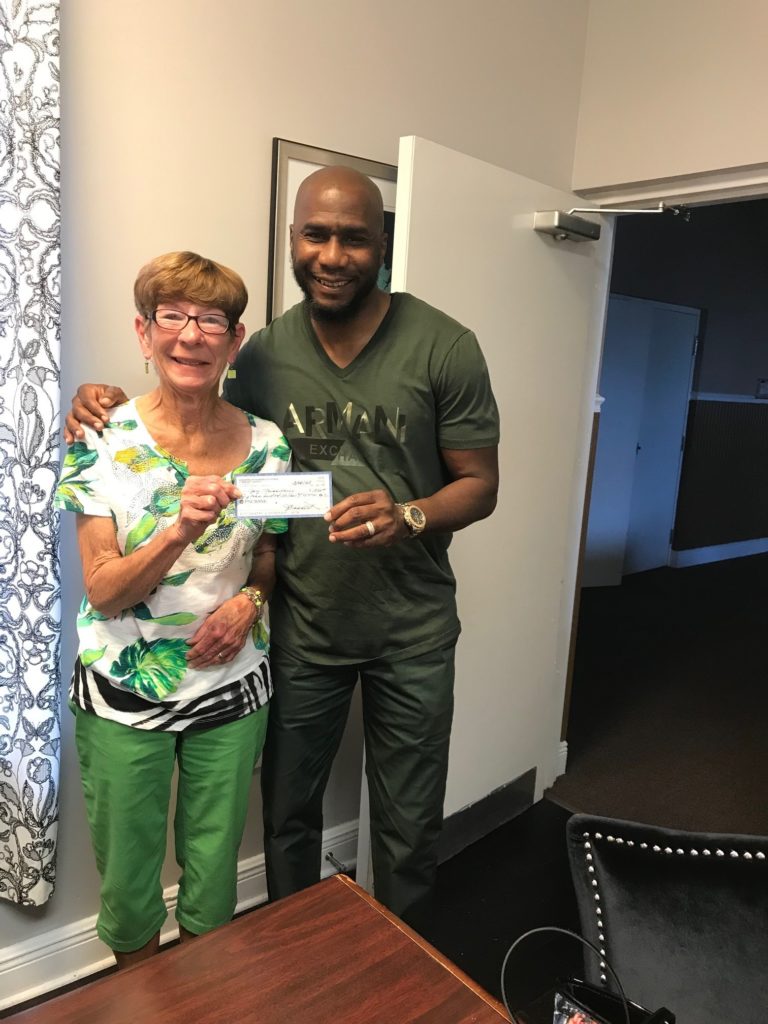 ==============================================
President Georgette , Marilyn ( Ryans Case for Smiles Charity) and Bazaar Co-Chair Chris presenting Marilyn with a charity check. Marilyn's charity group make ' happy' pillowcases for Children in hospitals which makes them feel very special at a stressful time in their lives.
These ladies ARE all smiles as well.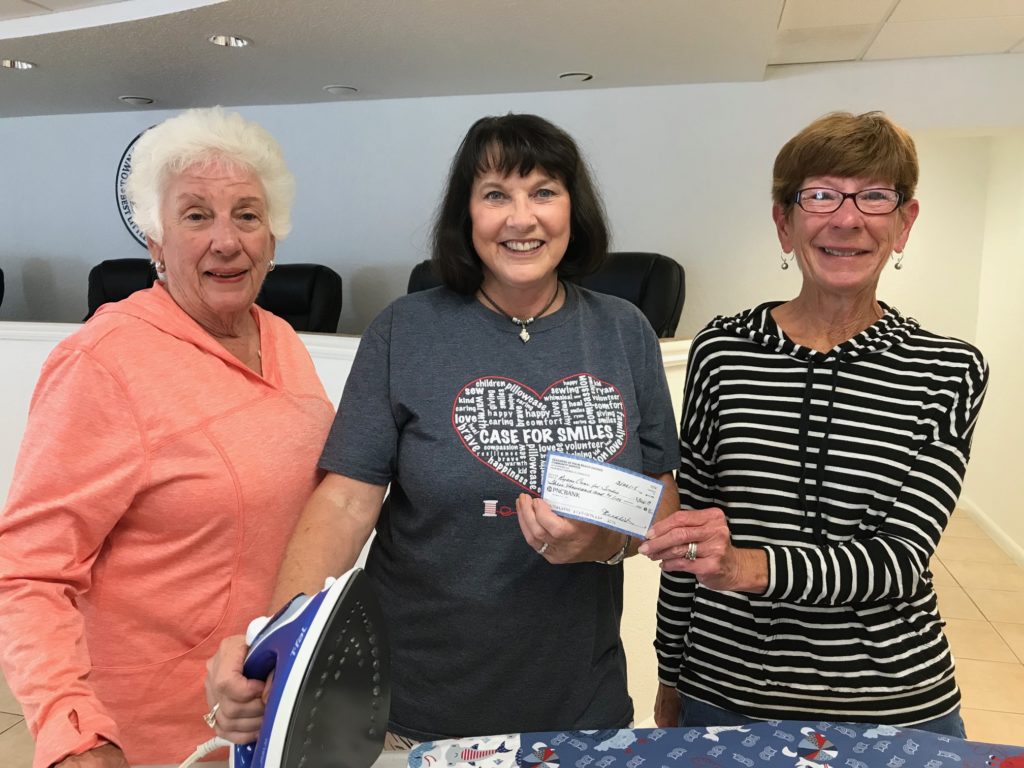 This Community Service Group meets 2nd, 3rd and 4th Thursday of the month from October to May at Town Hall. All manner of arts and crafts are always in full swing. Everyone is welcome, with or without talent and experience. There is always a project you can have fun doing with the ladies.
This group of ladies besides laughing and chatting are 'working' on projects… honest…!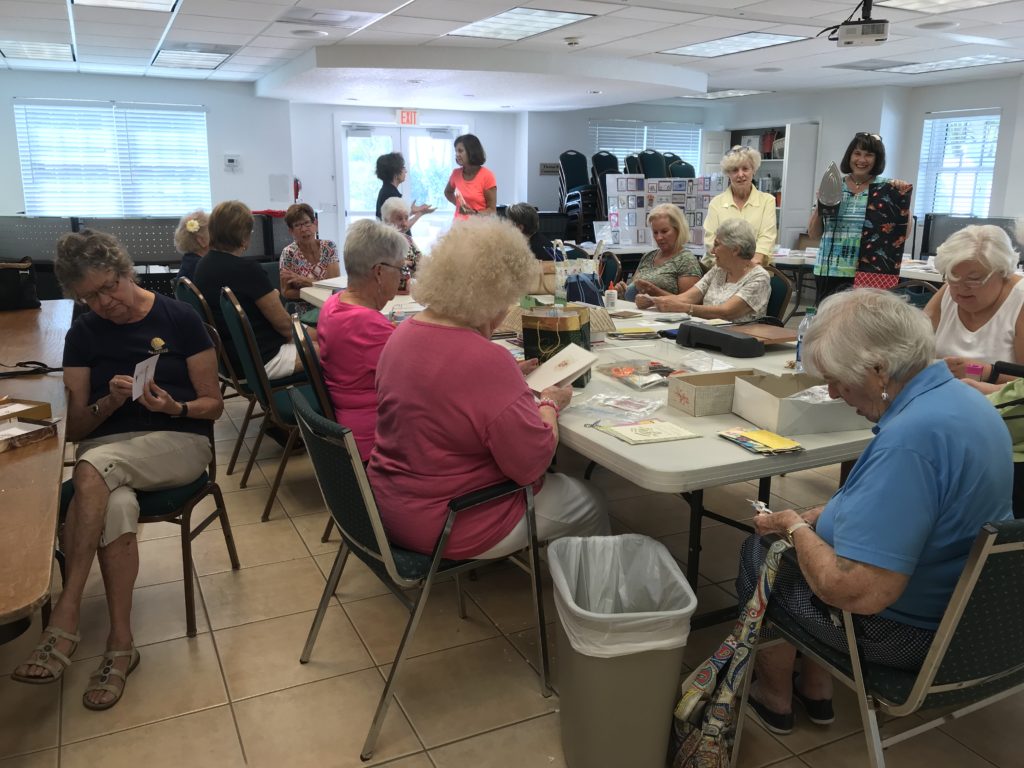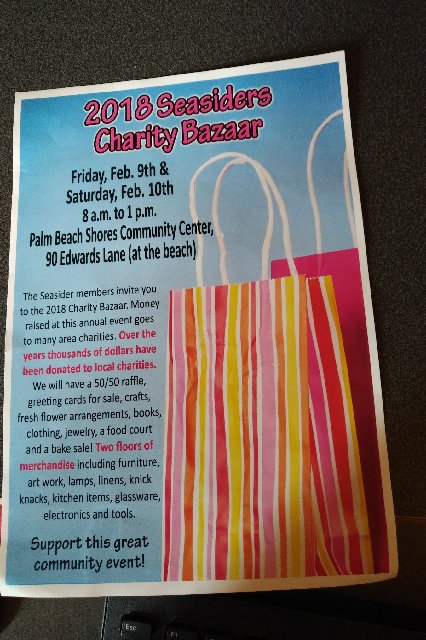 Annual Bazaar is held every year at the Community Center, watch for 2019 dates.
===================================================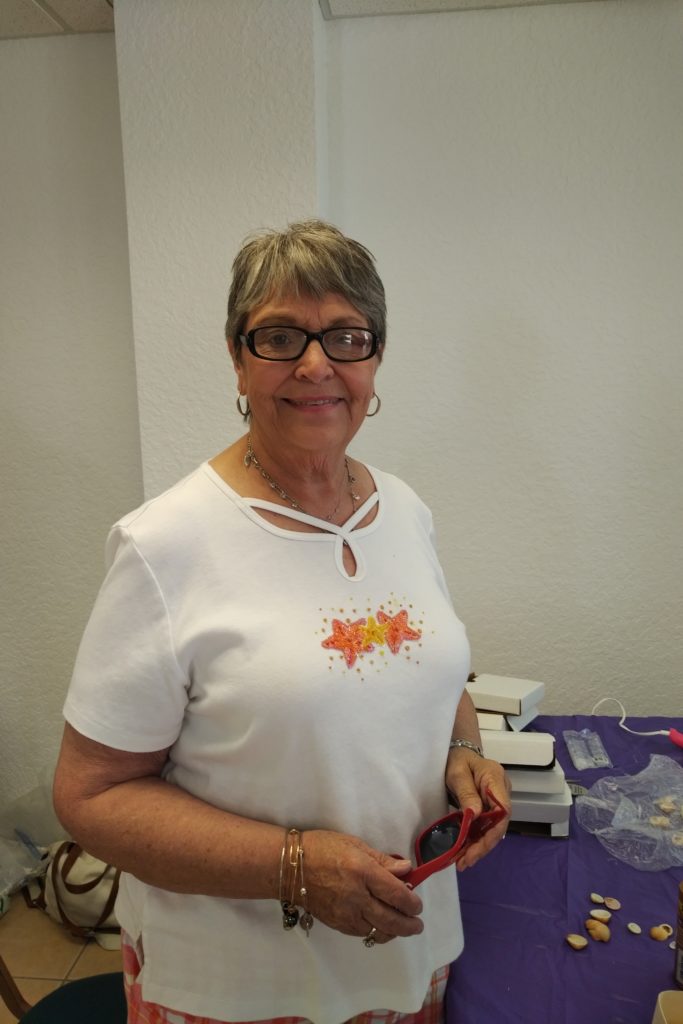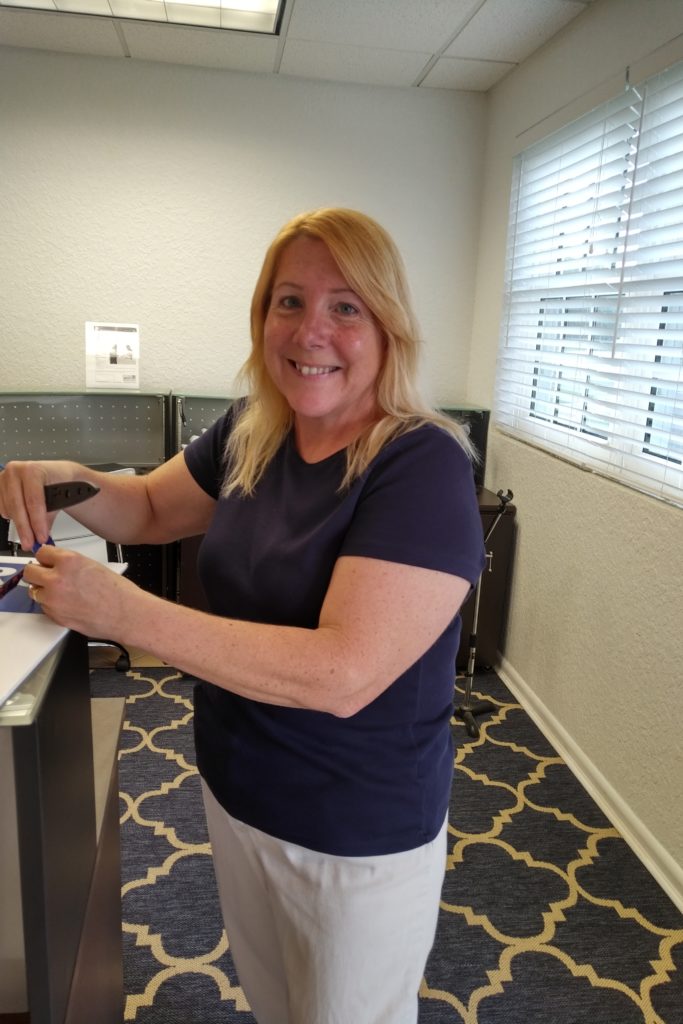 New Seasiders getting into the swing of things at the Thursday morning workshop at Town Hall. Great way to meet people and get involved. There is always a job for everyone ! No talent required ! ================================================== HOLIDAY MARKET 2017
Pictures from the Successful 2017 Holiday Market held at the
Community Center December 9. This gave everyone a chance to purchase homemade bake goods and all those Christmas decorating items and 'treasures'.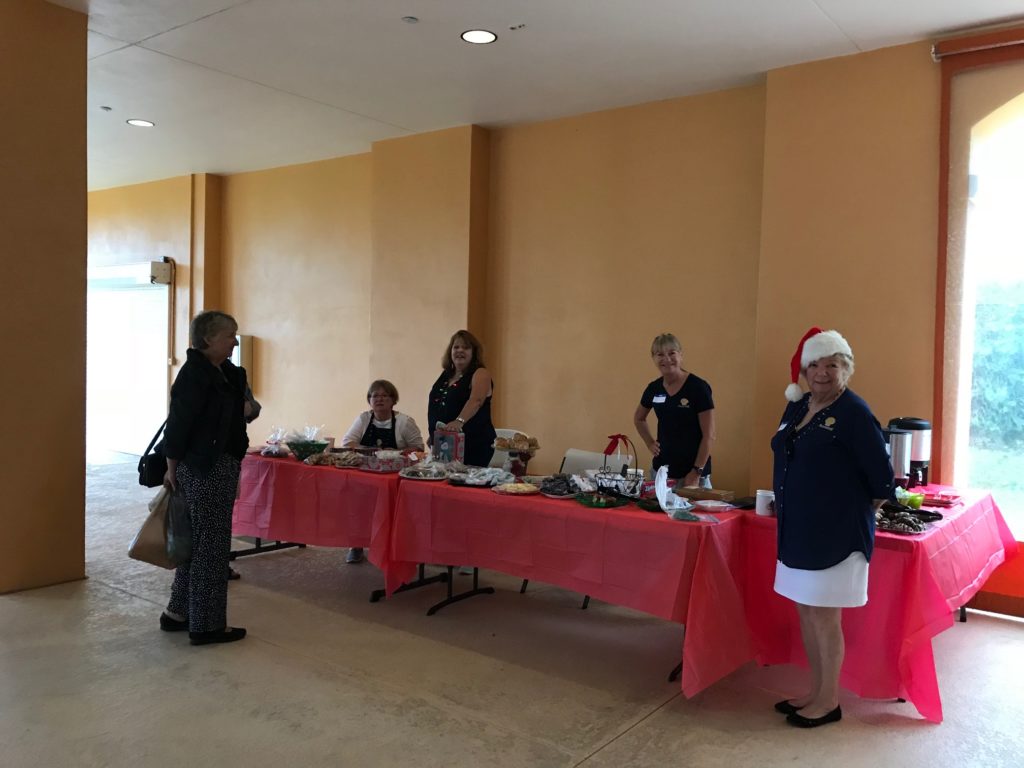 Bake Sale table with Kendra, Janet, Julie and Dale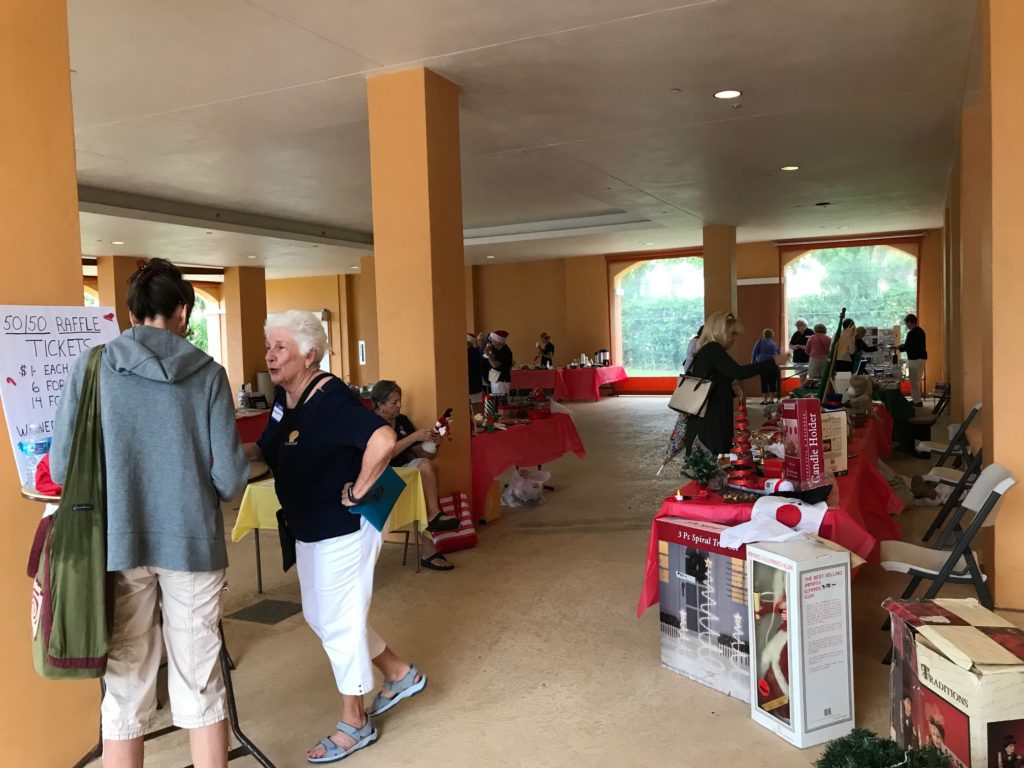 "Pres" Georgette selling 50/50 tickets at the Christmas Market.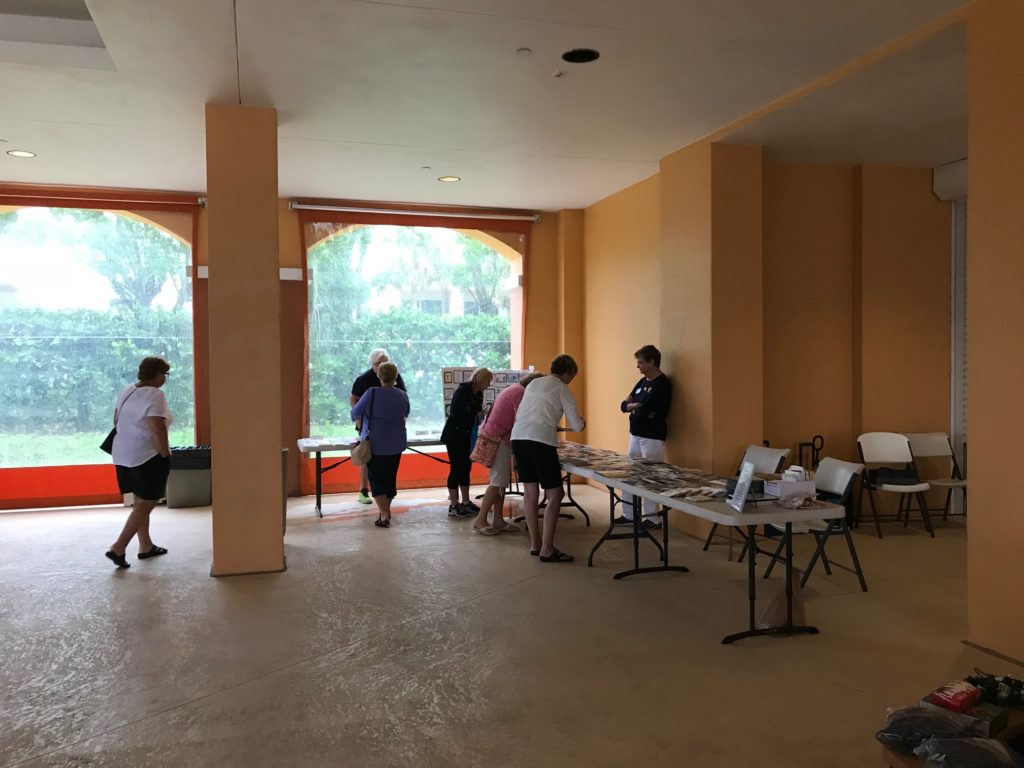 Irene our 'Card Stitching guru' manning the one of a kind Greeting Card Table at the Christmas Market.
===================================================
2017
Seasider Community Service Bazaar co-Chair, Chris Mielke , PPJoan Reilly and co-Chair, Diane VanerPol at the Lake Park Elementary School in Lake Park which is one of our local areas that we support.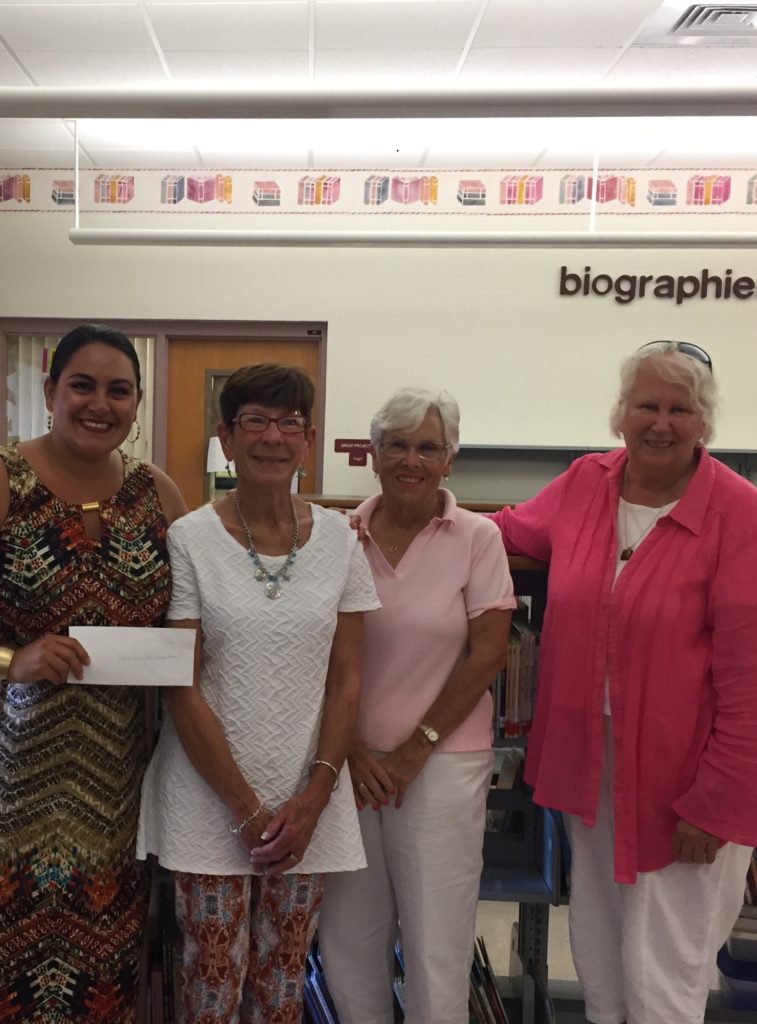 Community Service gals presenting a donation to South Side Concerned Mothers in Riviera Beach. Seasiders, Dot Erickson, Chris Mielke and Diane Vanderpol.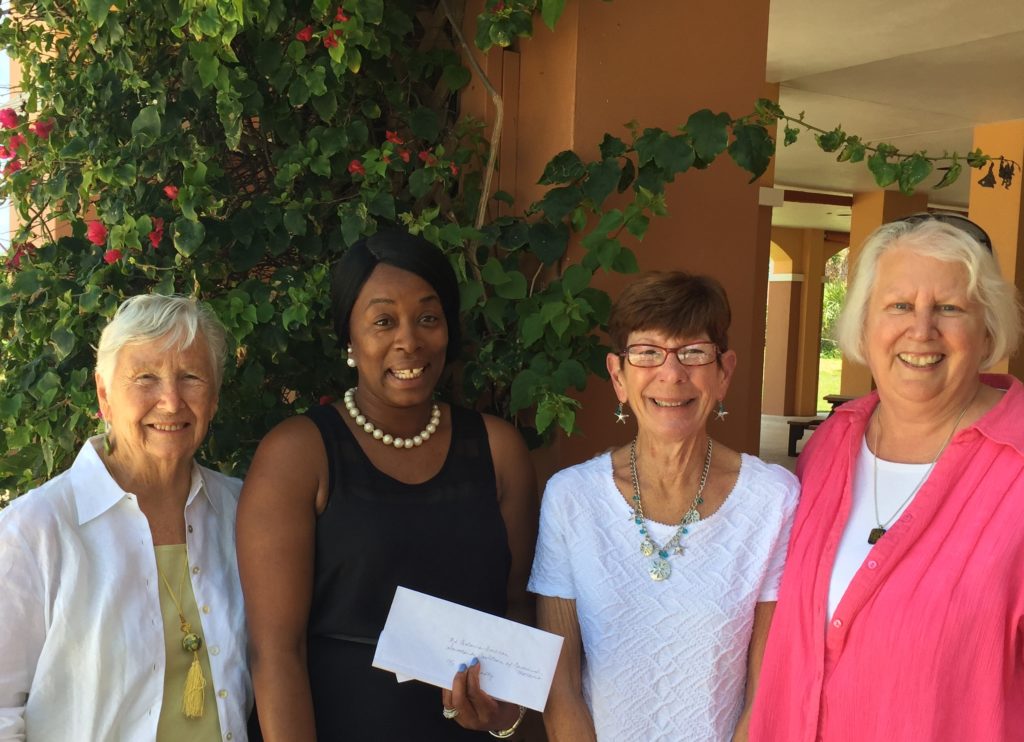 ================================================
Seaspray Resort Hotel owner, Rick Benisasia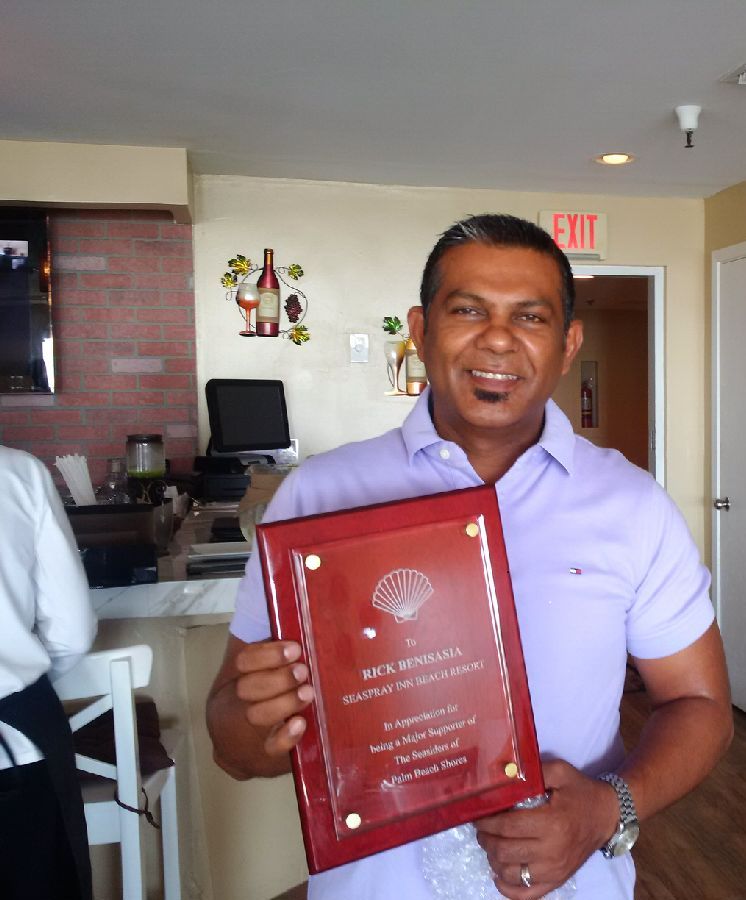 Rick Benisasia owner of the SeaSpray Hotel in Palm Beach Shores is presented with a plaque of appreciation for his support in aiding the Seasiders in their Annual Charity Bazaar which is much appreciated.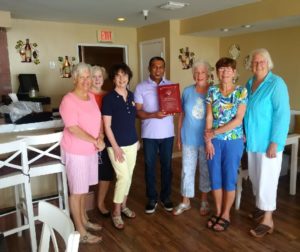 A few of the Community Service ladies enjoying a delicious breakfast and presenting Rick with the plaque of appreciation.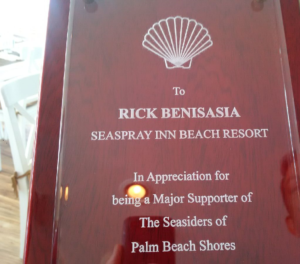 In Appreciation for being a Major Supporter of the Seasiders of Palm Beach Shores.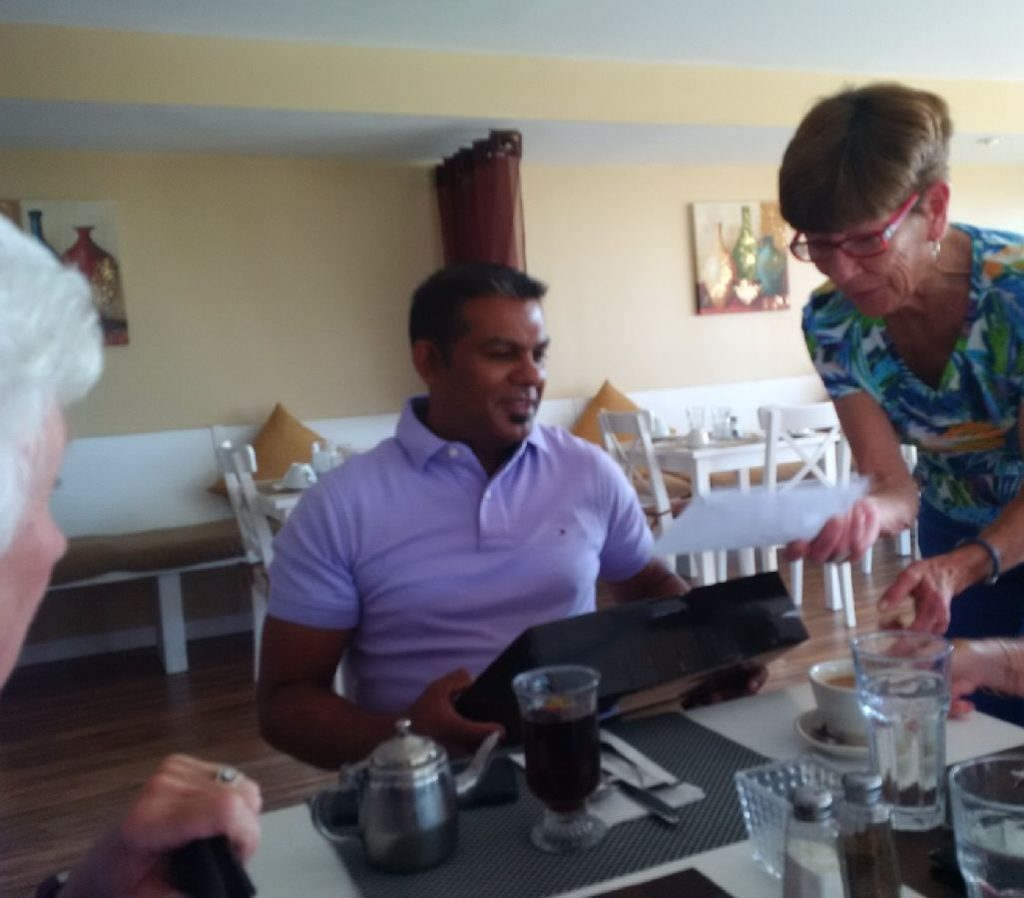 Chris Mielke, Co-Chair of the Annual Bazaar presenting the plaque to Rick.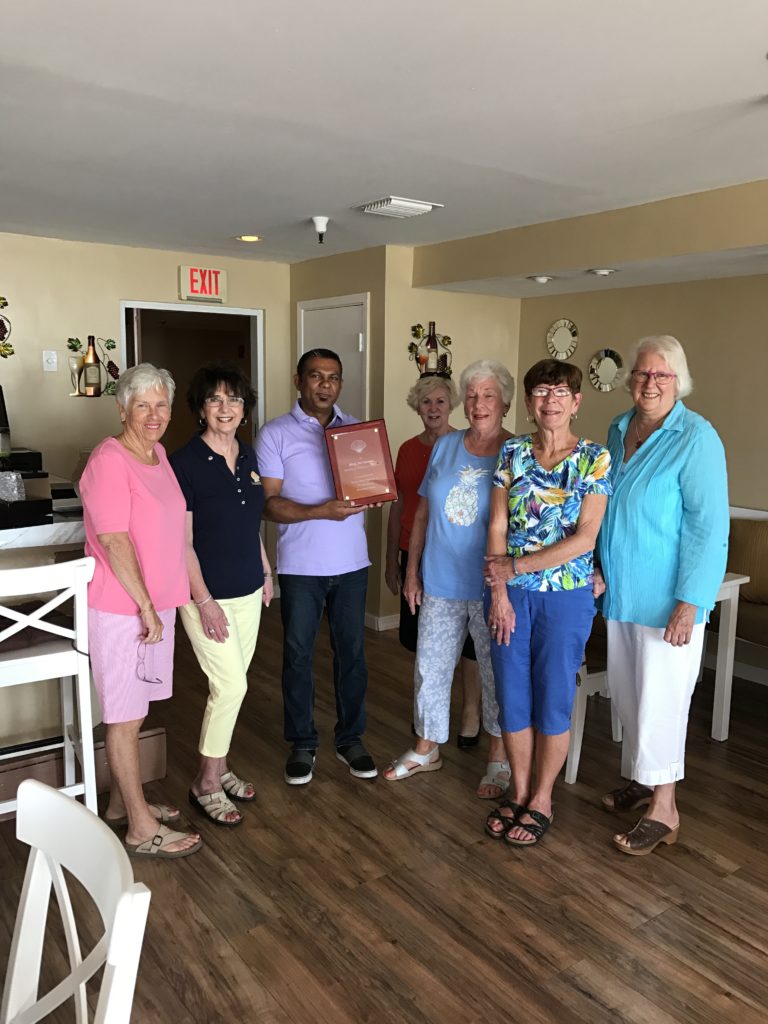 Thank you Rick for YOUR Community Service to the Seasiders.
===================================================
The NEW DAY ADULT CARE CENTER OF NORTH PALM BEACH
was a presented with a check by the Seasiders of Palm Beach Shores. This is one of the many charities that receive support from the proceeds of our Annual Charity Bazaar. "Supporting our Bazaar Supports the local area" and we thank the total community for shopping, donating and working at our fabulous February Event.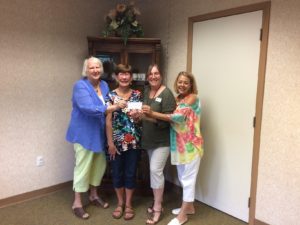 =================================================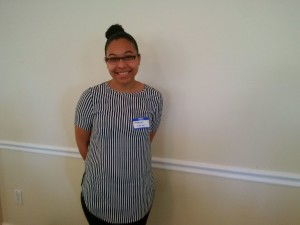 Meagan Carter the Seasider Recipient of a 4 Year Scholarship was introduced at the February 2017 luncheon.,The 85 ladies in attendance were extremely pleased to meet Meagan. We wish her success in her studies and welcome her back any time she is available to be with us.
*************************************************************************