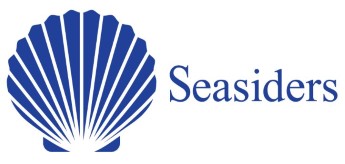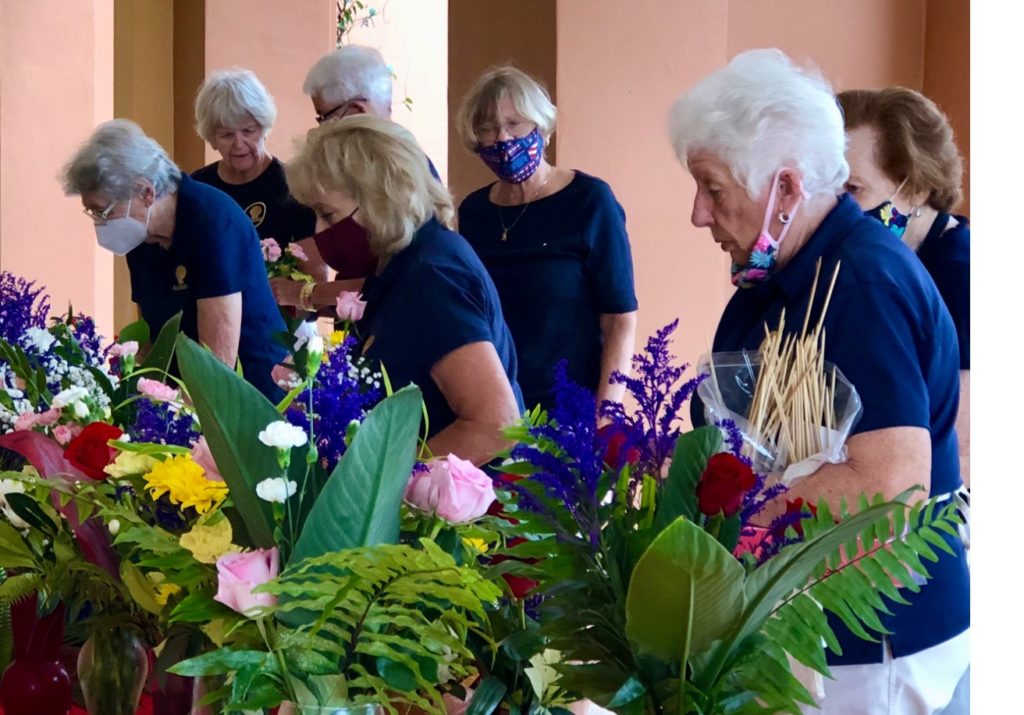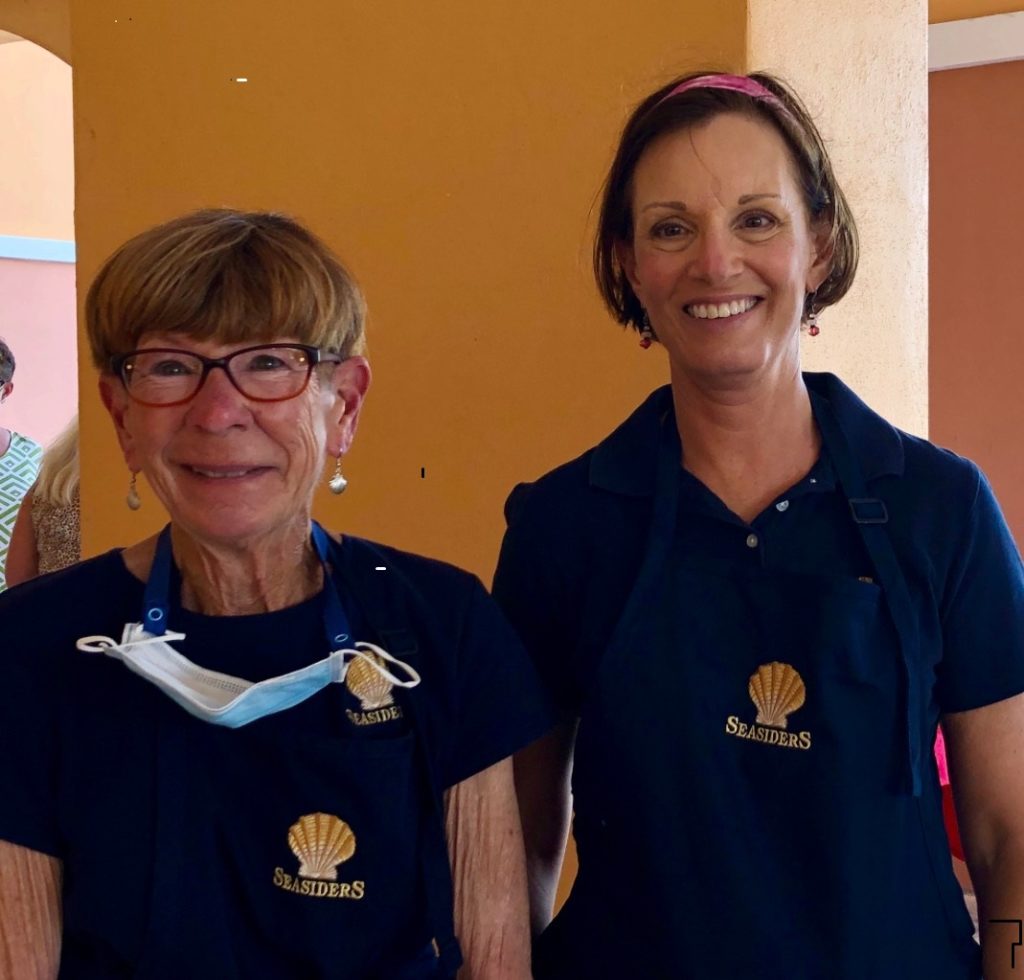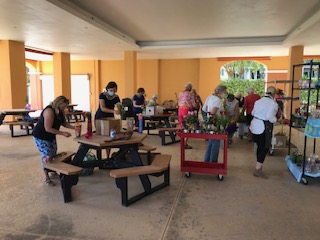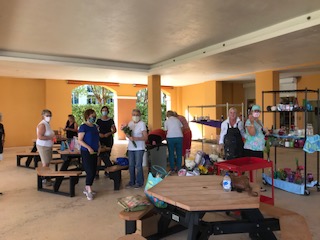 Important news :2021 BAZAAR



The Board has

cancel

our Annual February Charity Bazaar due to safety reasons related to COVID. We did not feel we could hold this large event and keep our members and visitors safe in such a crowded environment. However, as most of you know this event raises most of the money we give to our charities each year and they now more than ever are in need due to the virus. The Board has decided with the approval of the Town to have a two-month fund raising campaign with the Seasiders and Town residents. Donors are able to donate directly to the Seasiders, who will donate to our charities.

Our fund raising campaign IS called "Seasiders Share by the Seashore"

.
PLEASE CONTACT PRESIDENT CHRIS MIELKE @ 574.298.6503
FOR MORE INFORMATION OR TO DONATE.
Please continue to be generous in your support of donations to our wine, raffle and card sales at our Luncheons as they all support our charities as well.
Happy New Year to all as we go into 2021.
PLEASE CONTACT PRESIDENT CHRIS MIELKE 574.298.6503 TO DONATE OR FOR FURTHER INFORMATION.
Even though the Bazaar for 2021 is cancelled the Valentines Flower sale will provide funds for our Charity work this year. It is hoped that our Donation Drive will be successful so that we can continue our charity work this year.
***********************************************************************
SEASIDERS 2020 BAZAAR
Once again our 2020 annual Bazaar was a huge success ! It is always amazing what treasures are found in every department. All monies raised at our annual Bazaar are donated to local charities.
**********************************************************
One of the charities that receive our financial assistance is Ryan's Case for Smiles. Marilyn and many willing volunteers cut material, sew pillowcases and distribute them to Children's Hospital wards in Palm Beach County and beyond. These small patients are extremely excited to see them on their beds when they arrive and they are theirs to keep. Last year over 7000 cases were distributed ! No small feat for a dedicated group of sewers & ironers!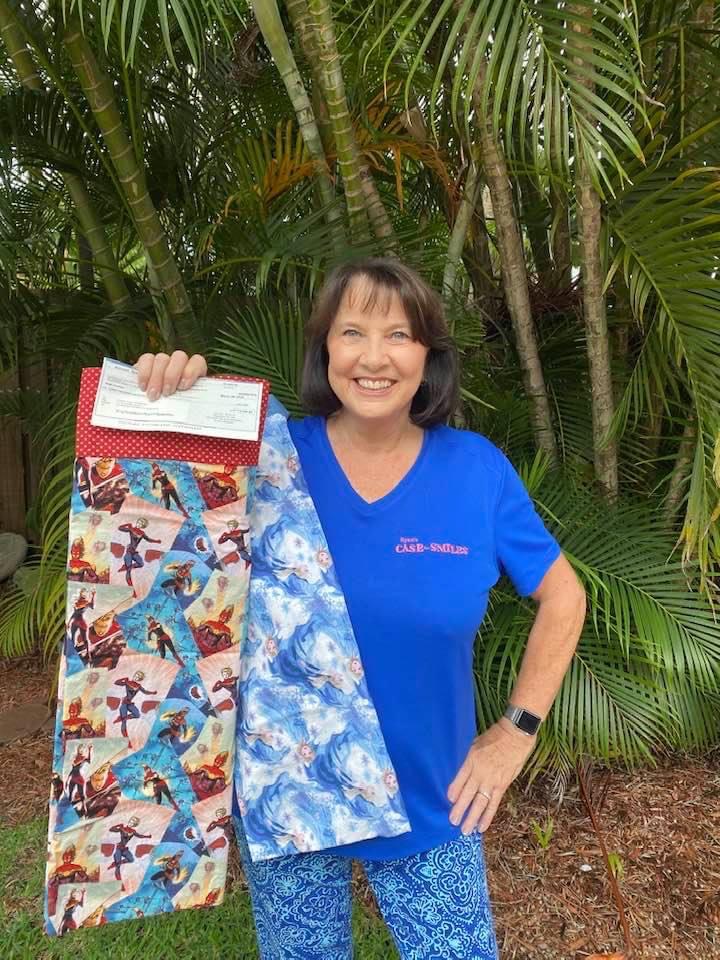 ++++++++++++++++++++++++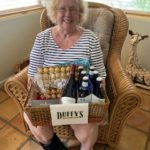 Sally was the very happy winner of the Picnic in a Basket Raffle ! Congratulations Sally, enjoy.
Kudos to Marilyn and Dot for their great selling job! No one got passed them whether to chat or to purchase a ticket.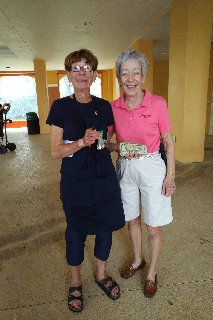 **************************************************************************
Mimi was the very happy winner of the 50/50 draw. She carried off $1116.00. a record 50/50 win !
Smiling photo with President Chris !
Many thanks to Mary for a super selling job on a hot humid day and then a windy day on the balcony !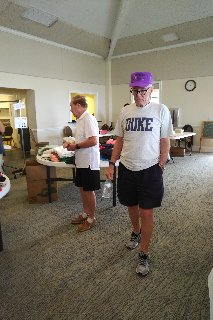 Darn, I didn't win again ! Oh well it was all for charity and the thrill of thinking I might win. Thanks for your support John and Tom.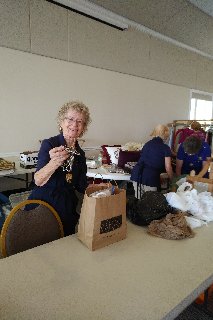 Look what I found !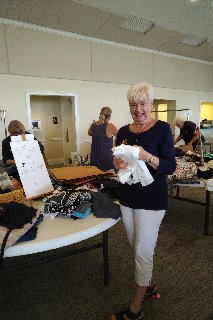 There are treasures at every table.



Raffle artist, Marilyn at work ! Always a great Raffle, Picnic in a Basket !
Special cards for all occasions ! Cards are always for sale at the Town Hall , 2nd, 3rd, and 4th Thursday am of each month. Need a special card for a special person ?…… we probably have it !
stay tuned for more pictures……
************************************** 2019 Bazaar
Thank you to all of the Seasiders and residents who supported us in making our Bazaar successful. We are proud to report that our Bazaar made $11,295.00 which will be used to support our local charities. Thank you to our Community of Palm Beach Shores and neighbors for your on going support.
For Pizza Party pictures please go to"Pizza Party web page "
2019 Bazaar Action Pictures !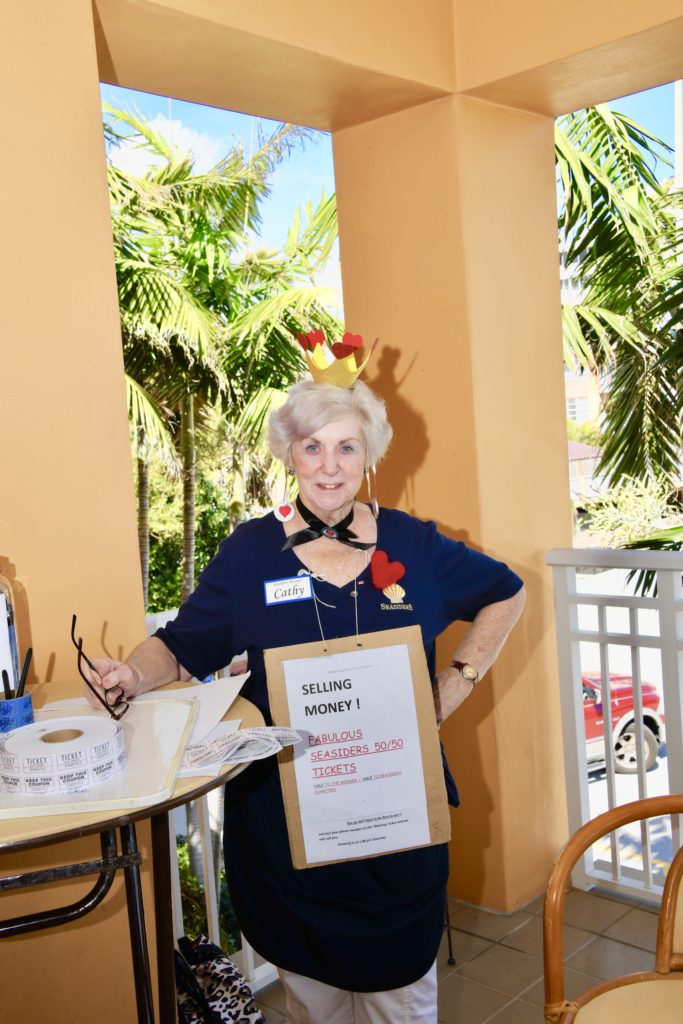 50/50 tickets anyone ?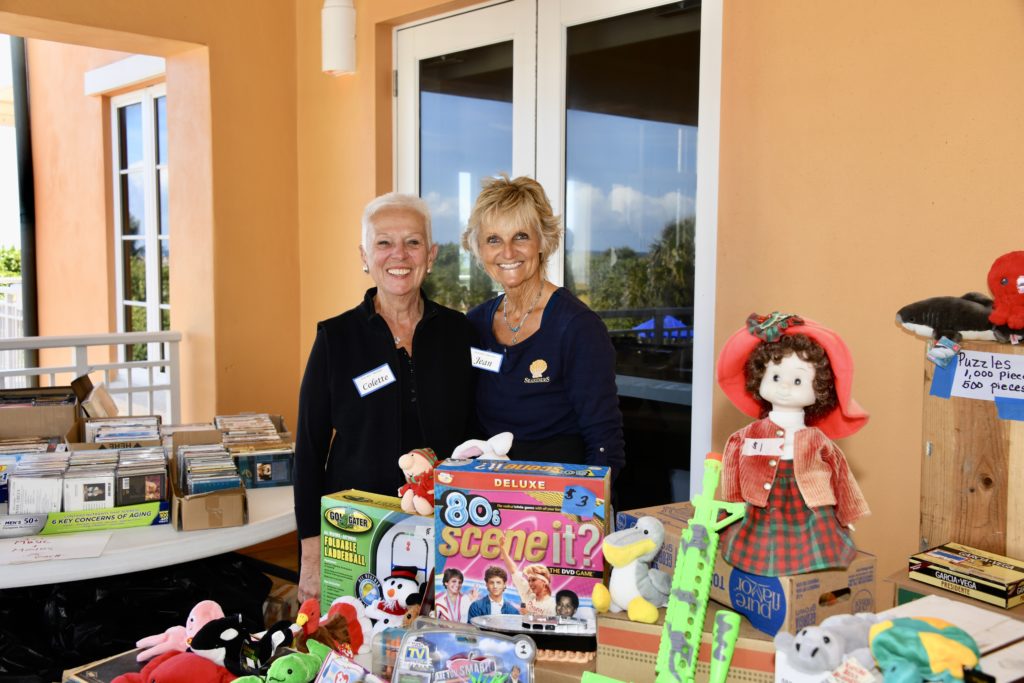 Colette and Jean 'playing' with toys.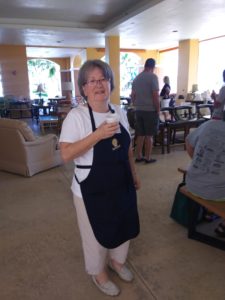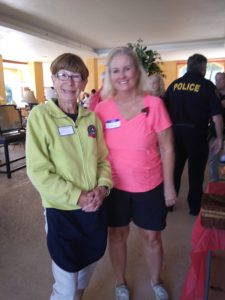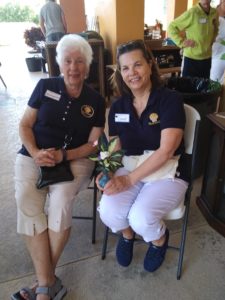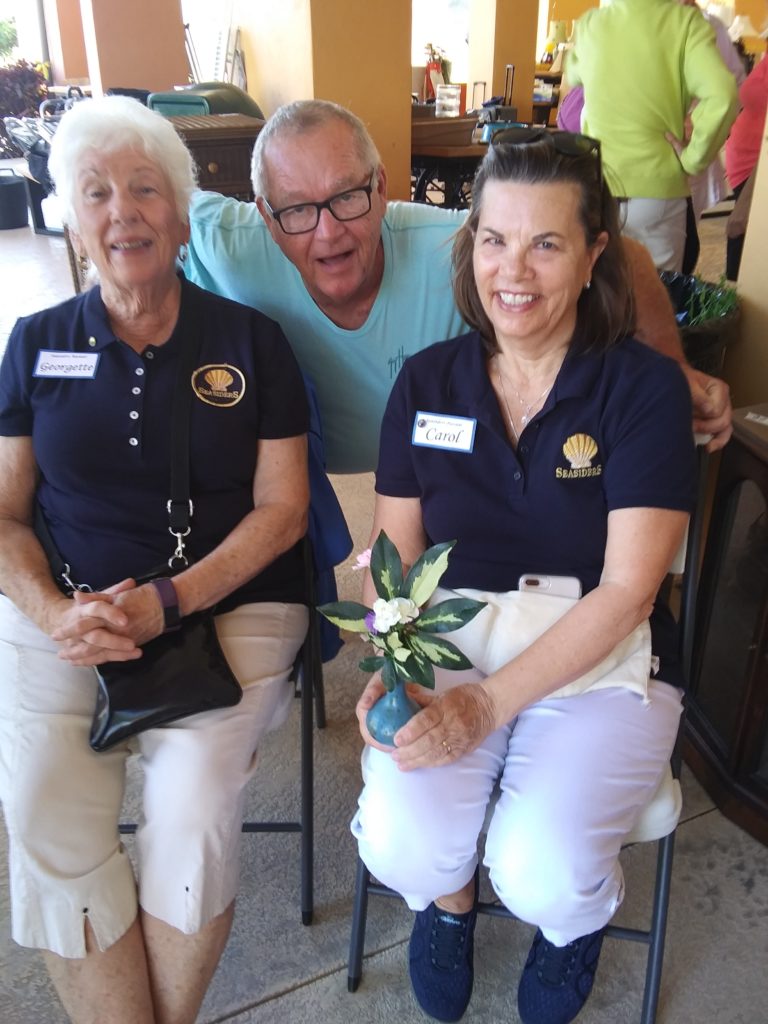 oh,oh, there is a SeaSlug in the picture 🙂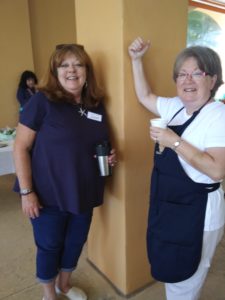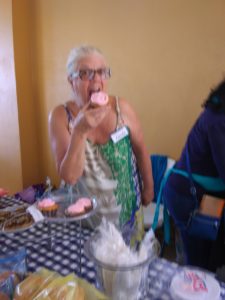 Linda sampling the bake goods !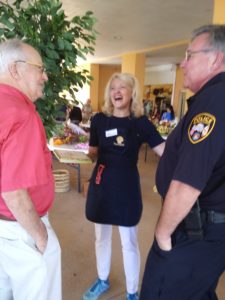 More trouble just arrived !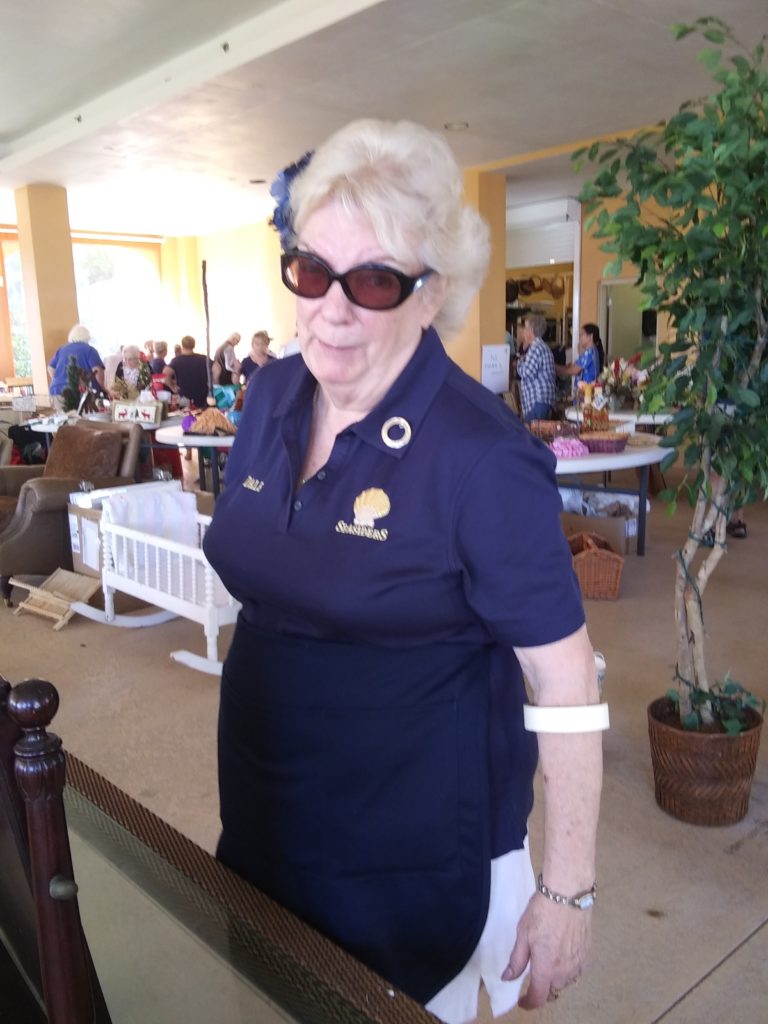 Straighten up gals , the boss is here !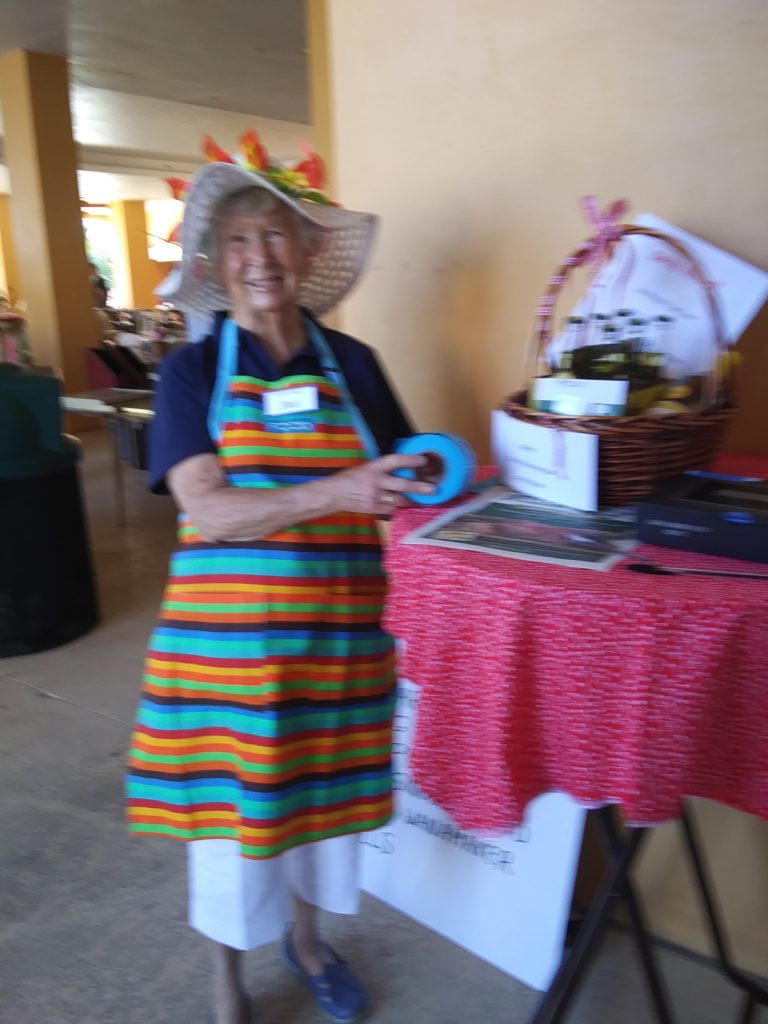 Best Little Town in Florida Book by Tom Mills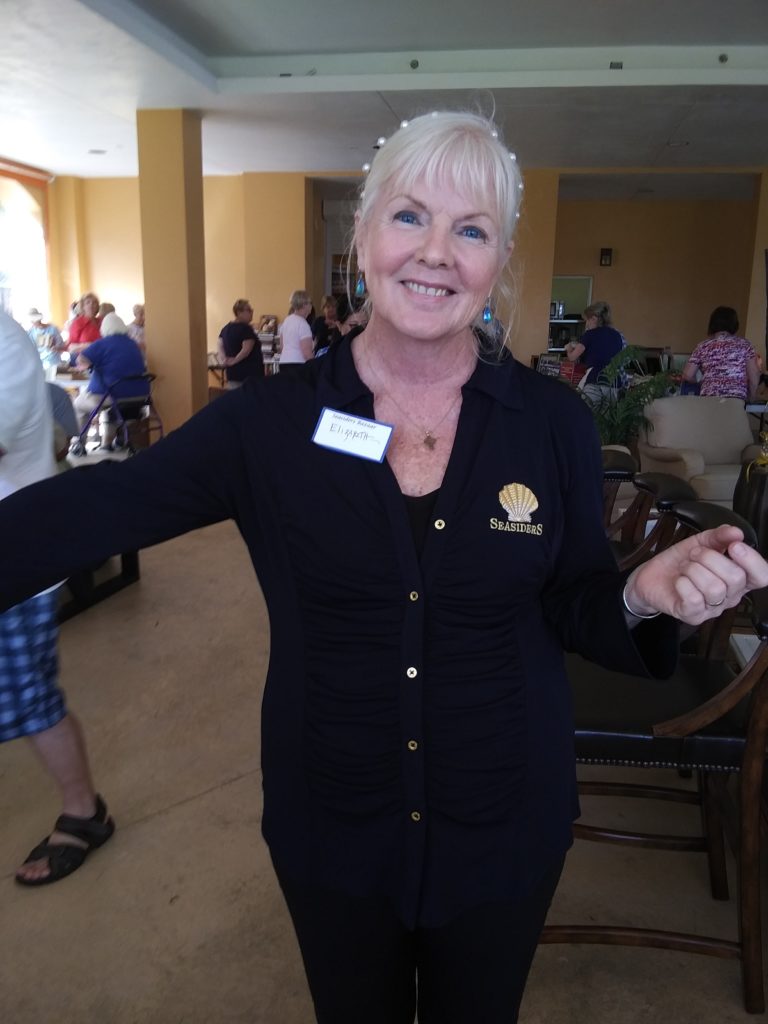 What schedule ?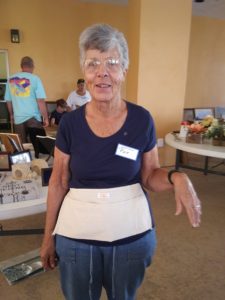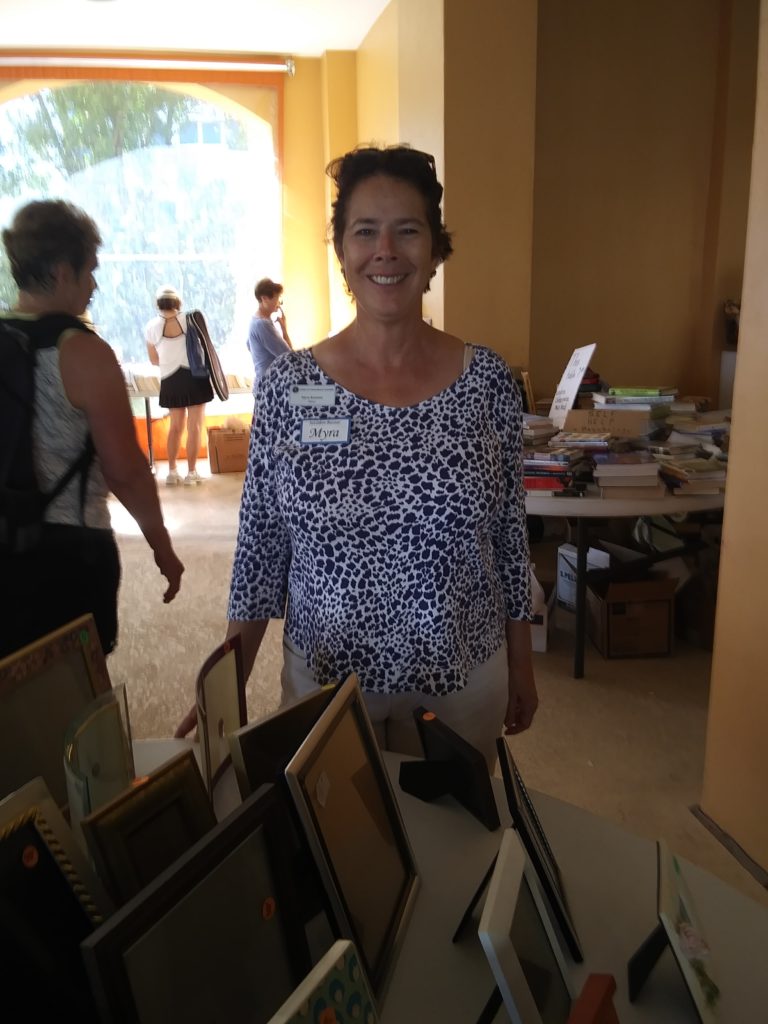 Mayor Myra check on our progress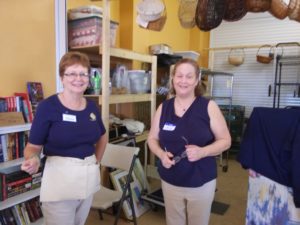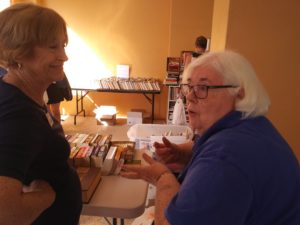 Two exhausting days, but a great chance to work and socialize together ! The Bazaar of 2019 is now History ! Thank you everyone for working, shopping and being with us. The Famous Seasiders of Palm Beach Shores.
**********************************************************
2018 Bazaar
The Seasiders' thank all our donors, sponsors, members and Palm Beach Shores residents for supporting our Community service fund raisers this year.
We are happy to report that we have been able to support the following charities because of you:
Ryans Case for Smiles
American Legion Riders/Wounded Veterans Relief Fund
St. George's Center Meals Program
J.A.Y. Ministries
Seasider/Rotary Scholarship
Lake Park elementary School
Lincoln Elementary School
St. Ann's Lunch Program
New Adult Day Care
Town of Palm Beach Shores- Beach Wheel Chair Purchase
Friday Feb 9th & Saturday Feb 10th .Palm Beach Shores Community Center
The Seasiders held their 2018 Charity Bazaar in the Palm Beach Shores Community Center overlooking the beautiful ocean. Money raised at this annual event goes to many area charities. Over the years thousands of dollars have been donated to local charities. We had a 50/50 raffle, greeting cards for sale, crafts, fresh flower arrangements, books, clothing, jewelry , a food court and bake sale ! Two floors of merchandise including furniture, art work, lamps, linens, knick knacks, kitchen items, glassware, electronics and tools and 2 raffles !
To all those who visited our Bazaar, worked and Supported this great community event in any way, Thank You! ****************************************************
The co-chairs of the 2018 Charity Bazaar, Chris Mielke and Dale Mathews want to thank each and every Seasider and their friends for all your hard work and time helping to make it a success. Whether you donated items, set up, worked the booths, hauled items over from the Seaspray Hotel storage area or helped pack up you all were appreciated and we thank you !!
*******************************************************************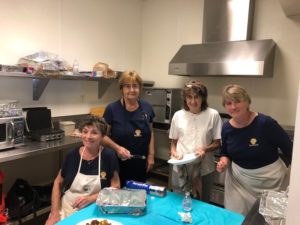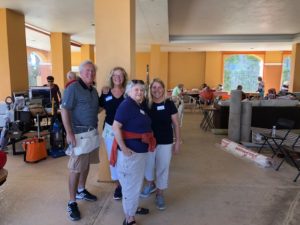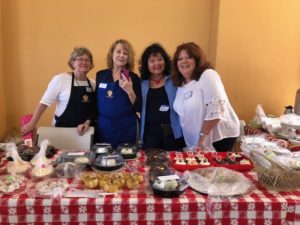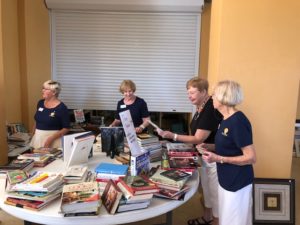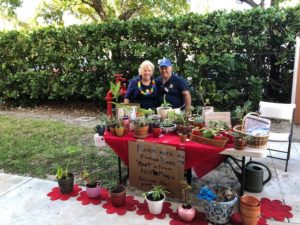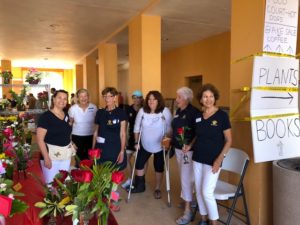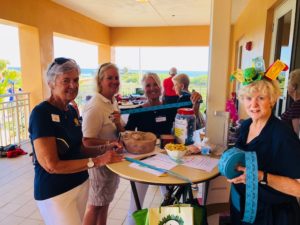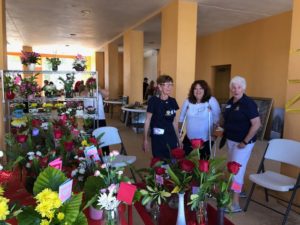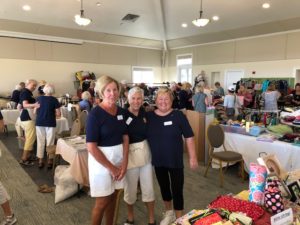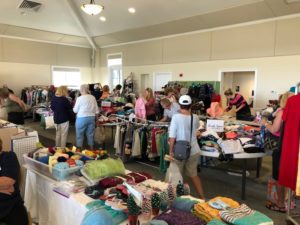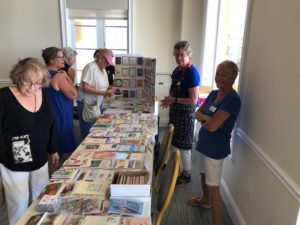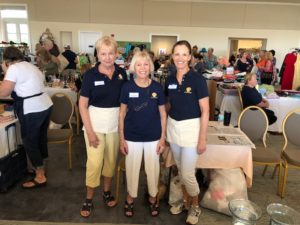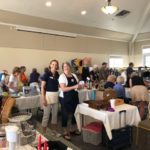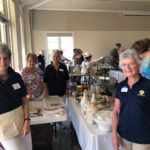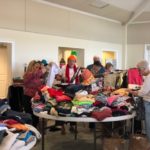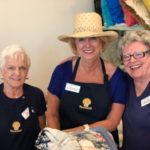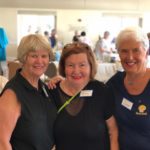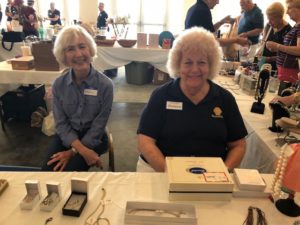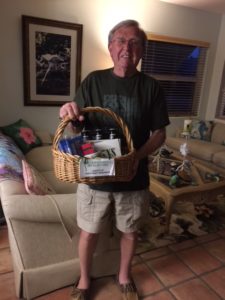 Mr. Myers was the winner of our gift basket designed with a lucky man in mind ! Congrats !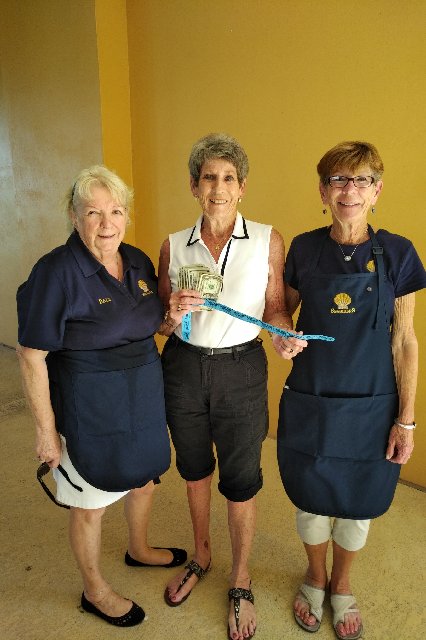 Co-chairs, Dale and Chris presenting a very happy 50/50 ticket winner, Mary with $453.50. Yea way to go Mary !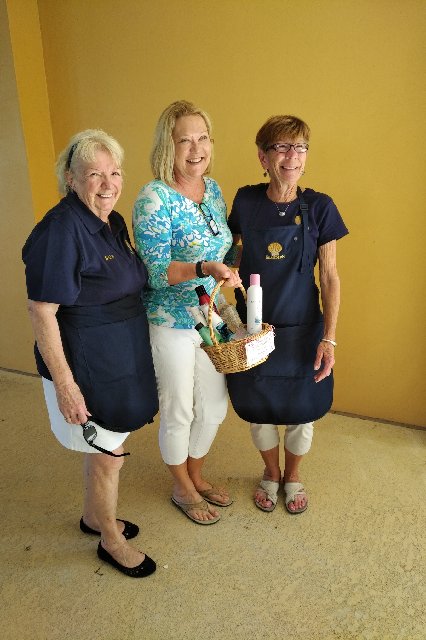 Another happy winner, Marcy was the winner of the second Raffle ! Way to go !
Happy winners / Seasiders and lucky ticket holders. 'Thank yous' to everyone who participated in these Raffles and Draws.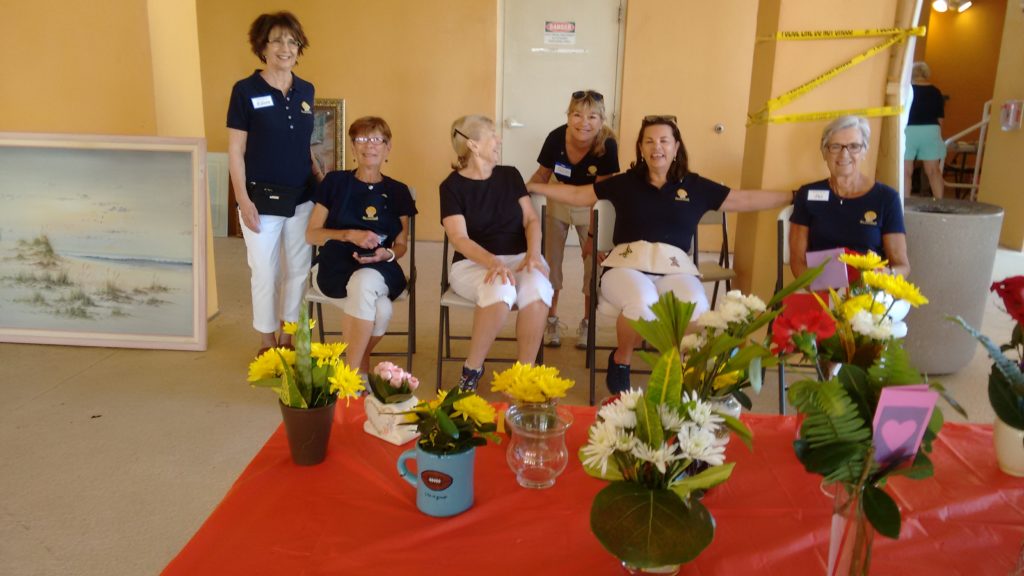 Taking a break before the 'Storm' !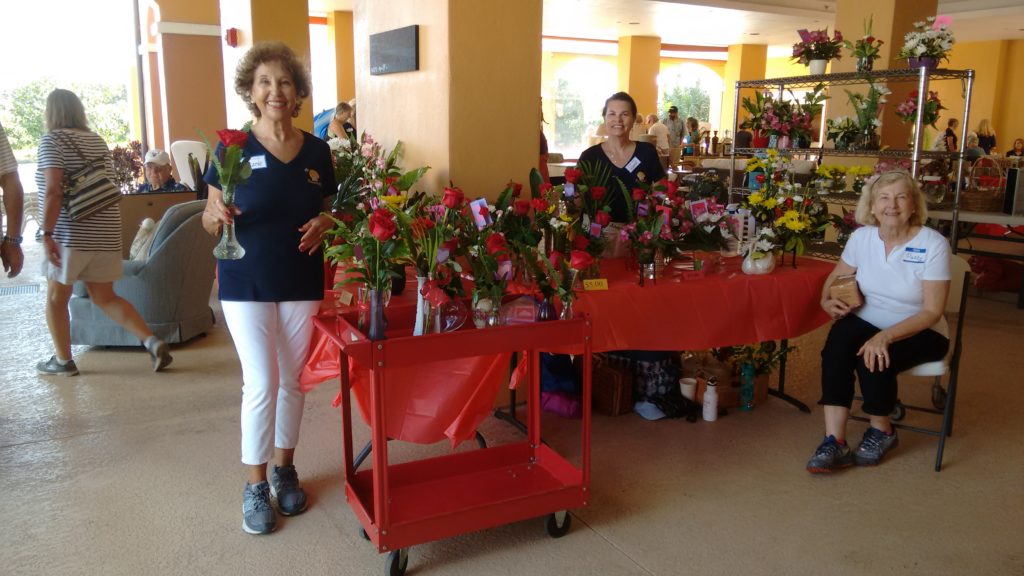 Wonderful arrangements of 'Valentine' flowers' made shopping easy for many men who found great bargains at our Bazaar !
……. now for a look at all the hard work that goes on before the Bazaar even starts….. well maybe there was a lot of fun and merriment as well ?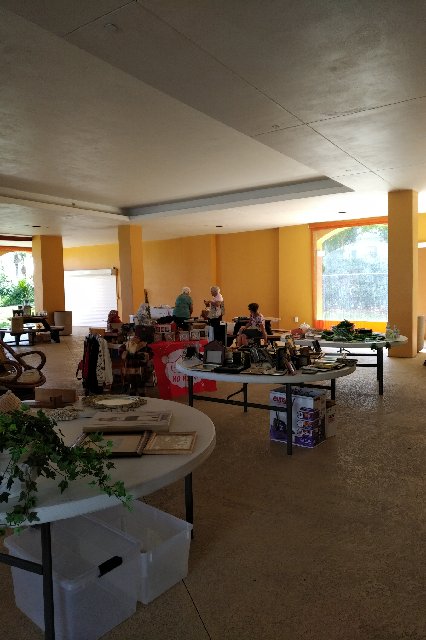 Downstairs is starting to fill up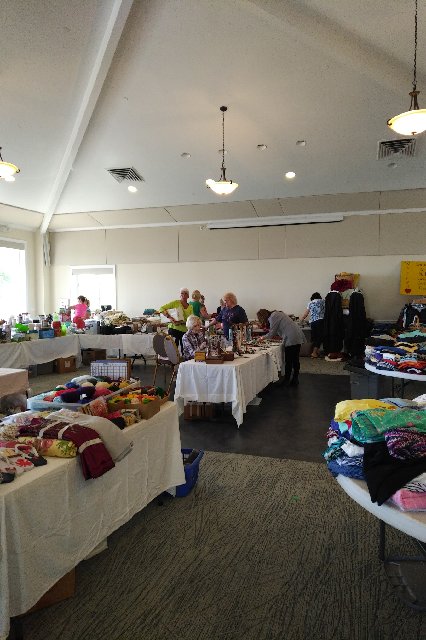 ==========================================
Up stairs !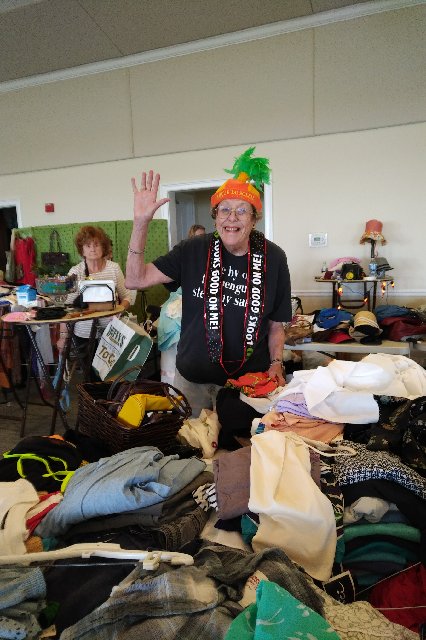 Trust Jane for a good laugh !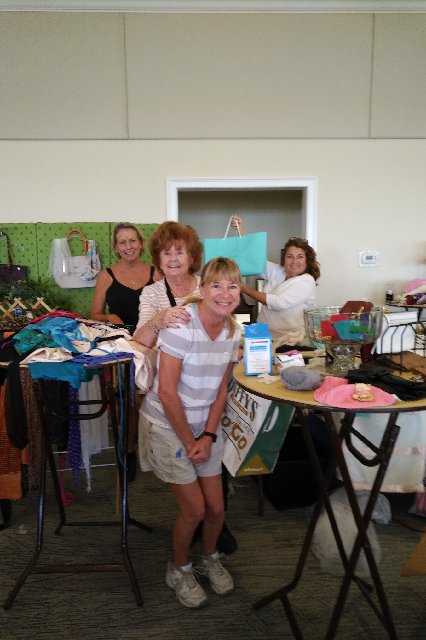 The Clothing tables are having too much fun !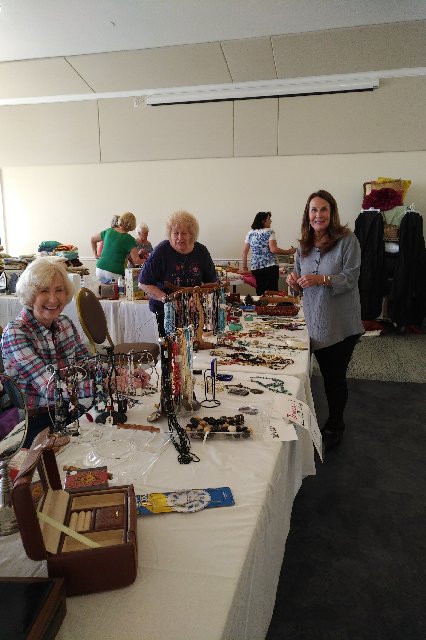 Looks like at lot of bargains at the Jewellery table.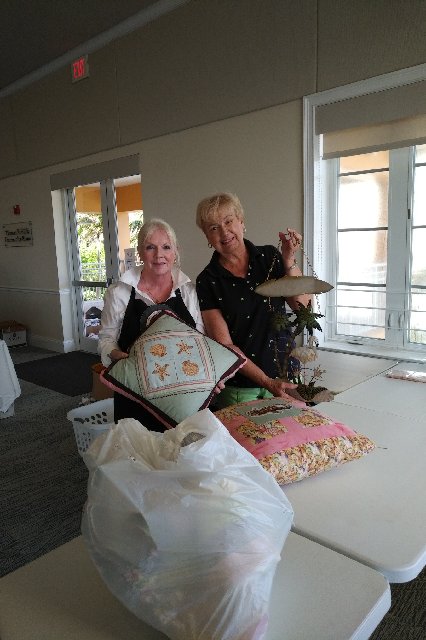 This goes to 'Linens' and this goes to 'Trash and Treasurers'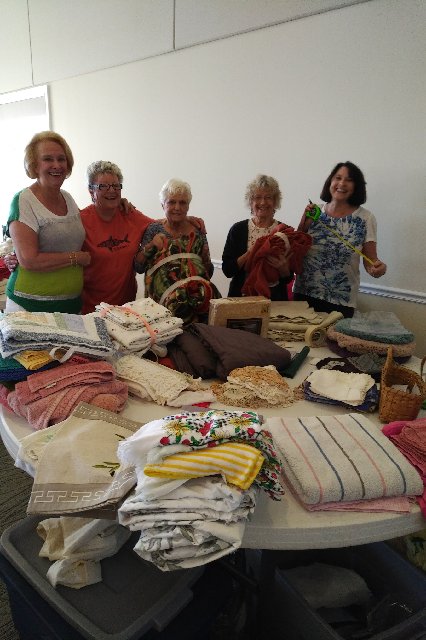 Ah… there's the 'Linens gals ' !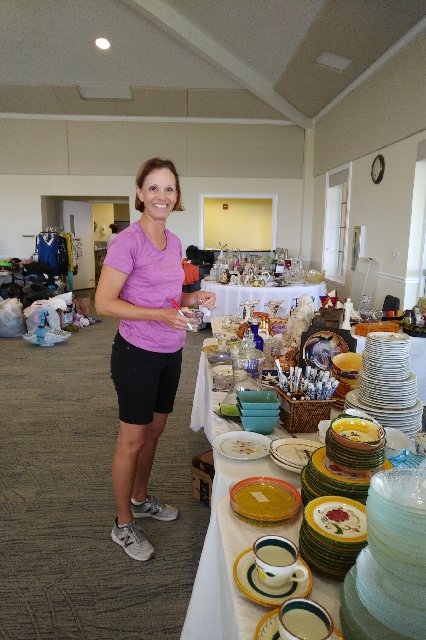 Hum… where will I put this ?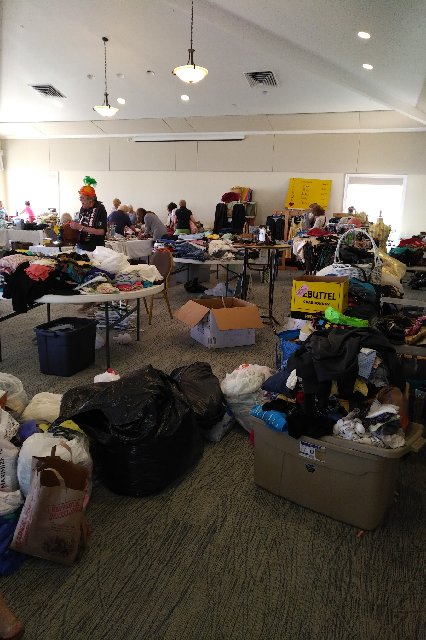 Oh my ! will this ever get sorted ?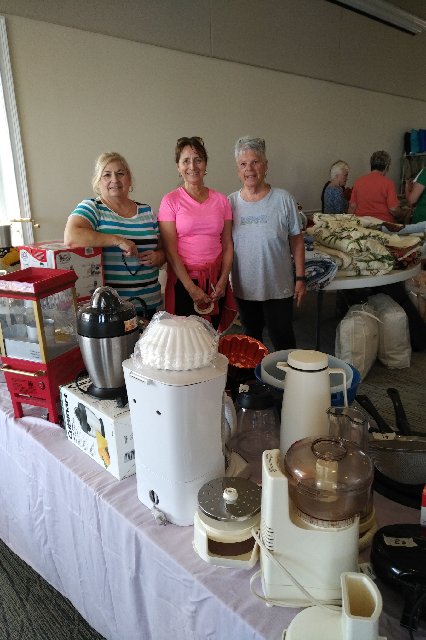 Hard working ladies in Small Wares !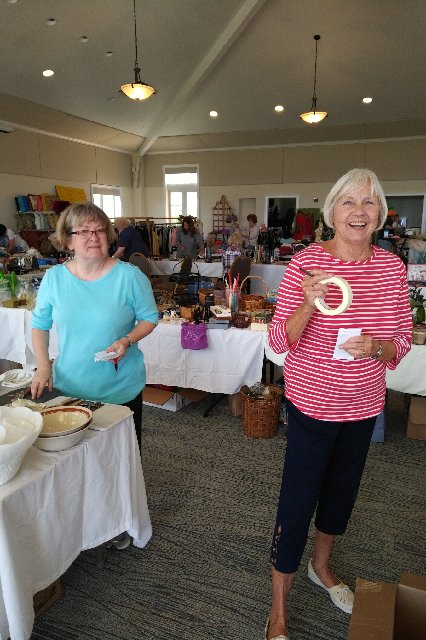 Ok ……. I'm ready ! Bring on some more dishes for me to mark !
LOTS OF FUN AND A GREAT WAY TO GET TO KNOW YOUR FELLOW SEASIDERS !
These gals were ready for another great Charity Bazaar !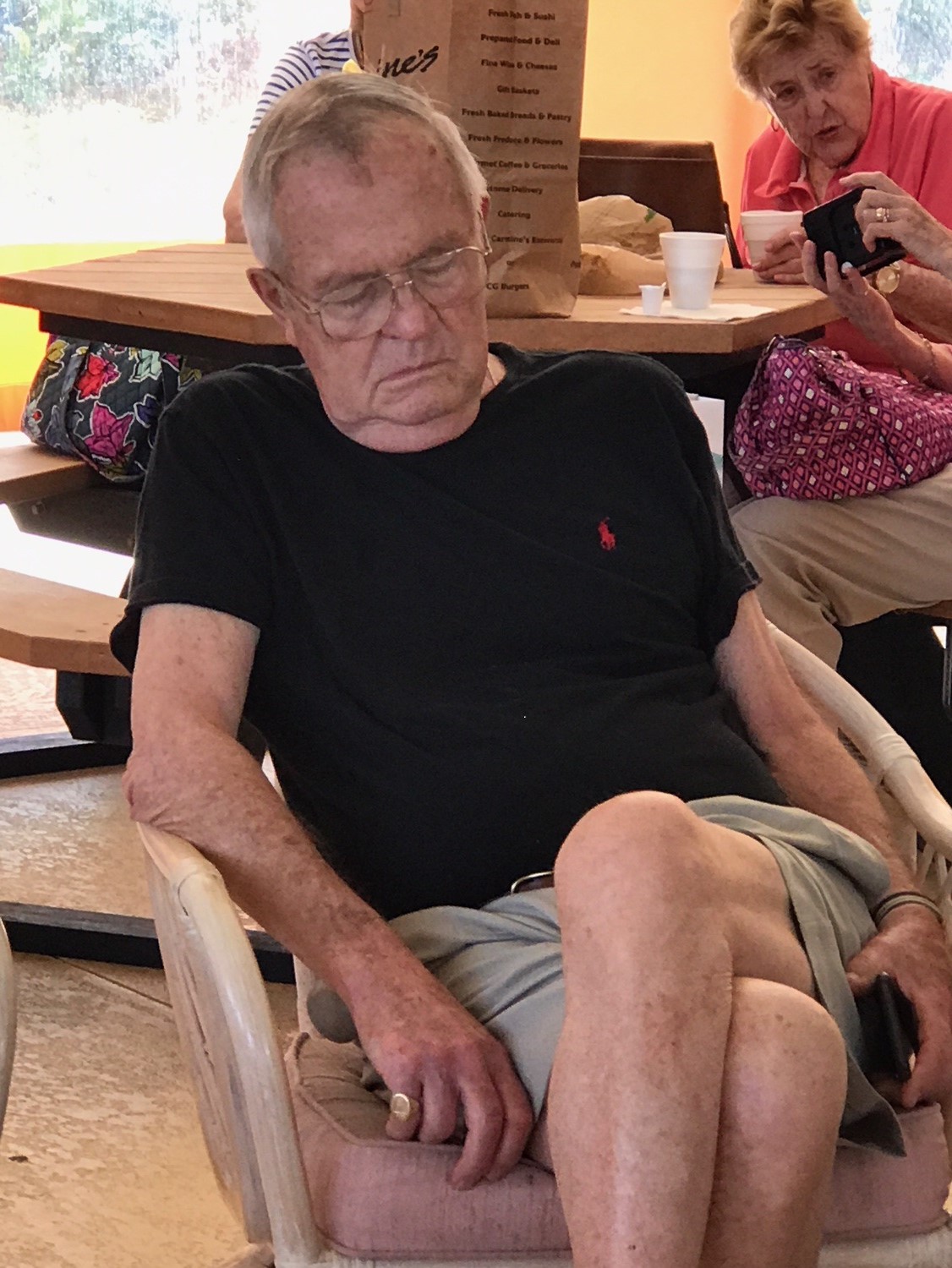 Meanwhile,,,, a husband is resting while his wife is upstairs working ….. shhh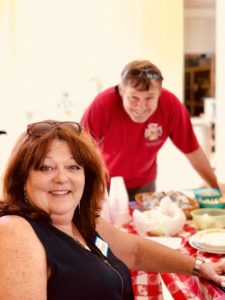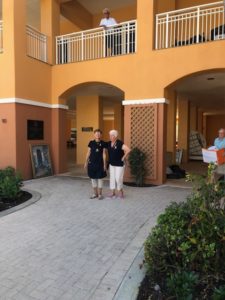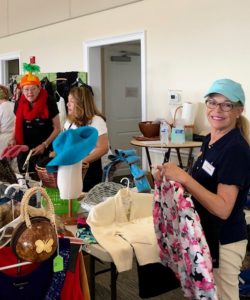 did you get your 50/50 tickets yet ?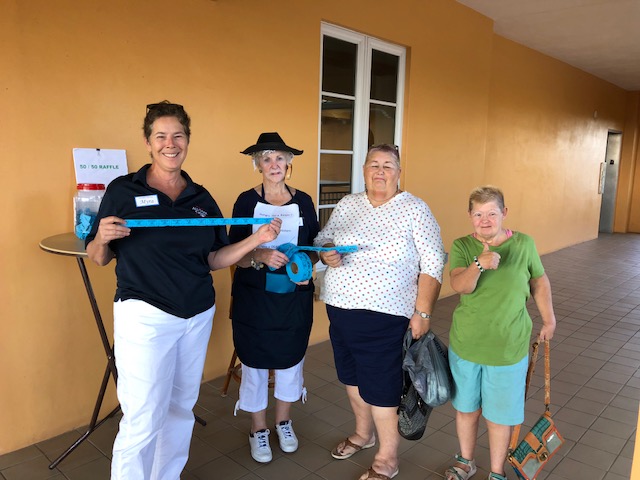 =================================================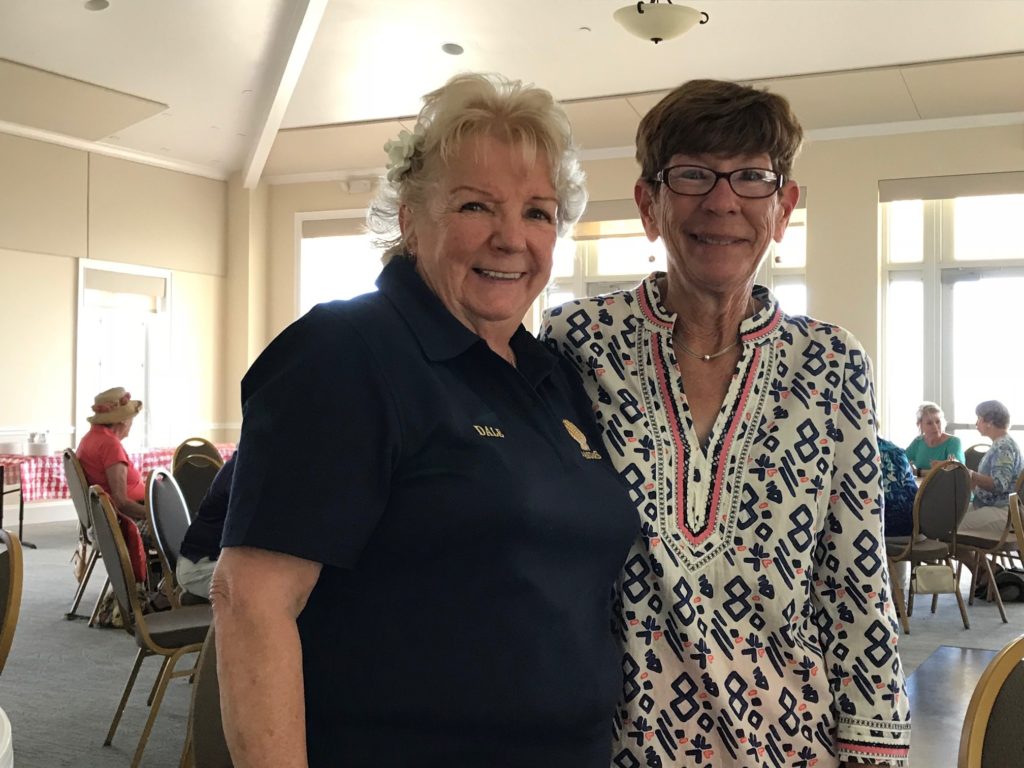 Co-Chairs, Dale and Chris at the Thank you Pizza Party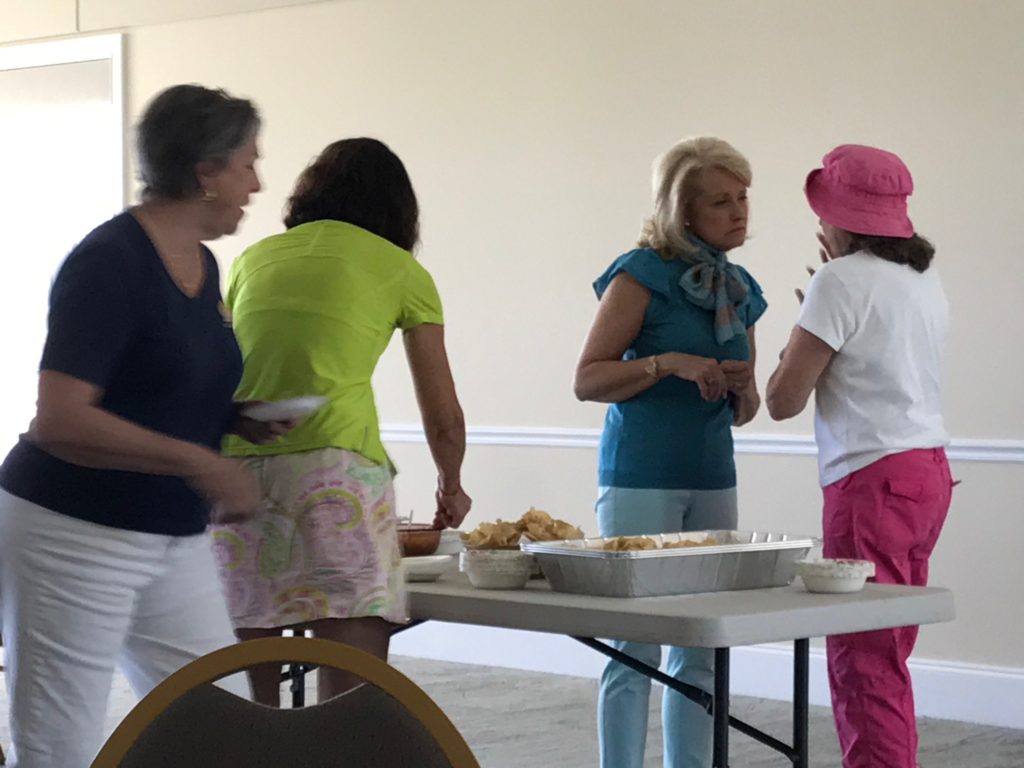 Discussing the 'State of our nibblies ?'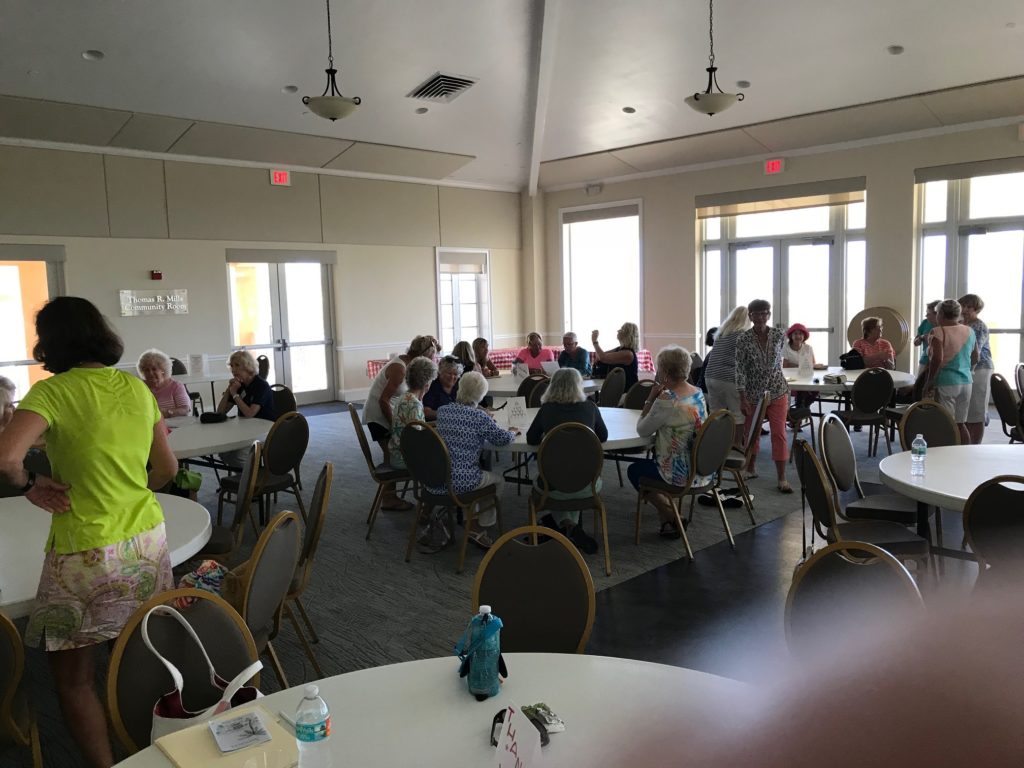 Gathering at the Community Center… Pizza Party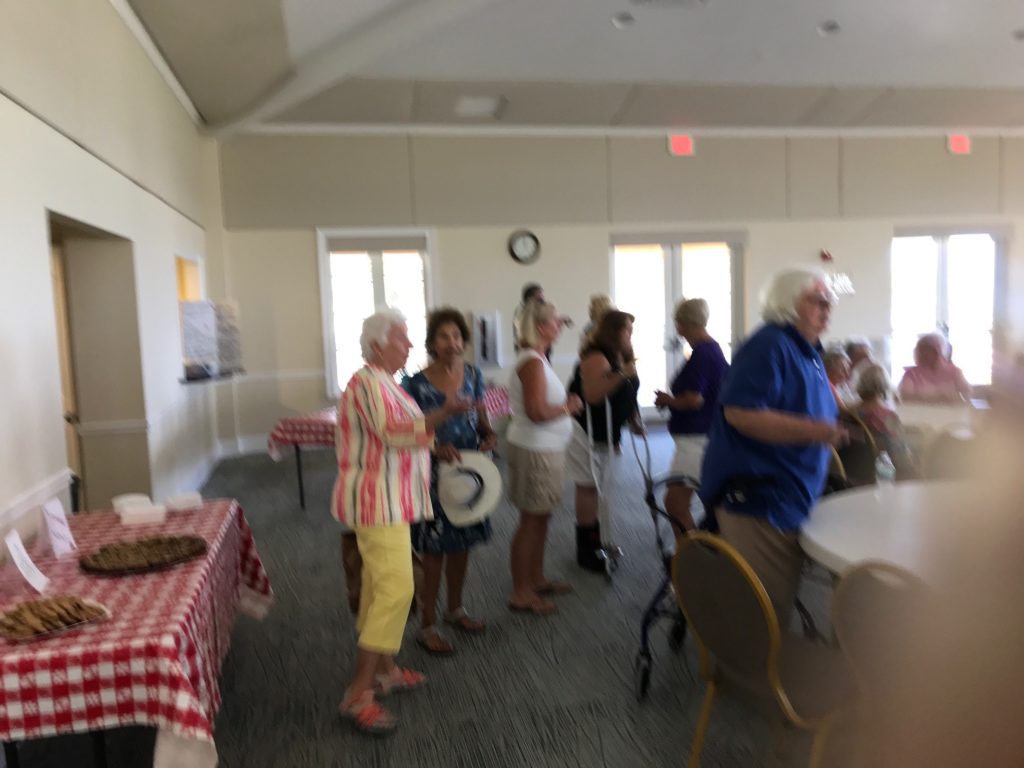 President Georgette directing traffic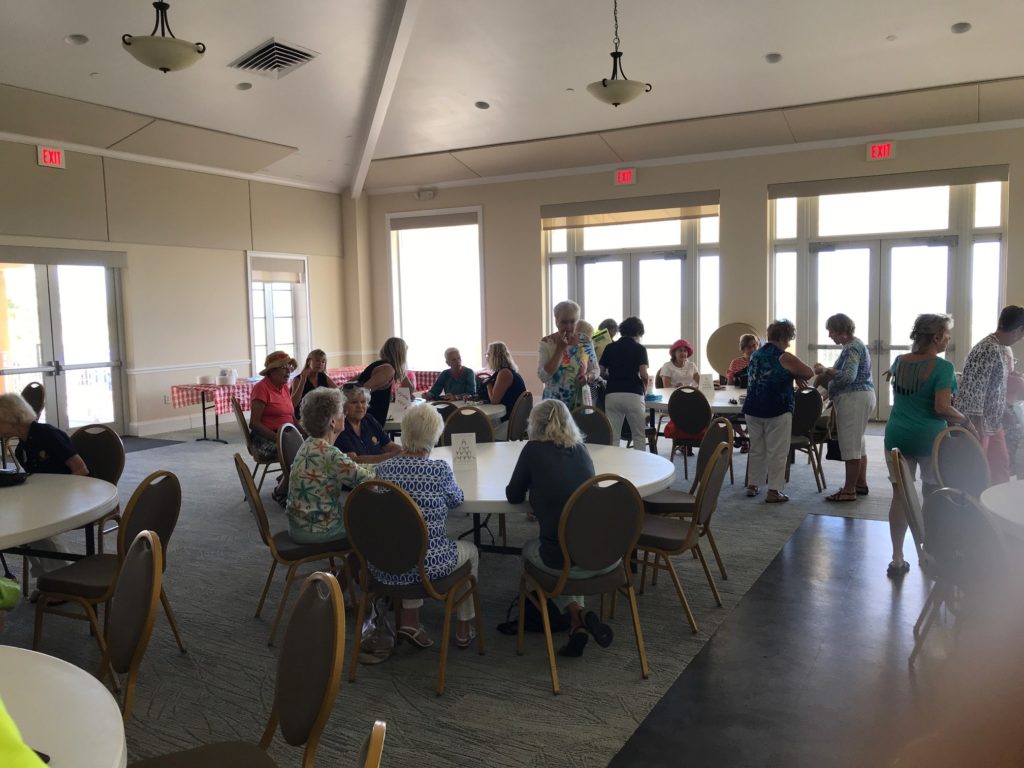 The pizza should be here any minute NOW !
Great fun and a nice way to wrap up another successful Bazaar ! A big Thank you to Chris, Dale, Janet and all the members. Also there were some 'SeaSlugs' that are non members that were invaluable to our success! Thank you all!
===================================================
=====SEASIDER BAZAAR , 2017
2 great days with sunshine , wonderful crowds and willing volunteers made for a very successful Bazaar !
the 50/50 draw brought in $563.00 for the winning ticket! AND proceeds of $563.00 for the Seasiders.
BONNIE IS ONE HAPPY 50/50 WINNER OF $563.00 !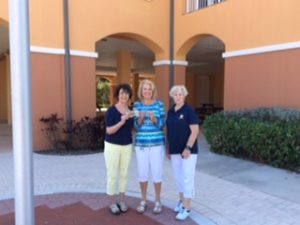 *** Eileen presenting our 50/50 winner Bonnie with her money !***
Our 2017 Bazaar Co- Chairs, Diane VanDerPol and Chris Meilke
did a fabulous job and chaired a great Bazaar !
I know there were many sleepless nights.. but everything came together and the Bazaar 'Took on a life of it's own ' !
Thank you to all the volunteers who worked tireless hours to make this all happen.
THE FIGURES ARE IN : THE 2017 BAZAAR RAISED $12,500.00 ! THANK YOU ALL
The 2017 Seasiders Bazaar, held on February 10 and 11 at the Palm Beach Shores Community Center, was a big success ! This event would not have been possible without the hard work of all the Seasiders volunteers, their husbands and friends, and without the support of the Palm Beach Shores Mayor, the Police and Volunteer Fire Departments, the Public Works staff and the Town Hall staff.
The Seasiders also appreciate the local business that supported the Bazaar the SeaSpray Hotel and Restaurant, Sailfish Marina, Cannonsport Marina, Publix and the Singer Island Rotary. It was truly a community effort !
The 2017 Bazaar raised $12,500.00 and the proceeds go to local charities: American Legion Riders Homeless Veteran Program, JAY Ministries, Lake Park Elementary School , Little Smiles, New Adult Day Care, Ryan's Case for Smiles, St. George's Meals Program, St. George's Summer Program and the Seasiders Scholarship of the Rotary Scholarship Fund.
Thank you everyone who made our 2017 Bazaar a success ! We look forward to next year Feb 9,10, 2018 !
Co-Chair, Diane VanderPol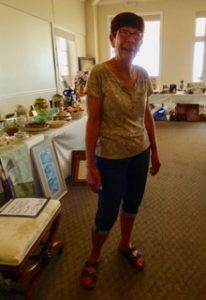 Bazaar Co-Chair, Chris wondering where she will get more 'space'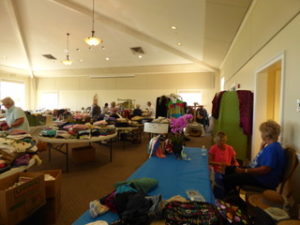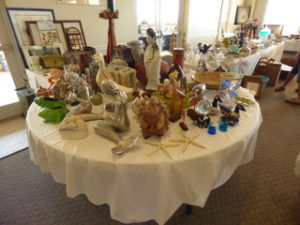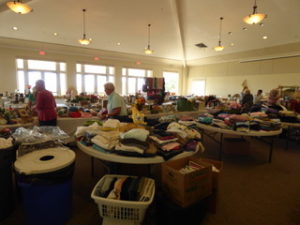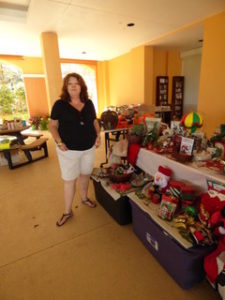 Community Service Chair, Janet overseeing 'Christmas'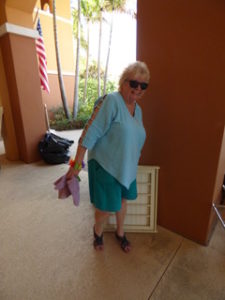 Dale getting the 'Plant' table up and running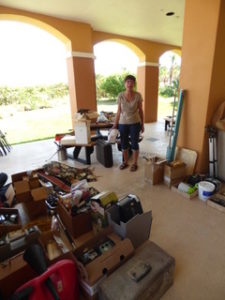 Diane,,,,,, help !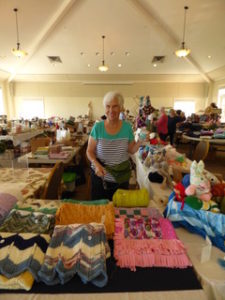 Seasider President sorting out the "Craft" table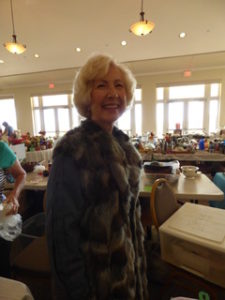 Nancy is trying on the latest fashion for the north !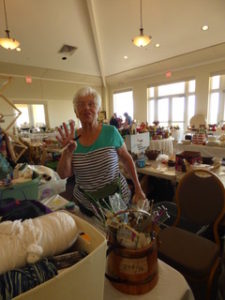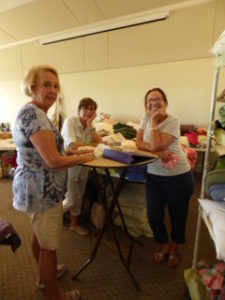 The 'Linen' gals can't decide to put their items under or on the tables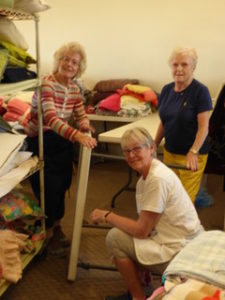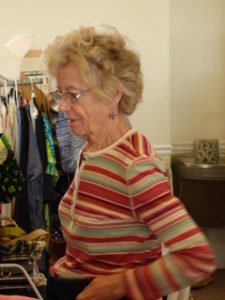 I think Barb is finding a 'treasure' in the clothing dept.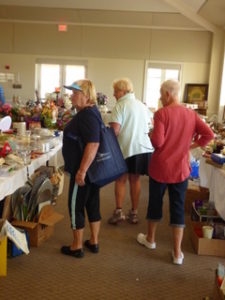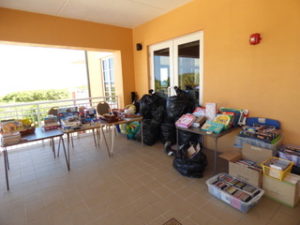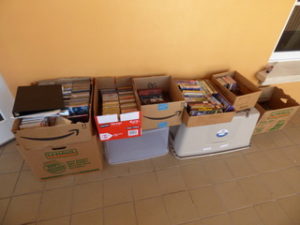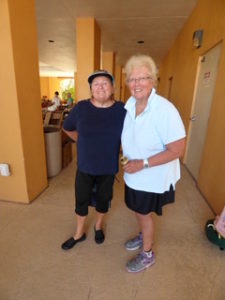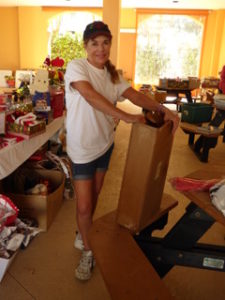 Everything from soup to nuts !
These Bazaar 2017 pictures are courtesy of Mickie Foutain and her wonderful camera skills.
______________________________________________________________________
2016 Bazaar
---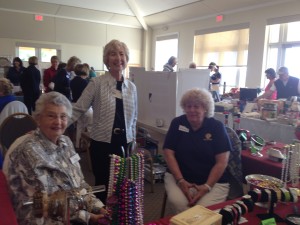 2016 Bazaar
Feb 12 and 13, 2016 Seasider Bazaar held at the Palm Beach Shores Community Center was a great success thanks to the many volunteer Seasiders.
The 50/50 ticket sales were $946.00 and half of that amount, $473.00 going to the luck ticket winner, Peggy !
The beautiful hand made quilt made by Marilyn Degler was won by Cathy Sommers, the most surprised person in the room !
The Seasiders would like to thank all those who volunteered time and their many talents to make this charity bazaar a great success !
Thank you to all who visited the bazaar and made it such a wonderful two day event.
The 2016 Bazaar raised just over $ 9,000.00 for local charities.
Thank you to everyone who volunteered in any way, purchased our fabulous finds, donated and contributed, IT WAS A GREAT SUCCESS 1
2015 BAZAAR Report
Our 2015 Seasider Bazaar was held on Feb 13 and 14th at the Palm Beach Shores Community Center.
It was a great success in various ways.
It allowed local residence to clean their cupboards, closets and garages and know that their trash would be converted into some else's treasures and that their donations would be going to a worthy cause.
It allowed local businesses to support us by sponsoring us with donated goods, food or gift certificates for our raffles.
It allowed the community to come together and volunteer their time and talents. This included Seasiders, friends and family along with the PBS Police, Volunteer Firefighters and Town Staff totaling approximately 100 people.
It allowed residence of PBS, visitors to Singer Island and people from further afield to come and experience the excitement of finding treasures and essentials that they did not know they needed. There was a full range of goods in one location. Ranging from plant to floral arrangements, from baked good to a food court, from knick knacks to fine collectibles, from crafts to kitchen gadgets, to electronics, from a 50/50 raffle to a beautiful quilt raffle.
Most importantly it allowed Seasiders to raise $11,700.00 for our local charities. This year the recipients of our funds were:
The Rotary Scholarship program, the Women's Chamber Scholarship program, Lake Park Elementary School, St. George's Meals Program, St. George's After School Program, ConKerr Cancer, American Legion Riders and the PBS Volunteer Firefighters Association.
Thank you all for your support as we continue to service our community.
ALL PROCEEDS GO TO OUR LOCAL CHARITIES.
Irene VanSoelen, Chairman