Thank you:
A big thank you to our outgoing President , Joan Reilly                                       It was a great fun two years with you at the helm. I'm sure Joan would agree that if you are asked to be president you will grow with the challenge and it will be an exciting time.
===================================================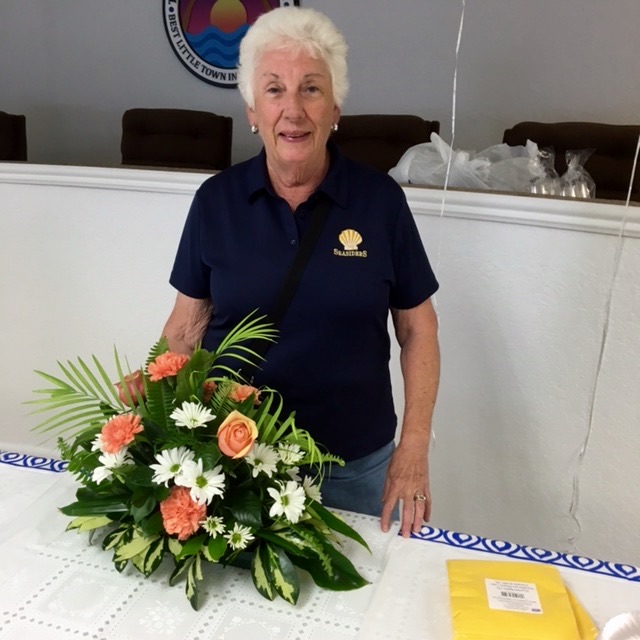 2017- 2018 President 
Georgette Kauhane
SEASIDER MESSAGE FROM THE PRESIDENT
I am honored to serve as the Seasiders President .   It will be a challenging time as we have many new Executive Board Members and  Committee Chairwomen.  We need all of your support and participation in our various events and projects from October 2017 through May 2018.
First Thursday of Each Month – Luncheon Meeting begins at 11:15 followed by lunch at 12:00 at the Community Center.  The program Committee is planning very interesting speakers and activities for the luncheons.
Thursdays, other than our luncheon Thursdays – Community Service Day.  Come and enjoy the camaraderie of your fellow members recycling cards, making pillow cases for Ryan's Cases for Smiles and various other projects.  Dessert and 'Screw Your Neighbor'  card game follow the projects.   We look forward to new community service projects this year.    Town Hall, 9:30
Second Tuesday of Each Month – Join in on exciting card games and lunch, make up your table for bridge,   mahjong,   500 or any card game you desire.           Community Center, 12:00 pm.
Home and Garden / Four Arts- Sign up for the many tours offered each month.   In 2017 we went to the Morikami  Museum and Gardens,  Dramaworks,  Society of Four Arts,  Maltz Theater to see Gypsy,  Norton Museum,  Swank Farms to name a few of our adventures.
Special events are the Annual Holiday Tea and Cookie Exchange,   Annual Bazaar and the Taster's  Luncheon.                                                                                                                                                                                                                                                                                                                                                         Do not miss out on a wonderful time with your fellow Seasider members.  The events are always educational and informative and give you and opportunity to enhance our community and also support local charities                                                                                                                              I became a member of the Seasiders six years ago and was so impressed with the spirit of service and friendship in the organization.  I have met many diverse individuals from all over the United States and Canada.   I love living in Palm Beach Shores,  attending exercise classes,  yoga,  walking the beach,  golf,  walking my dog Kanani,  town events,   Seasider activities and viewing the sites on the inlet and ocean.                                                                                    I look forward to a very exciting year working with the new and old members of the organization.  If you are a resident of Palm Beach Shores,  I encourage you to join the Seasiders and participate in our numerous activities and projects.                                                        Aloha , Georgette Kauhane                                                                                      President,  Seasiders of Palm Beach Shores